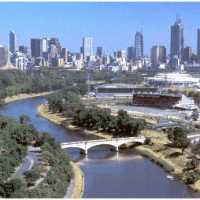 The Victorian Department of Sustainability & Environment (DSE) released transfer and mortgage data for the month of November, which shows continued weakness in the number of housing transfers and finance commitments.
First, below is a chart showing the rolling annual number of housing transfers from November 2002 to November 2012: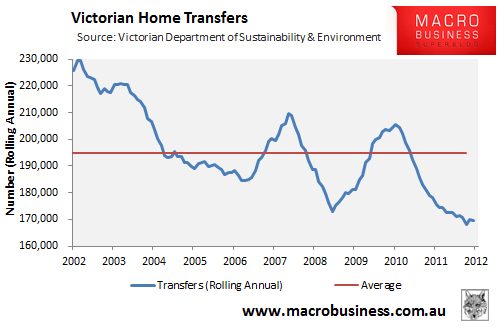 According to the DSE, the annual number of Victorian home transfers fell slightly over the month – from 169,875 in October 2012 to 169,650 in November – which is the second lowest level reached in the series' history and 13% below the 10-year average level.
The DSE's mortgage finance statistics are unique in that they provide data on both mortgage lodgements (i.e. new mortgages) and mortgage discharges (i.e. mortgages repaid in-full). Below is a chart showing both series on a rolling 12-month basis: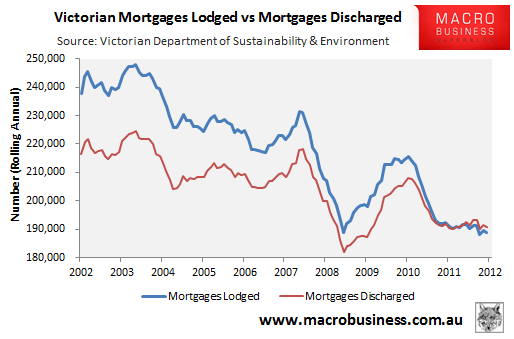 And below is the number of net new mortgages created, calculated by subtracting mortgage discharges from mortgage lodgements: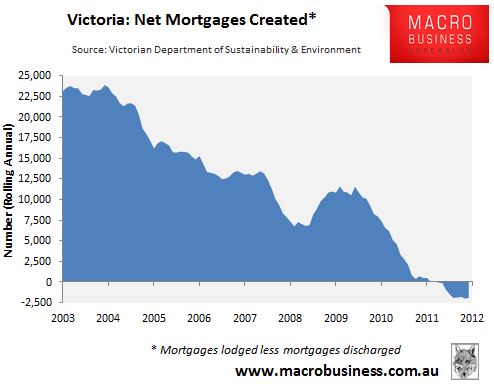 According to the DSE, the number of mortgages lodged in the month of November was identical to the number of discharges (both 15,198). On an annual basis, however, the number of mortgages discharged (190,553) continued to exceed the number of mortgage lodgements (188,648), meaning that -1,905 mortgages were lost in the State of Victoria in the 12-months to November. This compares to the average of around 12,900 annual net mortgage creations since the series began in 2002.
And below is a similar chart showing that the ratio of mortgages lodged to mortgages discharged: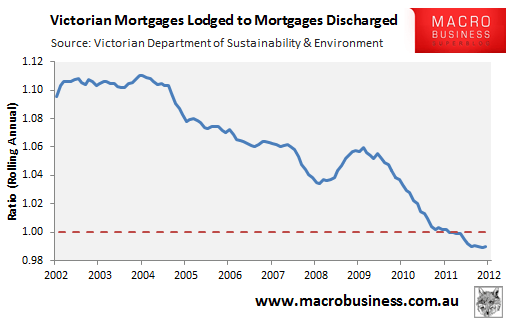 Between 2003 and 2005, there were around 11 mortgages created for every 10 mortgages discharged. In the 12-months to November 2012, however, the number of mortgages lodged has slipped just below the number of mortgages discharged, indicating that Victorians might be deleveraging.
The data also suggests that the Victorian (Melbourne) housing market remains fragile, which is supported by recent weak new home sales and house price data.
Twitter: Leith van Onselen. He is the Chief Economist of Macro Investor, Australia's independent investment newsletter covering trades, stocks, property and yield. Click for a free 21 day trial.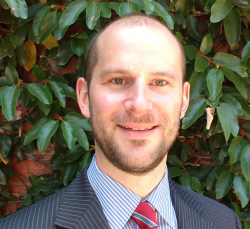 Latest posts by Unconventional Economist
(see all)