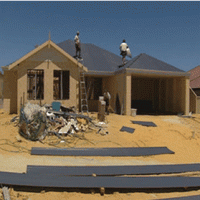 The Australian Bureau of Statistics (ABS) has just released the Building Approvals data for the month of October. At the national level, the number of dwelling approvals fell by a seasonally adjusted -7.6% to 12,540, driven predominantly by a -18.0% decrease in approvals for private sector units and apartments. Consensus was for a total -1.8% decline.
In the year to October 2012, dwelling approvals rose by a seasonally-adjusted 14.5%. The key figures are provided in the below table:


A chart showing the time series of seasonally-adjusted dwelling approvals at the national level is provided below, split-out by detached houses and units & apartments: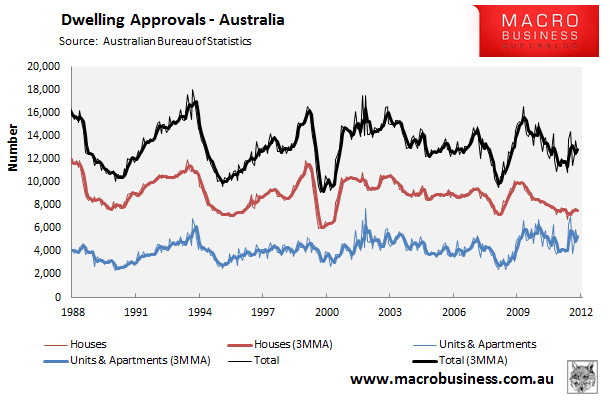 As you can see, dwelling approvals nationally were trending down since early 2010, but received a large boost in May and June when the number of unit & apartment approvals bounced. This unit and apartments surge appears short lived, however, with unit & apartment approvals again on the decline
The below chart shows the time-series of approvals at the state level.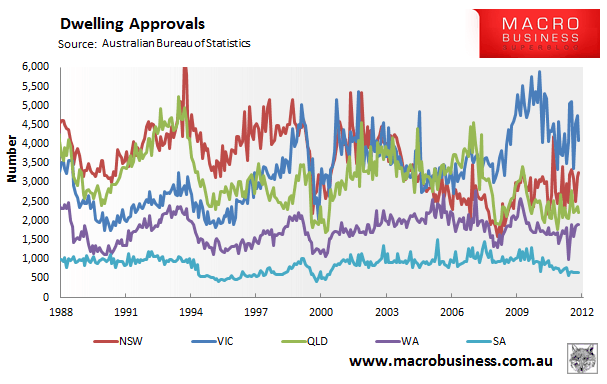 This month's fall in dwelling approvals was driven by Victoria, where approvals fell by -14%. Queensland (-7%) also experienced falls, whereas approvals in Western Australia (0%) and South Australia (0%)  were flat, and they rose in New South Wales (+3%).
Along with sluggish new house sales, there's not a lot of joy in this release for Australia's home builders, nor the construction industry more generally, which appears to be entering recession (if not there already).
Twitter: Leith van Onselen. Leith is the Chief Economist of Macro Investor, Australia's independent investment newsletter covering trades, stocks, property and yield. Click for a free 21 day trial.