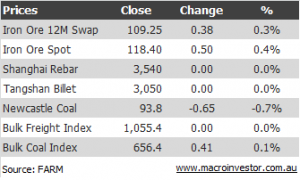 Find above the iron ore price complex chart for December 6, 2012. Some more stability clearly, no doubt on the ongoing hope that China will support growth, as the Politburo suggested.
Still, for now, the raw volume figures remain lacklustre. Here is the November Port Hedland shipping chart for iron ore: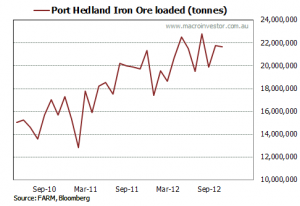 Figures tend to weaken in the early new year on winter and Chinese New Year so expect falls ahead from the current trading range, creating a pattern rather resembling a double top peak. Do I think volumes are going to fall longer term? No, and here is why.
It is interesting to compare the current flat shipping trend at Port Hedland with Chinese port inventories, which continue to fall: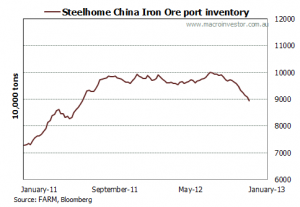 We might speculate on several things from this comparison. Clearly there has been a sea-change in Chinese ore stockpiling. The break lower in port stocks is decisive and coincides with the peaking in Port Hedland volume growth. Correlation is not causation of course but I still wonder if some significant measure of Australian iron ore volume growth hasn't been driven Chinese hoarding , which is now unwinding.
That the cyclical inventory rundown and restock we've just been through has transpired despite this hoarding unwind, shows that demand is still strong enough to draw on the hoard plus more imports. Chinese port stocks will stabilise at some point and you would expect then that Australian volumes will begin rising again, perhaps at a lower rate of growth. At the same time, the avalanche of new supply will prevent any new price spike.
It'll transpire rather like the three phase commodity boom thinkers reason, but much more slowly than they hope, only adding to Australian growth at the margin.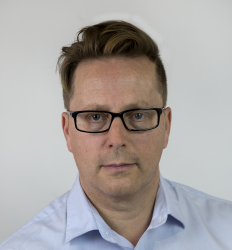 Latest posts by David Llewellyn-Smith
(see all)