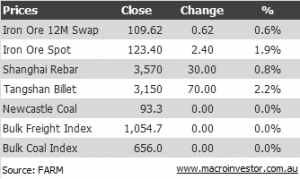 Find above the iron ore price complex chart for December 10, 2012.
The recent Chinese data seems to have suddenly convinced traders that Chinese rebalancing is a sham. Not without justification. The data flow showed pretty clearly that it is more investment that is driving the rebound in growth.
Still, the move is highly speculative. The fundamentals still stink. For now, however, nobody cares. The price has broken out and may well run further: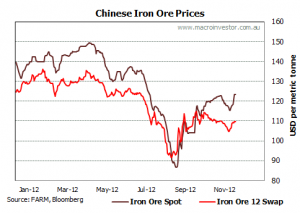 Note, of course, that 12m swaps are still lagging, showing some sense still in the market. Steel prices have bounced back a little too: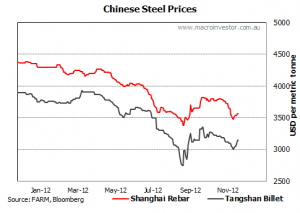 But nothing like spot ore. As such, my spread charts are all hitting new wides at levels usually reserved for higher pricing brackets. Spot to swap: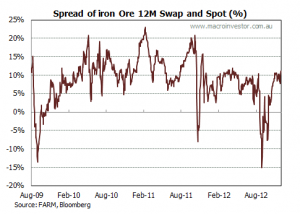 And spot to rebar: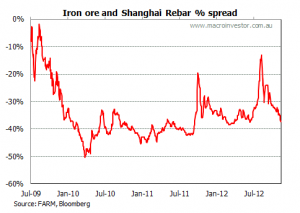 The word I would use for this is 'unsustainable'.
In wider ore news, the key development today is that the Chinese will not be backing away from investment in new mines, as expected. From the SMH:
CHINESE leaders have signalled they will continue to support investment in iron ore in Western Australia despite the recent slump in demand for the bulk commodity.

Beijing's most powerful economic planning agency – the National Development and Reform Commission – is considering more policy support for Chinese companies struggling to get overseas projects off the ground.

WA's iron ore sector has been challenging for several Chinese aspirants, with infrastructure difficulties and skills shortages leading to cost and schedule overruns.

Most notable has been CITIC Pacific's Sino Iron project, which is now involved in a court battle with its local partner, Clive Palmer.

But a senior commission official told Chinese companies at the weekend that they should not be deterred.

"[Investment activity] must not slow down as a result of recent short-term economic challenges," said Wang Jianjun, deputy head of the overseas investment division of the commission, according to Chinese media. "The real task is to prepare for the iron ore demand in the next five to 10 years."

Mr Wang said some magnetite projects were likely to cost astronomical sums. "Many projects are low quality or magnetite, the development cost per tonne of ore could be as high as $300," he said.

Sino Iron is a magnetite project, while China has also backed the Karara magnetite project being developed by Gindalbie Metals near Geraldton.

Mr Wang said China would still need to import more than half of its iron ore by 2020 and development of Chinese-owned mines was crucial in breaking the supply stranglehold enjoyed by three big miners: BHP Billiton, Rio Tinto and Vale.

He said the government would offer more support to companies investing in iron ore assets abroad.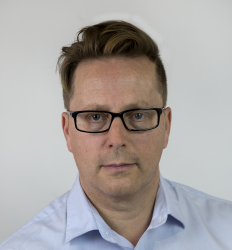 Latest posts by David Llewellyn-Smith
(see all)