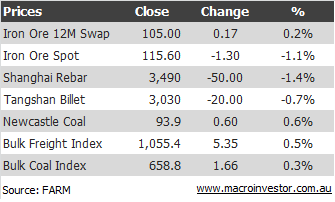 Find above the iron ore price table for November 30. As you can see, the slide is gathering pace, especially in China where rebar is now crashing towards its low for the year: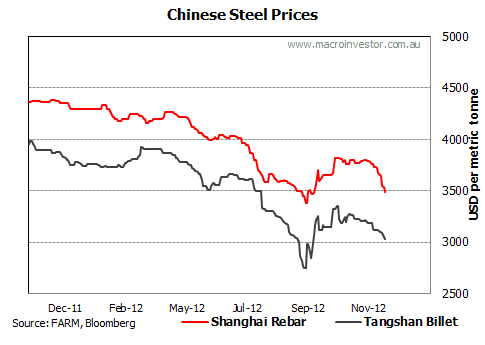 Given this, the spot price is still dramatically out-performing: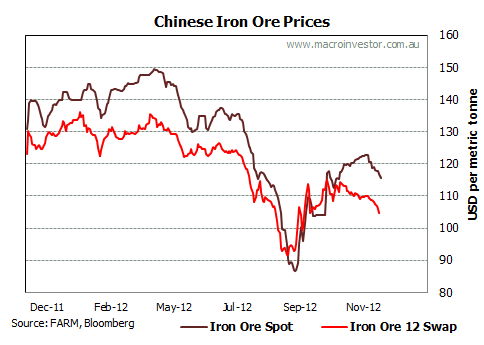 The percentage spreads between spot and swap and spot and rebar thus remain very wide (and in danger of compression). First spot to swap, which despite falls  is again close to recent range highs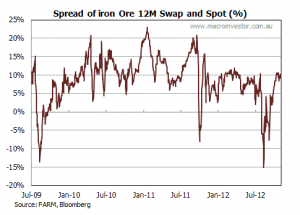 And spot to rebar which despite falls is at recent range lows: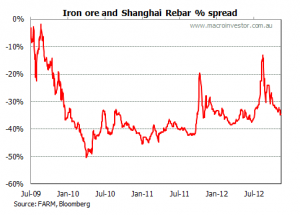 One possible explanation for these sustained spreads is the ongoing sentiment boost from the bureaucratic crunch underway in Indian ore exports, which is getting worse, not better. From the Deccan Herald:
India's efforts to clamp down on illegal mining have handed a $15 billion lifeline to global iron ore giants, and there could be more to come.

Steps taken by central and state authorities to clean up the mining and export of iron ore have shut down output in two key producing states, slashing shipments and forcing steel mills to import a raw material the country has in abundance.

Now the Shah Commission, whose report on top exporter Goa led to the state government's ban on mining in September, has turned its attention to the last major iron ore producing state of Odisha.

The exit of the world's third-largest iron ore exporter has been perfectly timed for miners in other countries seeking alternatives for their growing supplies as appetite from top buyer China slows.

The world's biggest producers Vale, Rio Tinto and BHP Billiton have taken some of India's market share in China, Japan and South Korea, and now are even eyeing exports to their erstwhile competitor.

Smaller miners like Australia's Fortescue Metals Group also benefit, as they supply the lower-grade ore that competes directly with India in the Chinese market. "It will be a huge bonus for big miners," said Graeme Train, commodity analyst at Macquarie in Shanghai. "There'll also be a premium emerging for lower grade ore and India's absence will drive Chinese interest into Fortescue-type products."

India's campaign to end illegal mining, which authorities say has cost Goa and Karnataka around Rs 51,000 in lost revenue in the last decade, has cut its iron ore output by more than 20 per cent in the year to March and its exports by almost double that.
Annual exports, which in the past decade peaked at nearly 106 million tonne, may dwindle to as low as 5 million tonne over the next year, analysts say.

The roughly 100 million tonne of lost exports at the current average price of around $110 per tonne and another potential 30 million tonne of imports of higher-quality ore at around $140 per tonne will cost India $15 billion, according to Reuters calculations, money that goes straight into the pockets of foreign miners picking up the slack. India's role switch is one reason for a rebound in iron ore prices, which this year fell below $87 a tonne to their lowest since 2009 due to China's slowing economic growth.

India's iron ore exports to China fell to less than 300,000 tonne in October, the lowest in at least two decades, after the ban in Goa. That followed a mining ban in Karnataka in 2011, after shipments there were halted a year earlier.

India as a buyer

The flipside is that India is also starting to ship in iron ore in significant quantities. India has imported 9 million tonne of iron ore so far in the fiscal year that began in April, estimates Basant Poddar, vice-president of the Federation of Indian Mineral Industries, and could ship in 15 million tonne for the full year. "It is a sad situation that we cannot mine in our own country legally and supply to our own domestic steel industry," Poddar told Reuters.

Importers include big producers Essar Steel , Bhushan Steel and JSW Steel , he said. For the next fiscal year, India's iron ore exports may be no more than 15 million tonne, while imports could climb to 20-25 million tonne, said Poddar, making the country a net importer for the first time ever and hurting the competitiveness of its steel producers.

Next State Targeted

The mining bans in Goa and Karnataka, which at one point shut all mines in the two states, could now spread to the eastern state of Odisha, which was visited by the Shah Commission earlier this month.

Odisha's state government has fined several mining companies nearly Rs 68,000 for excessive mining of iron ore over the past 10 years, state Steel and Mines Secretary Rajesh Verma said.

None of those fined has been paid up so far, said Verma. Tata Steel Ltd and Aditya Birla Group-owned Essel Mining dispute the allegations. A major difference from Goa and Karnataka is that Odisha's ore is high grade and intended for the domestic steel industry rather than export.

If mining in Odisha is stopped, Indian steelmakers may need to import 30 million tonne of high-grade ore a year, said CRU's Aggarwal, adding that overall exports could fall to as low as 5 million tonnes.
These figures are an outlier. But there is no doubt that India's exports have fallen a lot already. From 100 million plus tonnes in 10/11 to below half of that this past financial year. Reasons for the bans have included illegal mining ducking taxes, the imposition of something called an MRRT and differential rail charges.
Still, I note that these developments have so far only helped support slower downside for the ore price, which gives you some idea of the magnitude of the glut. Had these restrictions happened in the past, the ore price would have gone to the moon. I expect India will resume ore exports in significant quantities eventually, as they have already done in Karnataka (which is one reason why the above figures look fanciful). But the crucial word is "eventually". Nothing moves quickly in Indian process.
The main game remains China. The falls in rebar may be explainable by cyclical weakness in the Chinese steel sector. But not completely. As last week's industrial profits showed, steel was still losing money hand over fist in October and whatever the recovery is it is not yet appearing with any vigour in steel. If rebar weakness continues, panic will seize the spot price before long.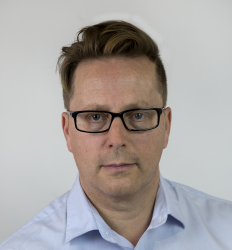 Latest posts by David Llewellyn-Smith
(see all)