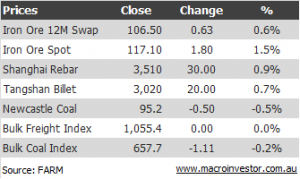 Find above the iron ore price complex chart for December 4, 2012. A good day for iron ore, defying my recent pessimism. Still, it seems I'm not the only one expecting ongoing falls. From Reuters:
Construction activity slows during winter in China, cutting demand for steel products, whose prices have fallen recently to levels last seen in September.

Appetite for spot iron ore cargoes has been thin since last week, dragging down the price of the benchmark 62-percent grade to $115.30 a tonne on Monday, its lowest since Oct. 19, based on data from Steel Index.

"Physical steel prices are weakening and this is having a spillover effect on iron ore. Fundamentals are very weak, construction has come to a complete stop in northern China," said a physical iron ore trader in Singapore.

"I remain bearish on iron ore, but I think spot prices would decline very slowly day by day. We will not see a sharp correction because iron ore is still in demand as steel mills are still producing."

China's steel mills have kept production close to 2 million tonnes a day for the most part of this year as producers responded to even modest rises in steel prices and counted on a pickup in consumption.

In mid-November, the country's daily crude steel output averaged 1.952 million tonnes, almost the same pace as earlier in the month, industry data showed last week.

"As inventories with steel mills are low, generally I don't expect a big fall in iron ore prices in the near future," said a Shanghai-based iron ore trader.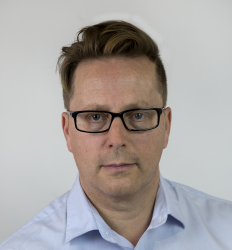 Latest posts by David Llewellyn-Smith
(see all)