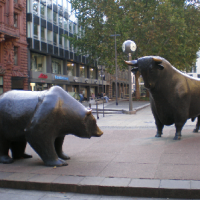 By Chris Becker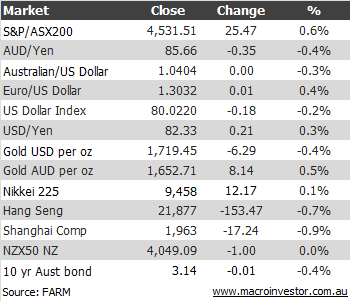 The price/earnings expansion rally (now at 17.5 times trailing earnings and nearly 14 times forward earnings – which keep getting revised down) – and ignorance of Chinese equity market moves – and fully pricing in another rate cut by the R.B.A tommorow – set Aussie stocks flying up 0.6% to 4531 points – check out a full roundup by sector including some the top 8 stocks and some technical analysis below.
The Nikkei 225 had a scratch day even though the Yen weakened further, while Chinese markets did not respond kindly to the official non-manufacturing PMI nor the HSBC Manufacturing PMI and slid further, the Hang Seng falling 0.7% and the Shanghai Comp down nearly 1% , well below its psychologically important 2000 point barrier at 1963 points.
The Aussie dollar is also pricing in the rate cut tomorrow and slid below 1.04 against the USD before coming back slightly, while the Euro rose 0.4% to be just over 1.30, the US Dollar Index is playing with the key 80 point level: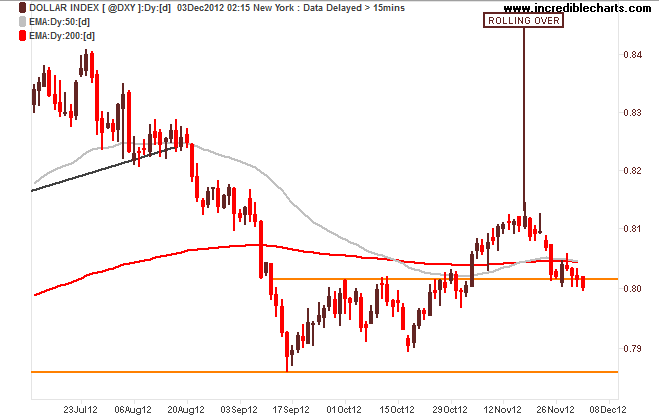 Which leaves Gold (USD) continuning to act weird, falling another 0.4% – similarly to AUD/USD – or $6USD an ounce to $1719 as the Dollar Index rolls over: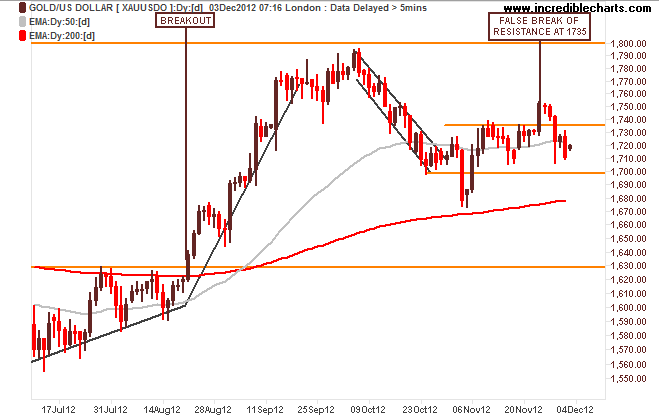 Australian Stocks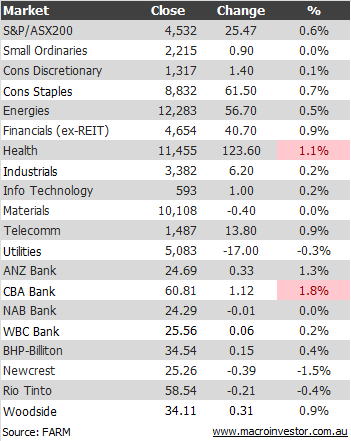 The table above shows gains across all sectors, although the Small Ordinaries had a scratch day – a trend I mentioned in todays MI investment meeting – the little index that could is really struggling to make traction: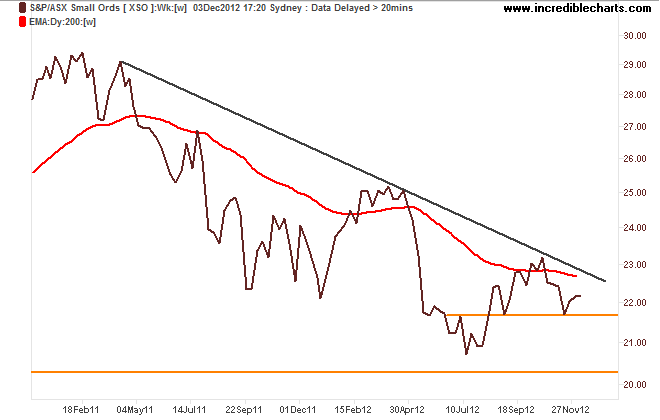 Healthcare was the winner again, but the real surprise is financials – all bid up, particularly CBA as they price in more fat juicy margins on another rate cut tomorrow. Commonwealth Bank cracked the $60 mark for the first time in 5 years – right at the peak of the GFC – and is well, well overbought IMO: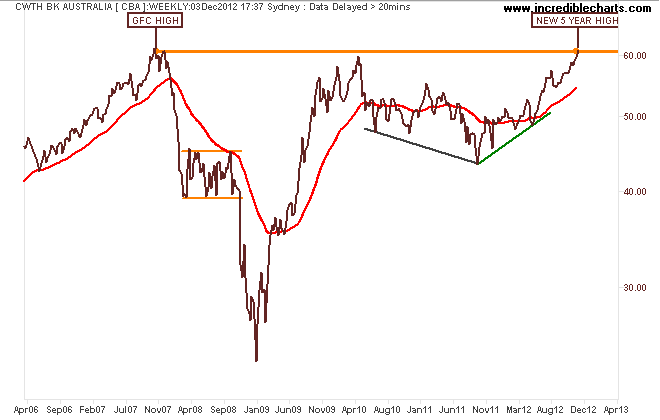 As for being overbought – heres the trailing price/earnings ratio chart for the ASX200: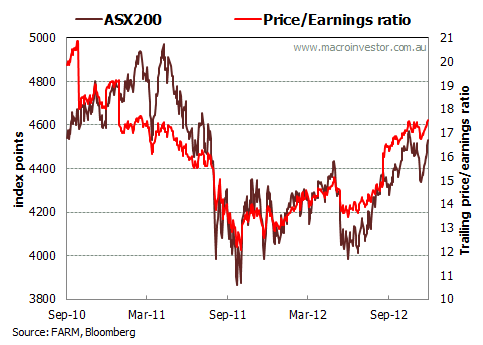 The market itself has bounced on the back of the Houses and Holes sectors, both surging at the same time but is close to triggering another KC Signal in the short term as I said last week "if US markets keep heading up and the US dollar remains weak, we should see a re-visiting of the KC Signal high just below 4600 points":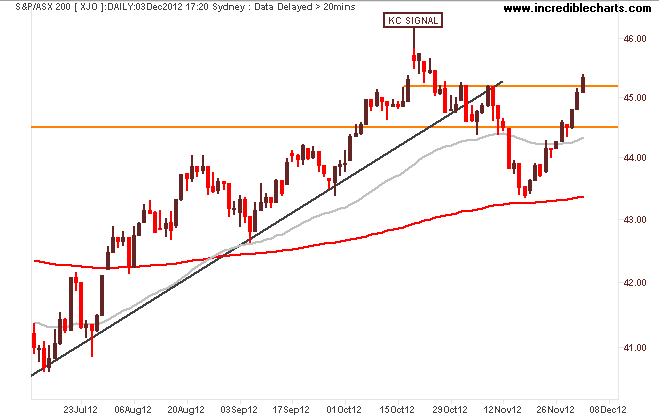 This free daily update should be read alongside Live Trades articles, published every morning at Macro Investor, and placed in context with the longer trends and macro drivers within the overall technical picture,  where former "Trading Week" readers will find it reborn as "Technicals", published 8.30am each Monday morning. Chris Becker is an investment strategist at Macro Investor, Australia's leading independent investment newsletter covering stocks, trades, property and fixed interest.  A free 21-day trial is available at the site.

You can follow Chris on Twitter.
Disclaimer: The content on this blog should not be taken as investment advice. All site content, including advertisements, shall not be construed as a recommendation, no matter how much it seems to make sense, to buy or sell any security or financial instrument, or to participate in any particular trading or investment strategy. The authors have no position in any company or advertiser reference unless explicitly specified. Any action that you take as a result of information, analysis, or advertisement on this site is ultimately your responsibility. Consult someone who claims to have a qualification before making any investment decisions.