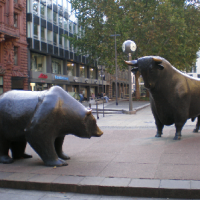 By Chris Becker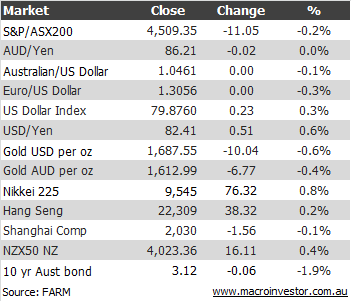 Asia had another mixed day on Yen weakness and a pause in Chinese markets rebounding from their lows. The ASX200 lost a few points on the "good" unemployment print to 4509 points. Check out a full roundup by sector including some the top 8 stocks and some technical analysis below.
The Nikkei 225 had a solid day as the Yen weakened against the USD, while the Shanghai Comp is down 0.1% currently taking a pause after some very good gains and above 2000 points again.
The Aussie dollar has stabilised and worryingly is running at very low average true range (ATR) levels – the lowest in 5 years on the 20 day ATR. Why worry? Because low volatility begets high volatility :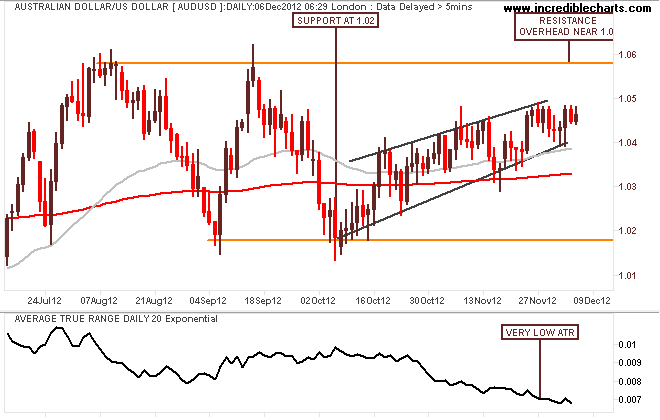 The US Dollar Index and Gold (USD) are coming back to their normal inverse correlation, with the former rising, the latter falling almost at its 200 day movign average now after falling through support at $1700USD per ounce last night.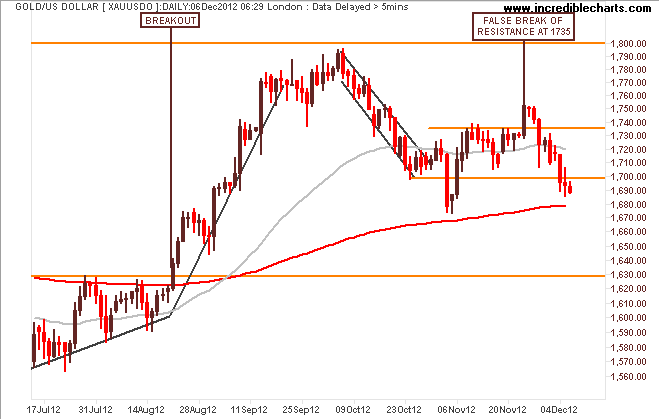 Australian Stocks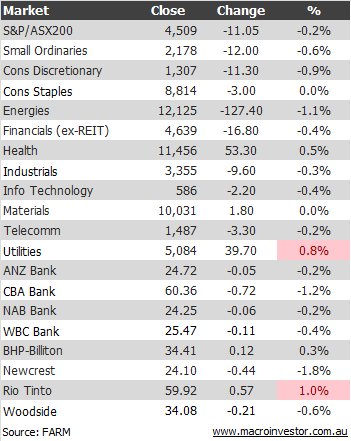 As you can see across the board not a very exciting day, although Rio Tinto (RIO) was the best performing out of the ASX8 (the top four miners and banks which make up most of the index). Commonwealth Bank (CBA) is looking very shaky indeed on today's candlestick – there's been a KC Signal – which it ignored – but it is just shy of the November 2007 high. Funny how Moody's today has come out and said the scope for ANY profit increase in the big banks next year is zero – yep, the best case scenario is the same earnings as last year – but they are running out of accounting tricks…..fast…
got put options?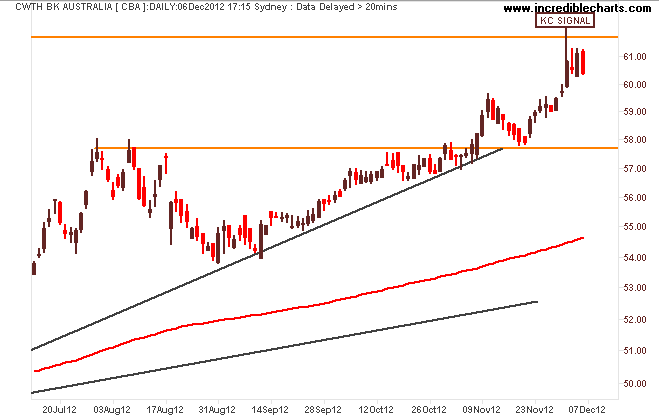 The market still wants to revisit the previous high but with financials way overbought, its up to materials and Chinese markets to get the bourse back above the KC Signal level and then on its way to 5000. For now its just hanging on, with a high AUD, even lower rates can't push the market up too much more – its another couple months until we see the RBA easing again (yes, they will folks):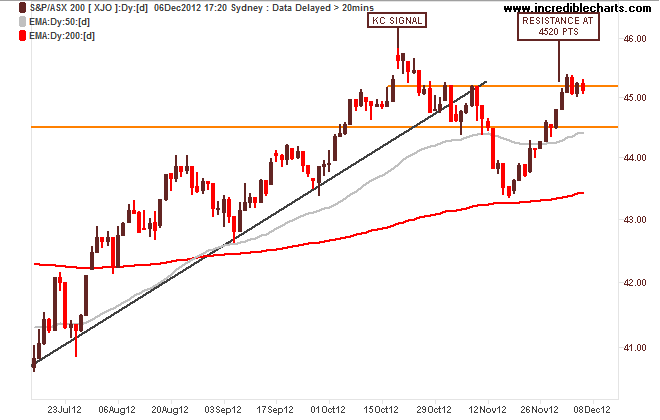 This free daily update should be read alongside Live Trades articles, published every morning at Macro Investor, and placed in context with the longer trends and macro drivers within the overall technical picture,  where former "Trading Week" readers will find it reborn as "Technicals", published 8.30am each Monday morning. Chris Becker is an investment strategist at Macro Investor, Australia's leading independent investment newsletter covering stocks, trades, property and fixed interest.  A free 21-day trial is available at the site. You can follow Chris on Twitter.
Disclaimer: The content on this blog should not be taken as investment advice. All site content, including advertisements, shall not be construed as a recommendation, no matter how much it seems to make sense, to buy or sell any security or financial instrument, or to participate in any particular trading or investment strategy. The authors have no position in any company or advertiser reference unless explicitly specified. Any action that you take as a result of information, analysis, or advertisement on this site is ultimately your responsibility. Consult someone who claims to have a qualification before making any investment decisions.