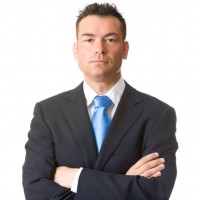 AFG has released its November lending figures and although the headline numbers aren't bad, with the number of loans up 1.5% on October and 4.5% on last year (unadjusted, Nathan Webb will provide seasonal adjustments in due course), AFG is howling about a collapse in first home buyers in QLD and NSW:
Demand for home loans by first home buyers has collapsed in New South Wales and Queensland, according to AFG, Australia's largest mortgage broker. Last month, AFG arranged just 96 home loans worth $31 million for First Home Buyers in Queensland, compared with 265 mortgages worth $79 million the month before.

This follows a similar trend in New South Wales where in both October and November the company arranged fewer than half the 219 home loans worth $83 million in September. State Governments in both NSW and QLD have withdrawn $7,000 first home buyers grants in the past two months.

The proportion of the company's home loans arranged for first home buyers has slumped in Queensland from levels around 15% in the months leading up to the end of the first home buyers grant, to just 5.5%. In New South Wales, first home buyers comprised 13% of new home loans up till September, dropping to 5.7% in October and 5.4% in November.

Mark Hewitt, General Manager of Sales and Operations says: 'This trend is both significant and very concerning for the market going forward. First home buyers are the lifeblood of the property market – when activity stagnates at the entry level, it affects everyone up the property chain. By contrast, both New South Wales and Queensland are enjoying strong support among property investors right now. We could be seeing the transition to a generation of renters unless more is done to help people onto the property ladder.'

New South Wales leads Australia with 41.1% of all loans in the state arranged for property investors. In Queensland this figure is 33.4%. By contrast, WA leads the country in the first home buyers market with 23.6% of all new home loans arranged for them.

Fixed rate mortgages rose as a proportion to 21.6% of all home loans arranged.

This is higher than in previous months but still well below the peak of 25.4% reached in March 2012.
Just let that sink in for a moment. That's 41% of the residential property in the nation's largest state being sold to investors, at least according to AFG data, which has its biases. As we know, property investment is dominated by older demographic cohorts. Meanwhile, just 5% are first home buyers. No doubt FHB demand will have been drawn forward before the removal of the grant and will recover in time but it is still difficult to see this as anything other than an inter-generational war being fought over the great Australian dream.
Here is the key table: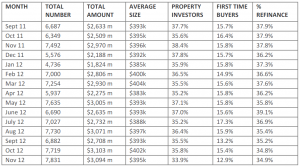 And the full release:
Mortgageindex December 2012 National
David Llewellyn-Smith is Chief Strategist at the MB Fund and MB Super. David is the founding publisher and editor of MacroBusiness and was the fouding publisher and global economy editor of The Diplomat, the Asia Pacific's leading geo-politics and economics portal.
He is also a former gold trader and economic commentator at The Sydney Morning Herald, The Age, the ABC and Business Spectator. He is the co-author of
The Great Crash of 2008
with Ross Garnaut and was the editor of the second
Garnaut Climate Change Review
.
Did you know the MB International Shares Fund has returned an average of 17.1% per annum and the Tactical Growth Fund an average of 10.4%? Register below to learn more:
Latest posts by Houses and Holes (see all)