The RBA's index of commodity prices for October is out and continues its recent dump. If you're wondering why since iron ore has been powering it's simple, longer term coal contracts are now getting lowered following falls earlier in the year:
Preliminary estimates for October indicate that the index fell by 3.5 per cent (on a monthly average basis) in SDR terms, after falling by 2.2 per cent in September (revised). The largest contributors to the fall in October were declines in the prices of coking coal, thermal coal and oil, which were partly offset by increases in the price of iron ore. The prices of base metals also declined. In Australian dollar terms, the index fell by 2.2 per cent in October.

Over the past year, the index has fallen by 16 per cent in SDR terms. Much of this fall has been due to declines in the prices of iron ore and coking coal. The index has fallen by 19.1 per cent in Australian dollar terms over the past year.

As indicated in previous releases, preliminary estimates for iron ore, coking coal and thermal coal export prices are being used for recent months, based on market information.

For further details regarding the construction of the index, please refer to 'Updating the RBA's Index of Commodity Prices' in the October 2009 issue of the Bulletin.

Details are in the attached table and graph.
Still looks awesome!
Except in Australian dollars: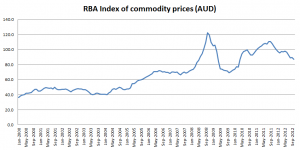 Still looks pretty good! Except for that God awful head and shoulders pattern…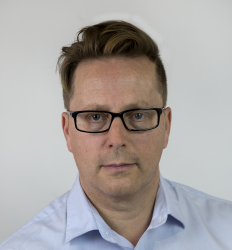 Latest posts by David Llewellyn-Smith
(see all)