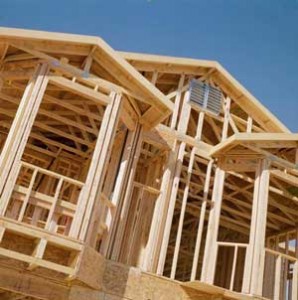 Find below a speech this afternoon by Jonathon Kearns, Head of Economic Analysis at the RBA, on the outlook for dwelling investment.
The Outlook for Dwelling Investment
Jonathan Kearns*
Head of Economic Analysis
Address to the Australian Business Economists' Lunchtime Briefing
Sydney – 13 November 2012
Housing is important to all of us as a place to live. Housing construction has traditionally been one of the most cyclical parts of the economy. It tends to share this cycle with housing renovation activity and housing turnover. Given the important influences this housing cycle can also have on other parts of the economy, such as consumer spending on durable goods, it is easy to see why we pay so much attention to housing as an important driver of economic activity.
It is notable then that, for the past decade or so, the rate of housing construction has not been particularly cyclical, and has been at a low level. Indeed, some indicators suggest that supply has not kept up with demand. There are tentative signs, however, that dwelling investment (that is, investment in housing) will pick up which would, in part, offset the smaller contribution to growth that we expect from resource investment in the coming years. Today I will discuss what rate housing demand might be growing at, and then I will come back to talk about housing supply before finishing with some general comments about the outlook for dwelling investment.
Housing Demand
The growth of demand for housing largely depends on the growth of the number of households, which is determined by population growth and changes in the average number of people in each household. The rate of population growth has been higher over the past seven or so years than over the preceding 30 years (Graph 1). Despite this, the growth rate of the dwelling stock did not increase, and for a few years the population was even growing faster than the dwelling stock. Population growth depends on births and deaths, and net immigration. Net immigration to a large extent depends on demographic factors and government policy, but it can also be influenced by economic growth and the cost of housing.[1]
Graph 1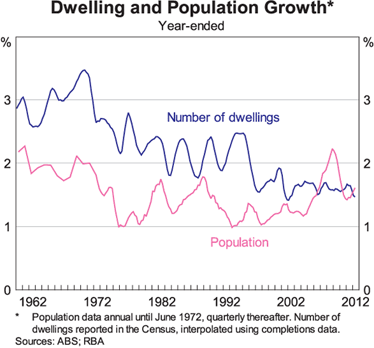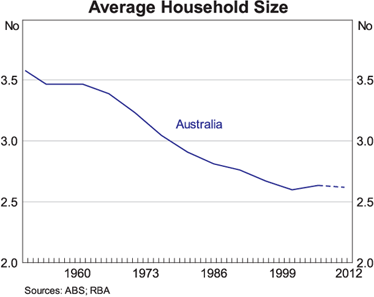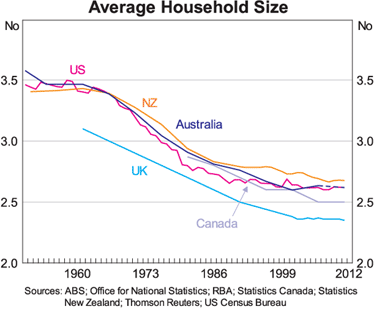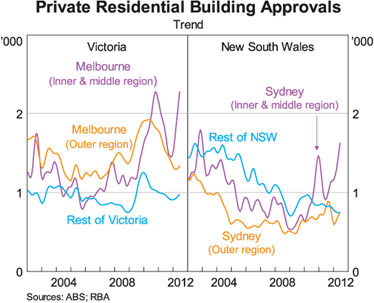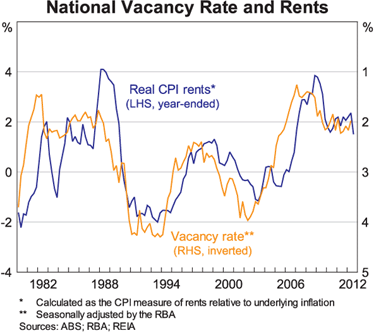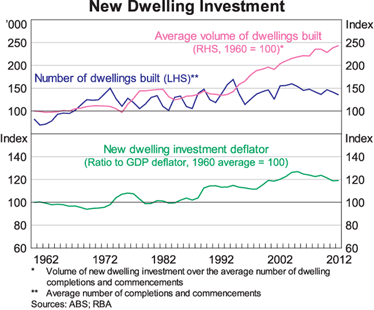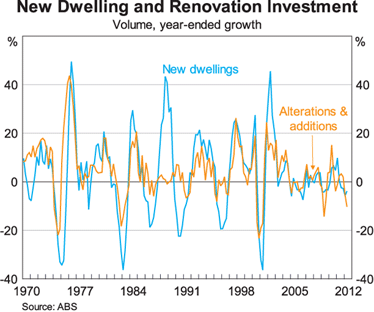 Another notable feature of dwelling investment since around 2003, and in contrast to previous decades, is the absence of a strong cycle. This hasn't only been the absence of a strong upswing, but also that dwelling investment hasn't had the sharp falls over this period that might have been expected, for example, in 2004 when dwelling prices stopped increasing sharply or in the economic downturn in 2009.
In recent years, the share of higher density dwellings in new construction has increased, and this trend would seem likely to continue. This may have ongoing implications for the nature of the construction cycle given higher density dwellings take longer from planning, through construction, to completion.
Conclusion
So what is the outlook for dwelling investment? While the long-run decline in the average number of people per household seems to have tapered off at least partly for demographic reasons, the strong population growth in recent years and the relatively low rate of dwelling construction suggest that there is sufficient demand for housing in the economy that an increase in supply could easily be absorbed. The relatively tight conditions in the rental market lead to a similar conclusion. Other factors are also working in favour of an increase in dwelling investment. Interest rates have fallen and income growth has been relatively strong. That said, some factors suggest that the recovery may be relatively modest, including that households have not shown an inclination to take on debt at the same rate they did in the 1990s and early 2000s, and that the ratio of prices to income is high relative to its history, suggesting that it is unlikely that a large increase in prices is in prospect. So, overall, it looks likely that dwelling investment will pick up at a relatively moderate rate in the medium term. How quickly and how strongly of course remain important questions for understanding the impact on the overall economy.
Endnotes
* I would like to thank Trent Saunders for his valuable assistance in the preparation of this talk.[BACK TO TEXT]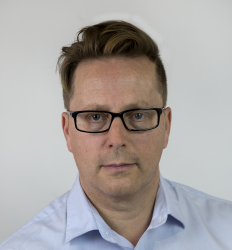 Latest posts by David Llewellyn-Smith
(see all)