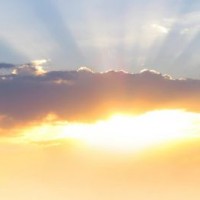 Europe had a good night following on from Asia's strong performance yesterday but the US had a more volatile trade buffetted by a reversal of Republican House Speaker John Boehner's positive comments from the day before. President Obama was also less positive but in the end the US is closing stronger.
On the data front there was a revision to the Q3 US GDP data from 2.0% at the advance estimate a month ago to 2.7% released overnight. Much of the revision was an increase in the contribution of inventories to growth which changed from -0.1% at the first estimate to a contribution of +0.77% to last night's 2nd update. So on the face of it the higher number looks good but then we note that personal consumption was revised down from 2% to 1.4%. These are big revisions and it is easy to see why the Australian Bureau of Statisitics waits an extra month or two after the end of the quarter before it releases our GDP so that it can have a reasonable stab at GDP growth and hope to be somewhat close to the real growth number.
Elsewhere on the economic front, German unemployment rose 5000 with an unemployment rate of 6.9%. Eurozone business climate was better than expected at 1.19 versus -1.60 but industrial confidence was still negative 15.1 and services sentiment -11.9. Turning back to the US data jobless claims were marginally worse than expected at 393000 last week but pending home sales jumped sharply up 5.2% in October month on month against expectations of 0.8% so housing certainly looks to be continuing its recovery although the Kansas Fed manufacturing index was -6 versus expectation of -3.
In Europe it was a positive day from the outset as the better tone in most of Asia filtered through to Europe and every one of the European markets that I follow ended up and for the most part strongly higher. The FTSE was up 1.15%, the DAX was the worst performing market I follow but even it rose 0.78% and the CAC was 1.53% higher. Madrid rose 1.68%.
In the US with 12 minutes to go the S&P 500 is up 0.48% to 1416. The Dow is up 0.32% and the NASDAQ is up a much stronger 0.72%.
Silver is closing above the trend line we have been watching this week. Tonight is the important close given that this is a 15-16 month trendline so we'll see. At the close silver is sitting at $34.27 oz up 1.74% while gold is higher at $1726 up 0.60%. Crude is off its highs for the day but still up 1.68% at $87.94 bbl – crude is in a sideways trade at the moment even if the moves are large ones inter-day but it bears watching to see if there is a break out sometime soon.
On global FX markets, for the Australian dollar it was a more interesting night's trade than probably most people expected given that stocks were up but the AUD was down sharply. Having made a high  of 1.0479 near the top of the range again AUDUSD sits this morning at 1.0425 down 0.48% against an S&P 500 that is up 0.50% as I write. Correlations are hardly ever constant but the performance of the Aussie dollar needs to be thought about.
I would make a couple of observations:
If you cant break a range or hold a range break as happened this week in the AUDUSD then prices often naturally reverse as counter trend or range enforcers sell
The expectation of an RBA rate cut next week has increased after this week's data with about 77% implied expectation (I hate this metric but it is observable)
RBA Board member John Edwards in the WSJ overnight made the obvious observation that there is an upper limit on how much offshore investors can buy of Aussie assets given portfolio limits which might also have knocked Aussie a little lower
Technically on the 4 hour charts it looks biased back toward 1.0405/10.
Lets have a look at some Meta 4 charts from my  AVATrade platform.
EUR/USD: It is very interesting as the Euro has now tried for 5 days in a row to close above the trend line that goes all the way back to early 2011 so tonight's close will be very important for the longer term technical outlook: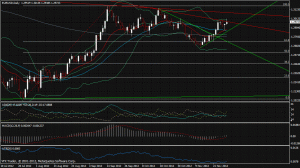 AUD/USD:  Having made a high  of 1.0479 near the top of the range again AUDUSD sits this morning at 1.0425 down 0.48% against an S&P 500 that is up 0.39% as I write. Having failed topside the bias is for a test toward 1.0405 on the 4 hour charts: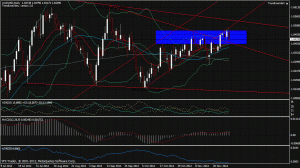 Data: In In New Zealand we get building permits this morning before a raft of Japanese data which could be market moving. Highlights are CPI, Industrial Production, PMI, housing starts, vehicle production and household spending. At 11.30 we'll get the latest update on Australian private sector credit and then tonight German retail sales, French consumer spending and CPI. In the Americas Brazil is releasing its GDP  and budgetary position and in the US personal consumption data will be important.
Here is how the markets looked at 7.40 this morning.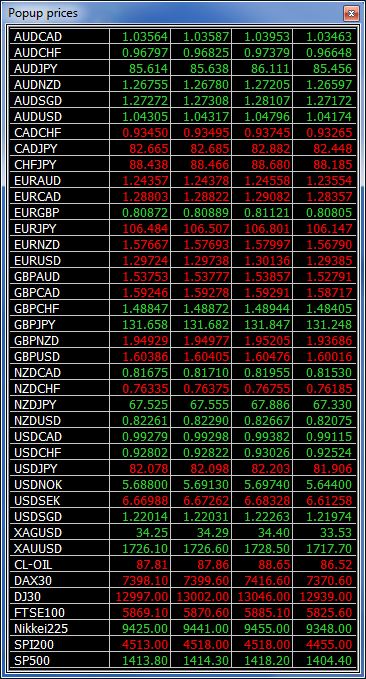 Twitter: Greg McKenna.

Disclaimer: The content on this blog should not be taken as investment advice. All site content, including advertisements, shall not be construed as a recommendation, no matter how much it seems to make sense, to buy or sell any security or financial instrument, or to participate in any particular trading or investment strategy. Any action that you take as a result of information, analysis, or advertisement on this site is ultimately your responsibility and you should consult your investment or financial adviser before making any investments.