The HIA has released its quarterly housing affordability index and it has jumped above the brief moment enjoyed by the handful of buyers that bought in the months during the GFC:
The good news on housing affordability continued in the September 2012 quarter with improvements evident across all geographical areas, said the Housing Industry Association, the voice of Australia's residential building industry.The HIA-CBA Housing Affordability Index increased by 5.3 per cent in the September 2012 quarter to be up by 15.0 per cent compared to the same quarter in 2011."This is the seventh consecutive quarter where we have seen an improvement in the headline affordability index," said HIA Chief Economist, Dr Harley Dale. "The run of consecutive improvements in some regional indices is even longer, in some instances showing affordability has reached levels not seen since the early 2000s."

"Housing affordability has been improving on the back of steadily growing incomes, falling interest rates,and easing dwelling prices," said Harley Dale. "At the same time, however, transactions volumes have remained historically low as economic uncertainty has weighed heavily on households' willingness to engage in the residential property market.
The good news is more muted for the vast majority of us living in cities, note the light blue line.
Still, the headline index has improved even on the longer term horizon: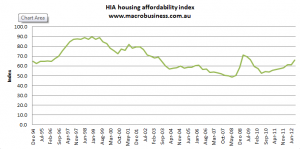 Though I question whether property represents the same level of affordability that it did in 1994…