Here is Friday's iron ore price table:
And the ore price chart: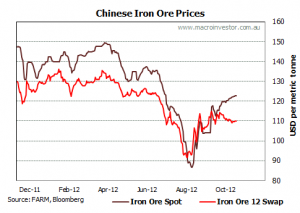 As well as Chinese coastal bulk shipping rates: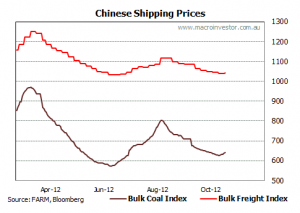 It's good news for thermal coal basically, which continues its nice rally on better Chinese electricity generation.
For iron ore, the topping pressure is still there in our spreads. First, the 12m swap/spot spread looks very wide at this price level (actually I might add a another chart tomorrow, looking at the spread as a ratio of price):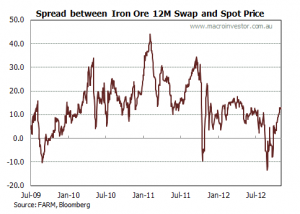 This reeks of a restocking cycle. The spreads appear to be overshooting on short term buying to replenish stocks while farther out fundamentals still hold sway.
This is borne out as well by the rebar/spot price spread which is not quite so stretched but still looks pretty full at these price levels: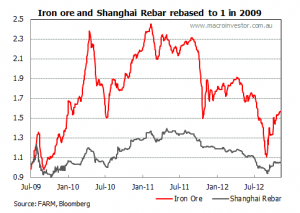 It is perhaps clearer on the percentage spread chart. As the ore/steel prices complex come back into equilibrium over time, you can see there are distinct steps upwards in the negative percentage price gap between them: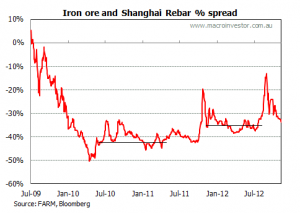 I do not expect this gap to close completely. Perhaps 20% is a comfortable long term target, as a complete guess! The advent of a spot iron ore price over yesterday's contract pricing should mean the security of supply discount is removed. But I will be surprised if this stretches much further and will have re-evaluate my thesis that ore is already in over-supply if it does.
The big news in the market today is all about tax. Super profits taxes to be clear. From the AFR:
The minerals resource rent tax is unlikely to be paid until the iron ore price rebounds to about $US140 a tonne, in part due to rising offsets from state royalty payments, under modelling conducted by PwC.

The model, based on an Australian dollar at parity with the US dollar, is a hypothetical one based on a small iron ore producer and not applicable to individual projects.

A source familiar with major miners told The Australian Financial Review it was likely to need a price of at least $US130 a tonne before the tax hit companies like Rio Tinto and BHP Billiton. The actual figure would also dependent on the value of the local currency.

PwC partner and WA mining leader Wayne Huf said…there was no doubt miners were suffering from a high tax rate in Australia, but that the issue was probably around the mix of taxes rather than the rates. "The tension between the state and federal governments over the interaction of royalties/MRRT needs to be resolved for the good of the industry nationally," he said.
The majors are thought to have costs of production in $40-$50 range. Maybe that's the case on their expansions but the bulk of their production was very profitable at much lower rates than this, at or below $20.
The only good thing you can say about the MRRT is that it does appear to have given states the leverage to increase royalty rates, which was one objective of the tax, overcoming state weakness in negotiations.
Beyond that, it's a joke.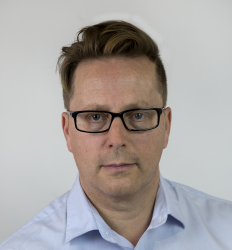 Latest posts by David Llewellyn-Smith
(see all)