Here is today's iron ore price table: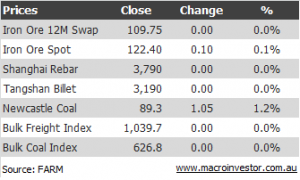 Lot's of news today. First, CISA reckons the rally is done:
A recent rally in steel prices in China, the world's top steel market, may lose steam as overcapacity continues to eat into steel makers' margins, offsetting a recent drop in inventories, the China Iron & Steel Association (CISA) said on Wednesday.

Total inventories of five main steel products including hot-rolled coil and rebar in 26 major markets fell 2.8 per cent from the end of October to 12.08 million tonnes on November 9, CISA said in a statement on its website.

"Rising fixed asset investment in the fourth quarter will lift demand for steel," CISA said, referring to increased investment in railway and other infrastructure construction, but warned that cold weather in the northern regions and growing supplies will weigh on steel rebar prices.

…Apparent crude steel consumption in China rose only 0.65 per cent to 510.3 million tonnes for the first nine months from a year earlier, compared with a 10.38 per cent growth last year, CISA added.
But the bigger news is all about Roy Hill:
Gina Rinehart's Hancock Prospecting will formally begin asking lenders for $7 billion in debt financing for the Roy Hill iron ore project within days, although scepticism remains that the mine can be built in the current tough market.

The debt package is the last key hurdle for the $9.5 billion project. The first shipment target has been pushed back to mid-September 2015, from a previous goal of late 2014.

Following the recent fall in the iron ore price, rival miners such as Rio Tinto and BHP Billiton and industry analysts have expressed scepticism the project will be built.

"It is a war," Hancock Prospecting executive director Tad Watroba told the Australian Resources Conference yesterday. "Business is business. For them to protect their position they have scepticism. We had the same thing with Hope Downs. It is normal. I don't feel bad about it or angry with them but that is the nature of the beast."

Roy Hill is expected to produce 55 million tonnes of iron ore a year.
Nobody seems to know what the key metrics for Roy Hill are. What is its break-even ore price? No doubt in part because the finance is not yet in place. As such, it's all a bit of a mystery. If Fortescue's successful refinancing is a benchmark then the project must be able to deliver profits well below an iron ore spot price of $100 per tonne.
Let's hope so because by the time it's on line, Roy Hill will be entering a grossly oversupplied market.
David Llewellyn-Smith is Chief Strategist at the MB Fund and MB Super. David is the founding publisher and editor of MacroBusiness and was the founding publisher and global economy editor of The Diplomat, the Asia Pacific's leading geo-politics and economics portal.

He is also a former gold trader and economic commentator at The Sydney Morning Herald, The Age, the ABC and Business Spectator. He is the co-author of The Great Crash of 2008 with Ross Garnaut and was the editor of the second Garnaut Climate Change Review.
Latest posts by David Llewellyn-Smith (see all)