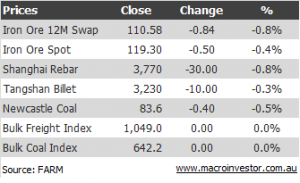 Today's iron complex table is weak across the board.
And, apparently, "analysts" agree that the rally is in peril! From Reuters:
Iron ore prices may drop nearly 10 percent over the next three years as top consumer China's economic growth shifts to a slower gear.

…Iron ore is forecast to average $120 per tonne in 2013, down from an estimated $126 this year as China's crude steel production growth weakens, according to the median estimate in a Reuters survey of 12 analysts.

The price average should slip further to $119 by 2014 and to $115 by 2015, the poll showed.
Ah, if only! But one analyst has his head screwed on:
" China continues a structural shift away from fixed asset investment-led growth, which means steel demand growth will remain below GDP growth rates in the future," said Ian Roper, commodities strategist at CLSA.

The most bearish among those polled, CLSA's Roper expects iron ore prices to average $85 and $75 in 2014 and 2015, respectively.

"Most forecasters are still in blind bullish mode thinking Chinese steel demand will grow and grow (strongly) forever," he said.
Too right. But it's now a margins game:
Even with iron ore prices unlikely to return to record levels of near $200 per tonne reached last year, the big margins enjoyed by low-cost producers Vale, Rio Tinto and BHP Billiton mean they are going ahead with plans to boost output.

"The current pricing is enough to incentivise them to lift their output. Prices being where they are will probably slow the urgency of the capital spending, but even so there should be a desire to get more production into the market," said Graeme Train, Macquarie commodity analyst in Shanghai.

"The share prices today, we believe, are factoring in a pessimistic outlook, one in which commodity prices are going to average lower than what we see today," Catherine Raw, co-manager of BlackRock Inc's BGF World Mining Fund, told reporters in Sydney on Tuesday.

"From our point of view, this creates a huge amount of value and a huge amount of opportunity."

BlackRock, the world's largest money manager, was overweight in iron ore companies including Rio Tinto and BHP Billiton and sees a long-term price of around $120 a tonne.

But with low-cost producers dominating the market, slower demand growth from China suggests the global seaborne iron ore market may be in surplus from next year, a year earlier than the previously estimated.
Note to self. Sell Blackrock.  The seaborne market is in surplus now. The margins game can only be played for so long and as the seaborne surplus grows next year and the year after, capex plans will be pulled in further. The time to go long again will be when a crisis consolidation occurs as everyone panics about the sudden glut!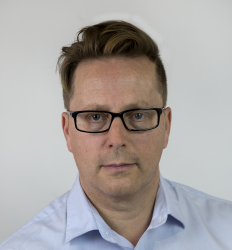 Latest posts by David Llewellyn-Smith
(see all)