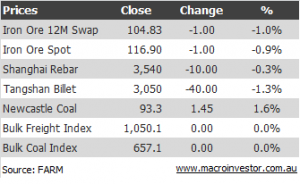 Above is the iron ore complex table for November 29. As you can see, falls in the broader markets continue to outpace the spot price. In the past this pattern has preceded big falls in spot as it capitulates suddenly, falling absolutely, as well as closing the spread to swaps.
In news today, as we know Rio announced big cost cuts yesterday but it appears they will fall mainly on coal. From The Australian:
"The burden of proof for an Australian coal project will be its ability to demonstrate that it can operate cost-competitively, on a tougher world stage, and it can be developed in a manner which is capital-friendly," he said. "So the increases we've seen in capital costs in the Australian coal industry in the past five years, really do need to be rolled back to attract capital. The operating cost structure, the cost structure of the entire supply chain, and the fiscal regime, needs to reflect the fact that there's tougher competition."

…Despite the attack on costs, Rio remains committed to the $US26bn expansion of its Pilbara iron ore business from 220 million tonnes a year to 360 million tonnes a year by 2015. BHP Billiton and Fortescue have both eased back on their expansion plans in the Pilbara in response to the fall in prices for the steelmaking raw material.

And in what could well prove to be a shock for its competitors, Rio revealed that thanks to its ongoing investment in the Pilbara, its total delivered cost for iron ore could fall to as low as $US35.50 a tonne from 2020. Iron ore is selling in China for about $US118 a tonne, down from last year's average of $US150 a tonne.
That should not be a shock to competitors but it may be judging from the troubled plans of those further up the cost curve. It may also be a shock to Australians who watched Rio trash the RSPT.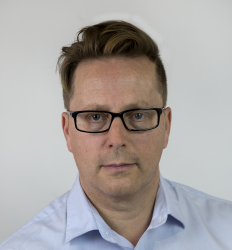 Latest posts by David Llewellyn-Smith
(see all)