Here is today's iron ore complex table, which is the reverse of yesterday: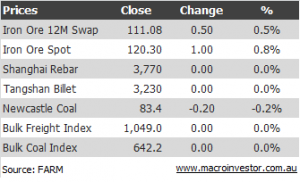 However, the big news today is all about the news (as it were). Australia's economic godfather, Ross Garnaut, spent most of yesterday throwing his wayward children into a blast furnace for daring to dream of an endless commodities boom.
"In China thermal [coal] is in deep shit," said the gentlemanly professor.
According to Peter Martin of The Age, he went on:
"It happens that the Chinese structural change has had its most severe effect precisely on the three commodities which have been at the centre of the Australian resources boom – iron ore, metallurgical coal and thermal coal," he told a Melbourne Institute conference. "The awful reality is that parts of corporate Australia have dissipated shareholders's funds by underestimating the seriousness of Chinese commitments to reduce the emissions intensity of economic growth."

Professor Garnaut said China had exceeded its ambitious emissions targets, cutting coal-fired generation by more than 7 per cent in the past year. A rapid expansion in hydroelectricity, and wind, biomass, solar and nuclear power, had pushed down coal's share of energy production from 85 to 73 per cent.

Australia's iron ore exporters would soon have to compete with massive new Chinese-funded mines in West Africa created in part by Australia's decision to block Chinese investment at home.
The professor also said that the commodity forecasts of the Asian White Paper were barely believable, that gas and uranium would be far more important to Australia's prosperity and the challenge was to "come down from our hump in incomes and expenditure without precipitating recession".
Nothing here for regular readers to raise an eyebrow at but a nasty burn for the Chinese permabulls that seem to hog the limelight.
And there is more sobering news from China:
Data collected over the first nine months of this year indicates that 48.1% of the iron ore stored at China's largest port for imports of the mineral are unqualified or substandard, the Chinese-language Economic Observer reports.

China imported nearly 700 million tonnes of iron ore in 2011, a 10.9% year-on-year growth, raising the country's reliance on imported iron ore to 60%.

Huangdao, in Qingdao, Shandong province, is China's largest iron ore import port, accounting for one-seventh of national iron ore imports, was found on inspection to contain nearly 50% unqualified iron ore. The two major parameters on which the imports fell short were average quality and short weight.

The inflow of large amounts of unqualified iron ore into the country not only affects the interests of steel foundries, but also the quality of the steel products they make, posing safety risks for downstream producers of construction materials.

In the past, domestic steel factories would buy iron ore from several large companies with a good reputation. However, with raw material prices soaring and due to the financial crisis in recent years, some domestic steel factories have incurred heavy losses. To reduce costs and maintain revenue, domestic factories have resorted to importing large amounts of low-priced iron ore from medium and small iron miners in countries such as India, Iran, Ukraine and North Korea, the report said.

With abundant low-quality and low-priced iron ore available in emerging markets, their prices were lower than high-quality iron ore, even after adding refining costs.

However, problems encountered include chaotic management and the low reliability of small and medium iron ore companies. The incidence of iron ore imports being below par and of short weight have gone up over the last two years, the report said.

Following rampant exploitation over the past several decades, iron ore mines in Brazil and Australia have become depleted and the quality of minerals from large mines has declined.

An inspection official said that since some foreign suppliers were likely to take advantage of communications problems occurring at ports to carry out fraud, the government should set up a supervision network linking various ports around the country. This would prevent substandard iron ore from entering the country and ensure the country's economic security.
Now, this might be good news. Australia has cleaner ore than most. But it might not. I have argued many times that the so-called "cost curve price floor" argument, which posits that high cost Chinese ore mines will shut and be replaced by our cheaper ore, keeping the price around $120 per tonne, is weak in part because it assumes the Chinese won't protect local producers. The kind of regulation of the ports that the article discusses can be interpreted as a forerunner of backdoor protectionism. Customs restrictions surrounding the quality of any given product are page one in the handbook of secret tariffs. We use it great effect ourselves in agriculture. So, this could be the beginning of just such a regime, in which authorities have the bureaucratic cover to eject selected seaborne iron ore from their markets.
You will notice too that the article is explicit about this being an issue of economic security and carries an open warning to Australian majors.
Despite yesterday's price rises, iron ore has had better days.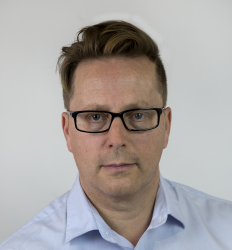 Latest posts by David Llewellyn-Smith
(see all)