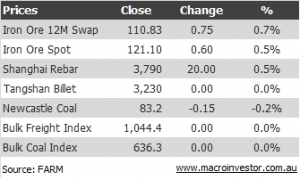 Above find today's iron ore complex chart. As predicted, the 12m/spot spread is now reverted to mean, but it looks like the the spot price is set to drag up the 12m, not other way around.
Before we get to that, Port Hedland yesterday released its October shipping volumes: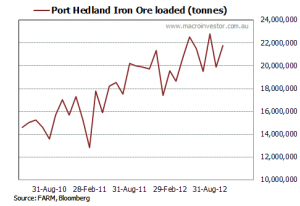 The big improver was China, which beat the previous Port Hedland record set in May, helping offset a significant fall in Japanese shipments.
Here was September:

And October:

But, back to the positive price action. Rumours are flying that India will save iron ore. From The West:
The iron ore market is looking better now than a year ago despite the recent crash in spot prices, according to respected Macquarie Bank commodities analyst Jim Lennon.

…Mr Lennon said he believed Australian iron ore producers were well set to take advantage of falling exports from India, and from Brazilian iron ore producers' ongoing struggle to add new capacity amid falling grades at older mines.

He said, based on local feedback, iron ore exports from India could fall to below 20 million tonnes next year, from 120 million tonnes in 2011.

"Even though we've lowered our demand forecast for Chinese steel, at the same time with delays in investment projects around the world, with the sharp collapse in Indian iron ore exports and the likelihood that's going to stay low, the supply demand balance has actually improved a little bit in a three to four-year view," he said.
I'm not so sanguine in the long term. Indian interference in ore mining tends to lead to short term bottle-necks as bureaucratic wrangles are sorted through. But for now, at least, India is curtailing ore exports:
India's iron-ore shipments are expected to plunge to about 25 million metric tons this fiscal–from 60 million tons in the year ended March 31–as the mineral-rich eastern state of Orissa has suspended all exports, a senior trade body executive said Tuesday.

…Orissa's move follows a mining ban in the iron-ore rich state of Goa, while another major producer, Karnataka, has only just begin easing a mining ban. The three states together account for the bulk of iron-ore output in India, the world's No. 3 exporter.

The eastern state is also demanding a total payment of 670 billion rupees ($12.3 billion) in penalties from 103 companies for excessive mining.

"Yes, we have sent notices to mining companies. Representatives of the companies are free to appeal to the state government if they want to," Orissa's Director of Mines Deepak Kumar Mohanty said, but didn't name the companies.

…The country's iron-ore production is expected to fall to 100 million tons this year from 160 million tons last year, Mr. Poddar said.

…The Orissa government has asked Tata Steel to pay a fine of more than $1 billion for excessive mining, a person with direct knowledge of the matter said.

…Analysts said the mining industry will likely contest the demand for penalties in court.

"Our checks reveal that though most of the measures are not legally tenable, they will trigger a faceoff between miners and the state government," Prasad Baji of Mumbai-based brokerage Edelweiss Research said in a note.
The last time Indian administrative interference hit the ore price, in Karnataka, restrictions ultimately loosened but in the mean time this is what happened (the circle marks the point of the ban):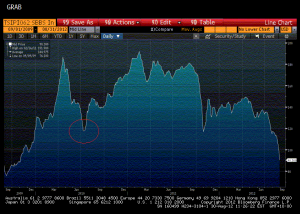 So, things are suddenly looking up for iron ore: smooth political transitions in China and the US; economic stabilisation in China; Indian ore shortages and technical stability. We may be about to overshoot to the upside in iron ore.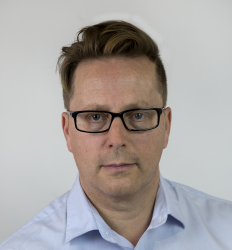 Latest posts by David Llewellyn-Smith
(see all)