Iron ore continued to edge higher yesterday, perhaps helped by the resolution of Chinese leadership: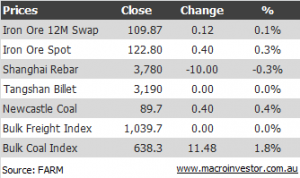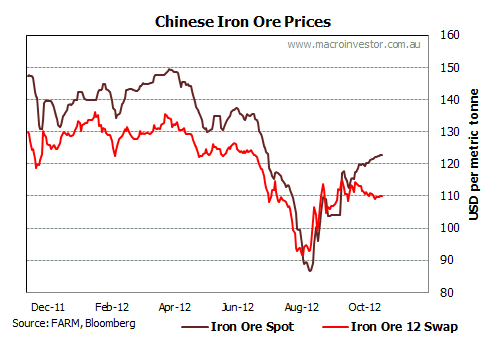 Not much more to say today but came across the following classic from Creamer's Mining Weekly:
While iron-ore prices appeared set to make a partial recovery, they would remain volatile, as revised Chinese growth targets and performance were likely to result in further short-term peaks and troughs up to 2020, metals and minerals research firm Roskill's new 'Iron-Ore: Market Outlook to 2020' report has revealed.

Risk factors include uncertainty over the eurozone and its impact on iron-ore demand and availability, as well as on cost of capital; growing resource nationalism, particularly in Africa; highly unpredictable energy costs; rising labour costs; and the fate of the Indian mining industry following the mining bans in Goa and Karnataka states.

With the disruption of supplies from India, concerns over slowing economic growth in China and the effects of large stockpiles forcing the price of iron-ore through a series of supposed 'price floors', the industry faced a turbulent 2011 and 2012.

Following the slump in prices from June to September, Roskill expected prices to remain above $120/t cfr for 63.5% Fe content Indian fines until the end of 2014, while a restocking phase could push prices towards $135/t during 2013.

The firm noted that large fluctuations were likely and that the industry's price floor would gradually drop as new capacity came on-stream. Roskill envisaged that the $100/t price level would be repeatedly tested and eventually broken towards 2015.

Against this backdrop, and adjusting for inflation, prices were expected to trend towards $85/t and $95/t during 2016 to 2020.

Despite downward revisions in the long-term outlook for iron-ore demand and prices, Roskill estimated that an additional 425-million tons a year of nameplate capacity would come on board from the middle of 2012 to the end of 2014.

These capacity additions would continue to surpass 100-million tons a year to 2020 and were foreseen to exceed demand growth and represent low- to medium-cost operations mostly.

"Consequently, producers at the higher end of the cost curve, particularly those in China, will gradually find themselves unable to compete in the open market," Roskill said.
Crikey, 450 million tonnes next year and they're forecasting a price rally? Talk about ignoring your own numbers. Bring the 2015 forecast forward three years and you're on the money.
David Llewellyn-Smith is Chief Strategist at the MB Fund and MB Super. David is the founding publisher and editor of MacroBusiness and was the founding publisher and global economy editor of The Diplomat, the Asia Pacific's leading geo-politics and economics portal.

He is also a former gold trader and economic commentator at The Sydney Morning Herald, The Age, the ABC and Business Spectator. He is the co-author of The Great Crash of 2008 with Ross Garnaut and was the editor of the second Garnaut Climate Change Review.
Latest posts by Houses and Holes (see all)