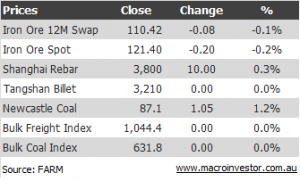 Find above today's ore price complex table.
In wider news, Reuters offered a good snap shot of the dynamics in the market overnight:
"Most takers of cargoes are traders who are trying to keep the market up, expecting some good news for the steel sector to come out from the China congress," said a Shanghai-based iron ore trader.

"There's still demand from mills, but unless they really need the material urgently, they are not really willing to pay higher prices, especially for forward cargo."

…"Some traders with cargoes in hand are holding offers in anticipation of firmer prices, though in general there is little consensus on direction, particularly among mills," the Steel Index said in a note.

…Largely stable steel prices in China and expectations that more measures to stimulate steel demand and the overall economy will be unveiled by China's new leaders have supported recent gains in iron ore prices.

…But the inability of steel prices to scale higher may have prompted China's leading steel mills to cut daily crude steel output late last month. China's average daily crude steel output fell 4 percent to 1.926 million tonnes between Oct. 21-31 from the preceding 10-day period, according to data from the China Iron and Steel Association (CISA).

"We suspect the drop has more to do with data being skewed toward increases in the first part of the month – and overstated – ahead of China's 18th National Congress rather than any real production declines as steel prices were stable over the time period," Steel Market Intelligence said in a note. "As a result, we think the more appropriate metric to look at is the full-month CISA estimate of 1.946 million tonnes per day, which is up just 0.8 percent from final September data compared with the mid-October run-rate which was up 3.5 percent."
That doesn't overly fill with confidence. Still no sign of end-user demand. Given I'm of the view that the new Chines leadership will continue the policies of the old, structural adjustment away from fixed-asset investment, these look like weak hands holding together the rally. No mention either of India, which has faded away swiftly as a supply concern, seemingly.
As promised yesterday, here is the index chart of rebar prices versus iron ore to give us a guide to how well the respective markets are travelling: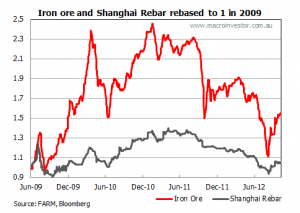 As you can see, the breaking of the contract system in 2009 was a seminal moment for this relationship. One wonders how long the blown out price spread can last. In fact, one wonders how steel firms have managed to be profitable at all over the past three years given the inflation in its number one input cost.
For now, however, it is clear that the post-2009 new normal of a fat spread holds despite the growing ore glut, although I note that each successive dip in the ore price has brought it closer to rebar. We shall see.