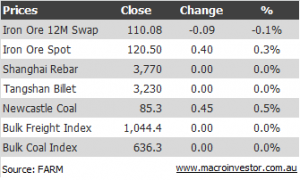 Little change to today's iron ore complex but our spread is now plus $10 between spot and 12m swaps. One is going to give shortly.
In news, Mitsui sees a $100 price floor in the year ahead:
"I think we saw the floor of it in the second quarter" ending Sept. 30, Iijima of Mitsui & Co. said at a briefing in Tokyo today. "Europe's debt crisis is having an impact on Chinese exports. But, if the stimulus works we'll see an upward trend in steel product prices."

Iijima said China's 1 trillion yuan ($160 billion) in state spending announced in September means the steel-making material is unlikely to drop below $100 a ton.
And here is glimpse of the type of ore project that will continue to attract funding. From The Australian:
JUNIOR Brazilian iron ore hopeful Centaurus Metals is bucking the trend of its larger peers and will push ahead with aggressive development after a study proved it will be a low-cost producer.

The bankable feasibility study, released yesterday, is forecasting cash operating costs of around $16 a tonne.
How could a $16 per tonne reserve not already be developed?