Late yesterday, CBA produced a note with the combined resources of its economics, commodities, currency and equities teams that argued that:
With commodity prices off recent highs a question is being asked is, "Is the resource boom over?"  We put that question to CBA's Economics, Currency,Commodity and Equities research teams. They conclude that the resource boom is a long way from over – it is entering a new and potentially more sustainable phase.

CBA Economics view(Michael Blythe)

 The Australian resource boom has lifted incomes, boosted spending  and raised production  to levels well above what would have otherwise prevailed.
The China/Asia urbanisation story has a long way to run. We expect commodity prices will not retreat back to past cycle lows, and will remain an enduring 'gift' for the Australian economy.

CBA Currency view
(Richard Grace)

Despite a policy-induced slowing in China's economy, the declines in global commodity prices (inducing a 10% fall in Australia's terms of trade) and downward revisions to global growth, the historically commodity-sensitive AUDUSD exchange rate has not significantly depreciated.
We see three main reasons why Australia's exchange rate has not significantly depreciated and is unlikely to significantly depreciate over the next 12 months or more: (1) it is very difficult to make a case for a strong USD; (2) Australia's terms of trade has not had a major decline; and (3) the global demand for yield and AAA rated sovereign exposure is extremely strong.

CBA Commodity view
(Lachlan Shaw)

We expect China's economic activity to have bottomed in 1H12 and continue its gradual recovery through end-2012 and into 2013. Easier policy is expected to support better commodity demand and pricing from a cyclical point of view.
But cycle high pricing of these commodities has likely been seen. Our forecasts are consistent with expectations for Australia's terms of trade to ease over the next year or two, consistent with annual supply growth exceeding demand growth.

CBA Equities view
(Andrew Hines)

 In 2012, resource equities under performed the broader S&P/ASX 200 as earnings were downgraded on lower commodity prices, rising costs and flat volumes. In 2013 the outlook appears better. Commodity prices have stabilised, cost pressures are abating and volume growth is relatively strong.
Investors should target companies with quality assets at the bottom of the cost curve, with strong operational management capable of improving efficiencies. Resource companies with low-cost operations, high ROIC development projects, strong organic growth and which return excess capital to shareholders should outperform. We overlay that with our preferred commodities which remain iron ore, copper, gold and energy. Our top stock selections for 2013 are RIO, OZL, NCM and OSH.
That such an enormous outfit can produce a singularly bullish outcome is testament to, being kind, enduring confidence. But if I were a shareholder and this is the forecast that plans are being set upon I'd be quite concerned.
The economics section of the note by Michael Blythe is reasonable. It outlines plausible upside scenarios with just as reasonable assessment of risks, most particularly around income growth. Blythe also includes this terrifying chart, which is, as they say, worth a  thousand words: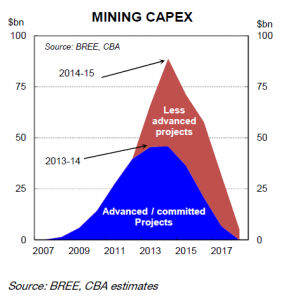 I suggest you focus on the blue hill. Blythe goes to describe the large, looming pothole for growth which he says will be filled by burgeoning resources export volumes and services exports to an emerging Asian middle class. I hope so but that is a lot of growth to fill, especially with the $1.05 currency forecast.
Moreover, the commodities volume story from Lachlan Shaw is outlandish. The iron ore chart is a doozy: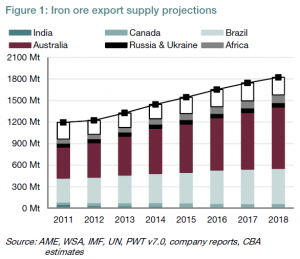 I'm sorry, the seaborne iron ore trade is not going to grow by 50% in the next 5 years. And Australia's production and export volumes are not going to more than double.  Or if they do, prices will be decimated. CBA even acknowledges why:
Into the medium and longer term, a slowing and rebalancing of Chinese economic growth away from fixed asset investment, and a gradual decline in the commodity intensity of that fixed asset investment, will likely see Chinese commodity demand growth slow in trend terms. However, China's economy is now getting so large that by virtue of the law of large numbers, slower annual incremental growth applied to a large base of economic activity is still consistent with substantial (and challenging) annual incremental increases in the volumes of commodity demand.
I can only counter that any increases in demand, which will arise periodically, will be a very welcome sight if this kind of supply is available.
It's a bit bizarre. All of the facts are in this document. But they're yoked violently to optimistic outcomes. The document's main message therefore becomes, like its call centre, that CBA's institutional research delivers service with a smile.
David Llewellyn-Smith is Chief Strategist at the MB Fund and MB Super. David is the founding publisher and editor of MacroBusiness and was the founding publisher and global economy editor of The Diplomat, the Asia Pacific's leading geo-politics and economics portal.

He is also a former gold trader and economic commentator at The Sydney Morning Herald, The Age, the ABC and Business Spectator. He is the co-author of The Great Crash of 2008 with Ross Garnaut and was the editor of the second Garnaut Climate Change Review.
Latest posts by Houses and Holes (see all)