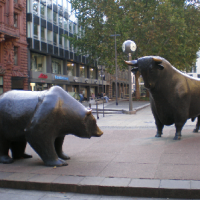 By Chris Becker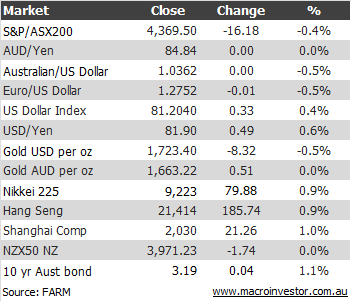 A strange divergence in the Force, err… markets today with Asia (except our tiny insignificant bourse) rallying around 1%,  mainly on the back of a weakening Yen and a strong Plunge Protection Team on mainland China. The  ASX200 dropped about 16 points or 0.4% to remain be under 4400 points – for a full roundup, see below including technical analysis of the bourse.
The Nikkei 225 is building on its breakout above 9200 points on the weak Yen – lots of argy bargy today about the trade figures – has Japan crossed the Rubicon and heading towards the DarkSide (something something) like Greece with its massive debt load? Or will the smug MMT advocates be right and this is just a pause as the Yen gets stronger and stronger over time? The Widowmaker trade indeed: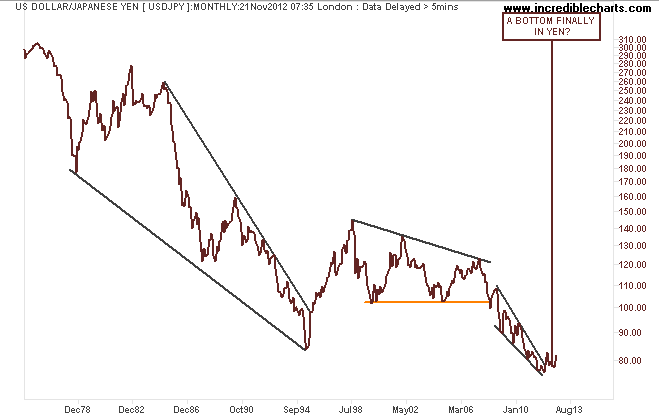 I do love a good monthly chart – that one is almost as old as I am – and many older traders than I have been burnt trying to short Yen. The Chinese markets have rallied off key support levels, both the Hang Seng and Shanghai Composite up around 1% currently.
The Aussie dollar continues to oscillate with a medium term bullish bias, staying just above its 200 day moving average, but below its trend channel: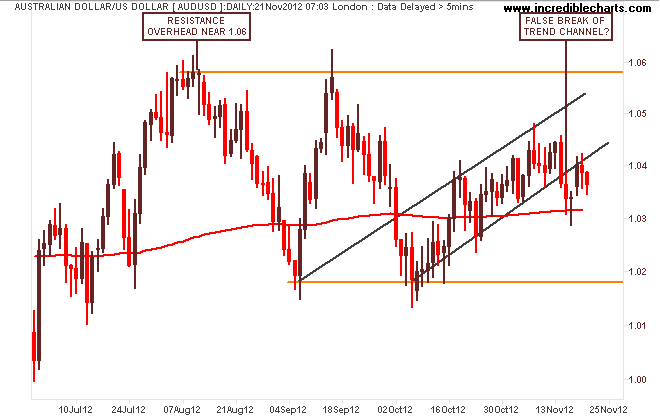 The US Dollar does not look like reversing in the short term – again, the trend is your friend here: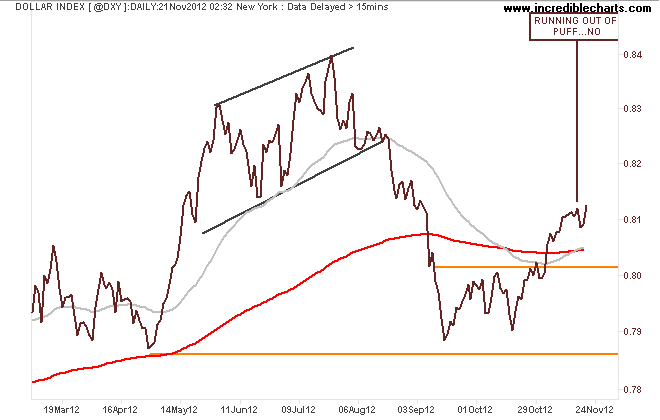 Which is keeping gold (USD) in its place, stuck between tight support and resistance on the daily chart: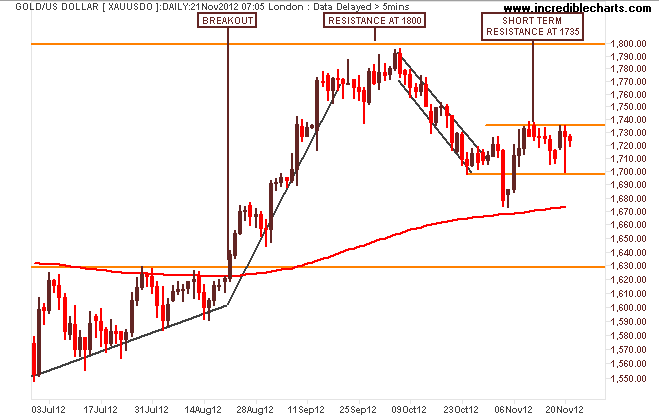 Australian Stocks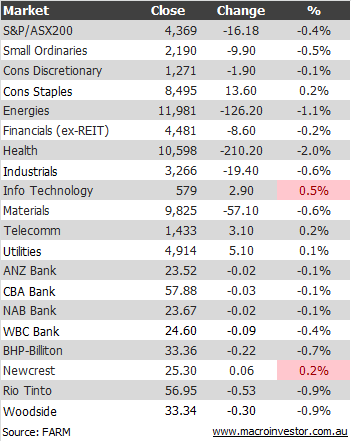 Winner was IT (i.e CPU)  loser was Health with a big drop in market leader (oh for a dozen of these instead of miners and banks) CSL, down 2.5% – is this the top? My long term trend indicator suggests perhaps, but my overbought indicator says no – nevertheless, stops are at $44-45ish (or in my case, I just short via CFD to hedge off my long position in super, same with Cochlear (COH) and reinvest the profits of the short to buy more underlying shares. Fun system, don't know why I do it since can't touch super for 30 plus years….)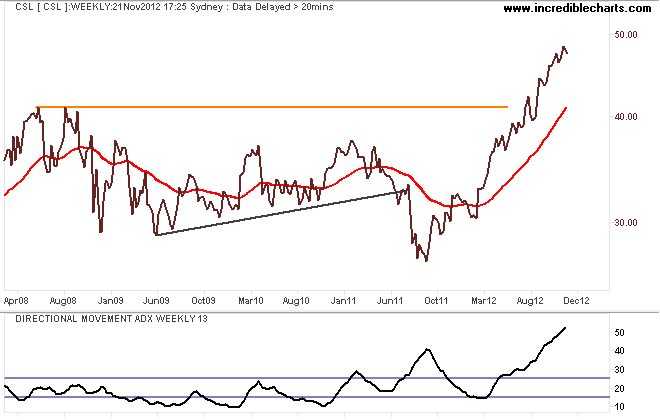 As for the 60% of the index that should be paying 40% plus corporate tax, the ASX8 (the top four miners and banks) it was a scratch day for the latter, while the materials decided not to follow the Shanghai Comp et al.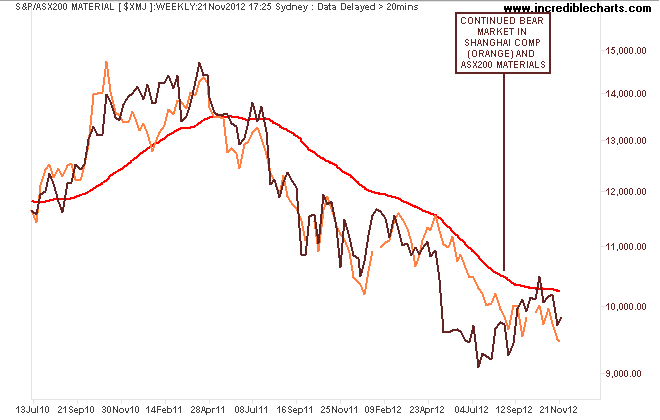 As for the market itself, having bounced off the closely watched 200 day moving average, its taking a breather and I think will hit heavy resistance overhead at the April 2011 high at 4440 points. The RBA needs to cut next month to keep this freight train of an overvalued market slugging along: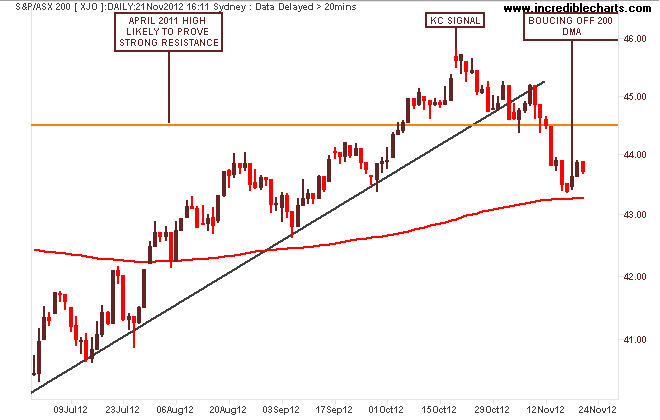 As always, watch the European and US close tomorrow morning and read Macro Investor Technicals to get the bigger picture, and have nice day.
This free daily update should be read alongside Live Trades articles, published every morning at Macro Investor, and placed in context with the longer trends and macro drivers within the overall technical picture,  where Former "Trading Week" readers will find it reborn as "Technicals", published 8.30am each Monday morning at Macro Investor. Chris Becker is an investment strategist at Macro Investor, Australia's leading independent investment newsletter covering stocks, trades, property and fixed interest.  A free 21-day trial is available at the site. You can follow Chris on Twitter.
Disclaimer: The content on this blog should not be taken as investment advice. All site content, including advertisements, shall not be construed as a recommendation, no matter how much it seems to make sense, to buy or sell any security or financial instrument, or to participate in any particular trading or investment strategy. The authors have no position in any company or advertiser reference unless explicitly specified. Any action that you take as a result of information, analysis, or advertisement on this site is ultimately your responsibility. Consult someone who claims to have a qualification before making any investment decisions.