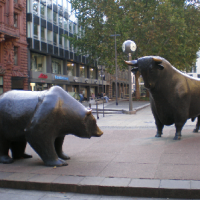 By Chris Becker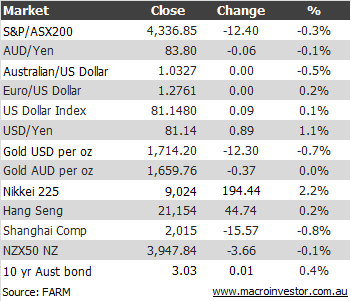 A balmy day here in Dog's own country, but only the Nikkei saw some heat, the rest of Asia including our little corner continuining to slip. The ASX200 closed down 0.3% today – for a full roundup, see below including technical analysis of the bourse.
The Nikkei 225 gained 2% again – all because of the Yen – funny what a weaker currency can do, hey?
The Hang Seng gravitated but is finally in the black, while the Shanghai Composite is teetering with support at 2000 points – the Plunge Protection Team in full flight: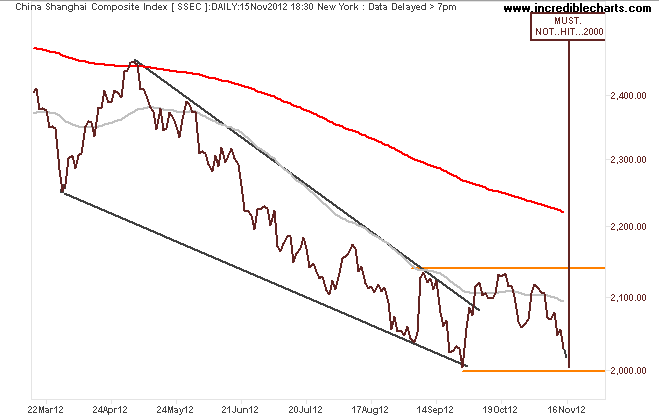 The Aussie is another half a cent. Is there a deeper move here? Hmmm…always look on the other side of the coin first. The USD looks like running out of puff, in the US Dollar Index at least, although gold too is slowing down: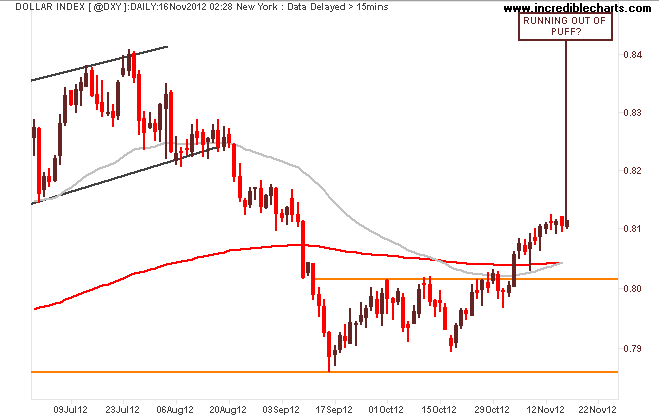 Australian Stocks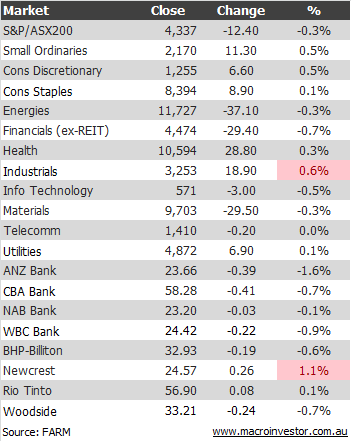 Go industrials (yes, I'm long), down with financials (yes, I'm short)! Discretionary stocks are seeing some bids, including that old bug-bear JB Hi-fi (JBH) which has closed above its 200 day moving average – again – as the No.1 shorted stock is being covered on rising volume. But here's a longer term look at the discretionary sector with the RBA rate cuts superimposed. Keep cutting Glenn!!! (says the consumer sector….)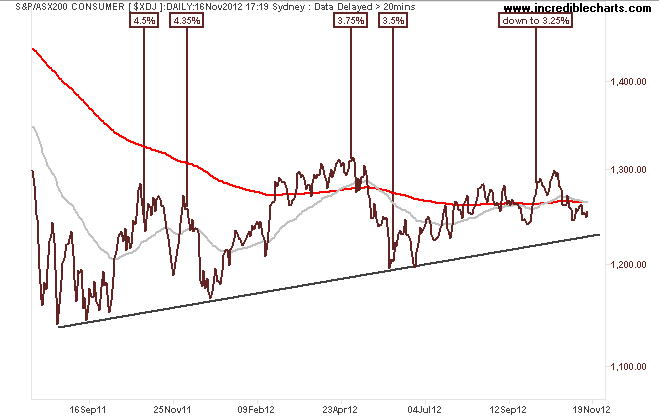 As for the market itself, it's now approaching the closely watched 200 day moving average, a cross of that is required before a full blown correction – down to 4000 or so points – can be called: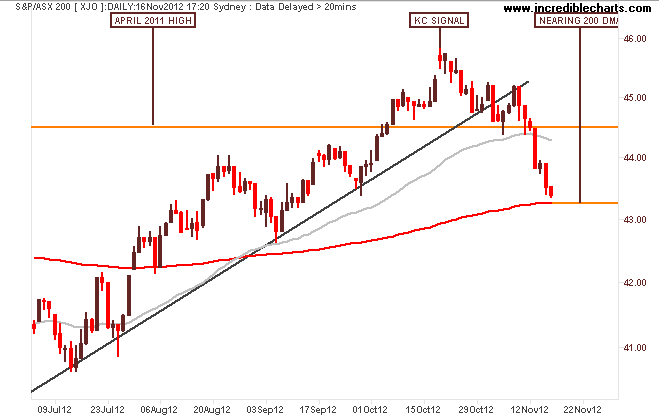 As always, watch the European and US close tomorrow morning and read Macro Investor Technicals to get the bigger picture, and have nice day.
This free daily update should be read alongside Live Trades articles, published every morning at Macro Investor, and placed in context with the longer trends and macro drivers within the overall technical picture,  where Former "Trading Week" readers will find it reborn as "Technicals", published 8.30am each Monday morning at Macro Investor. Chris Becker is an investment strategist at Macro Investor, Australia's leading independent investment newsletter covering stocks, trades, property and fixed interest.  A free 21-day trial is available at the site. You can follow Chris on Twitter.
Disclaimer: The content on this blog should not be taken as investment advice. All site content, including advertisements, shall not be construed as a recommendation, no matter how much it seems to make sense, to buy or sell any security or financial instrument, or to participate in any particular trading or investment strategy. The authors have no position in any company or advertiser reference unless explicitly specified. Any action that you take as a result of information, analysis, or advertisement on this site is ultimately your responsibility. Consult someone who claims to have a qualification before making any investment decisions.