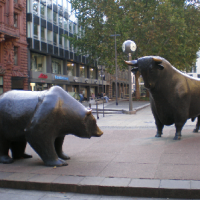 By Chris Becker
A mixed day on Asian markets with the ASX200 climbing up a few points, up 0.2% after a big fall yesterday. For a full roundup, see below including technical analysis of the bourse.
The Nikkei 225 slipped up as the Yen went nowhere, while the  Hang Seng was up nearly 1%, the Chinese Plunge Protection Team was having a day off on the  Shanghai Composite down a little before the close.
The Aussie is up slightly against the USD, after some positive data today and remains in a small uptrend channel: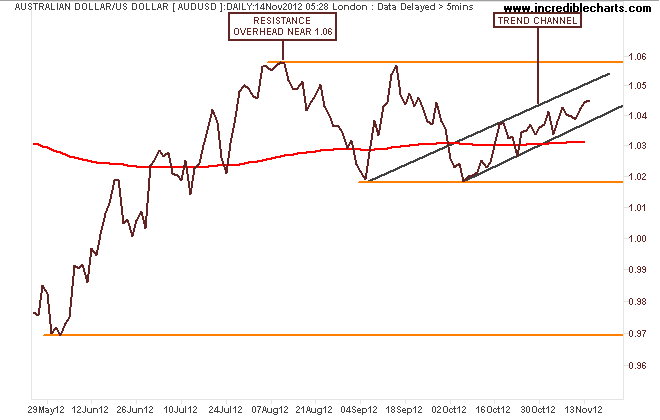 Gold (USD) is still sitting just off support at $1720USD per ounce, but has lost momentum in recent days: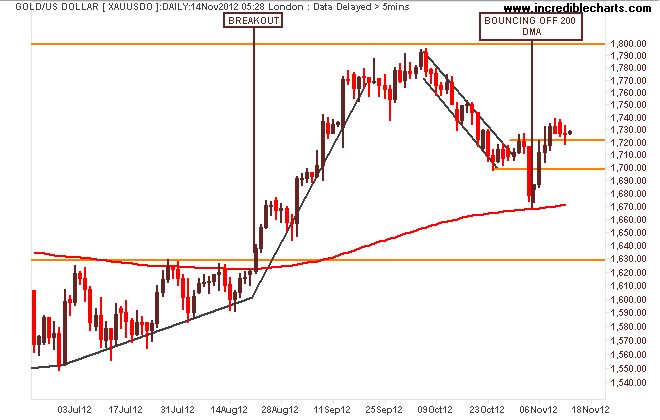 Australian Stocks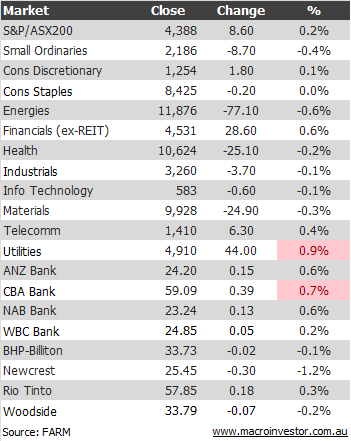 Well I got that wrong – financials came back strongly today after yesterdays sharp sell-off – maybe the news that your superannuation is the next trillion-dollar asset banks what access too? Who knows, I really don't care – I just care about managing the risk! Having said that, trends are not a straight line – just like your equity curve as a trader. Drawdowns are normal, expected, par for the course. Any trading account or trend without a drawdown is a Ponzi scheme, plain and simple, and has a higher chance of blowing up. This is Minsky 101….
A slight diversion, but let's look at the market, which has fallen below the trend line and support at the April high at 4440 points but has not gone below the very closely watched 200 day moving average: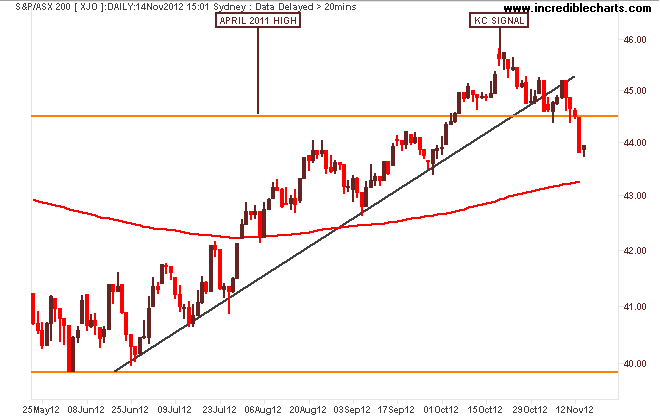 The same did not occur on the S&P500 last night, where it closed JUST below the 200 DMA. You know sometimes a simple indicator like this can be all the analysis you need, just like knowing if prices are generally going up or generally going down (disclosure I'm short S&P500, but havent scaled in):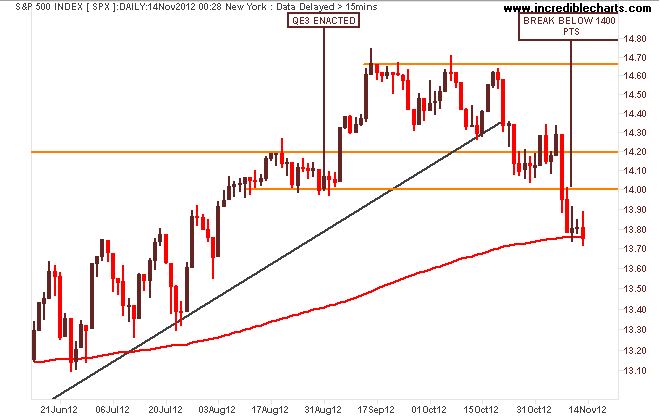 This free daily update should be read alongside Live Trades articles, published every morning at Macro Investor, and placed in context with the longer trends and macro drivers within the overall technical picture,  where Former "Trading Week" readers will find it reborn as "Technicals", published 8.30am each Monday morning at Macro Investor. Chris Becker is an investment strategist at Macro Investor, Australia's leading independent investment newsletter covering stocks, trades, property and fixed interest.  A free 21-day trial is available at the site. You can follow Chris on Twitter.
Disclaimer: The content on this blog should not be taken as investment advice. All site content, including advertisements, shall not be construed as a recommendation, no matter how much it seems to make sense, to buy or sell any security or financial instrument, or to participate in any particular trading or investment strategy. The authors have no position in any company or advertiser reference unless explicitly specified. Any action that you take as a result of information, analysis, or advertisement on this site is ultimately your responsibility. Consult someone who claims to have a qualification before making any investment decisions.