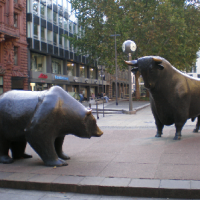 By Chris Becker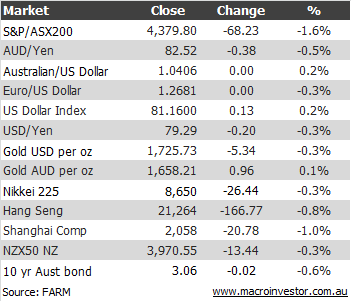 The risk off mood is darkening with most Asian markets in the red today, the ASX200 the biggest loser down 1.6% today in its biggest one-day fall for some time. It was mainly the banks and miners that did the damage – for a full roundup, see below including technical analysis of the bourse.
The Nikkei 225 slipped as the Yen contineus to strengthen, while the  Hang Seng and  Shanghai Composite remain in lockstep, down almost 1% after the long lunch. The Aussie is up slightly against the USD, although today's NAB Survey was not good, it is becoming apparent that the RBA will not ease next month and hence, we wait until probably February before the next cut – so not a time to be buying USD…yet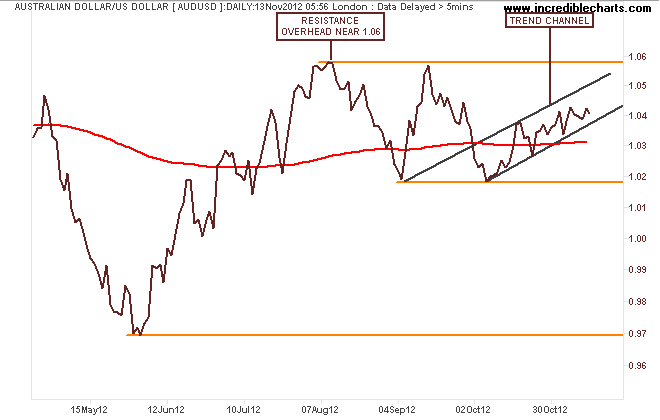 Gold (USD) is sitting just off termpary support at $1720USD per ounce, but as I analysed in my weekly Technicals report at Macro Investor the US dollar has also appreciated with the "undollar" asset, which is a very unusual correlation indeed. Perhaps this is just a one off or are we seeing two safe havens developing?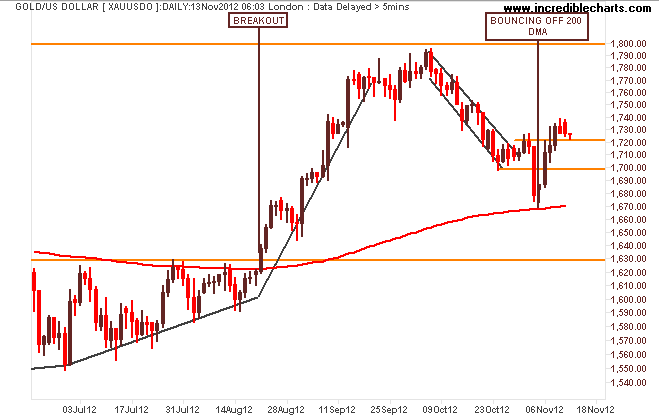 Australian Stocks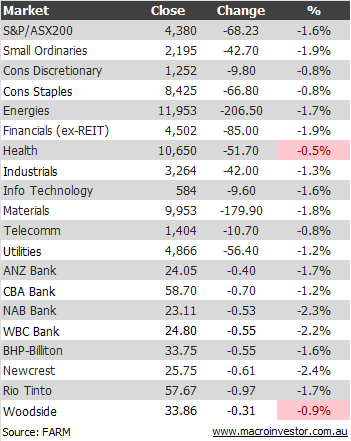 Well what can I say, but this is what happens when you have an index full of banks and miners. My KC Signal from yesterday on CBA and on the 18th of October for the ASX200 continues to work "well" – heres CBA plotted against the Financials sector, which has diverged significantly: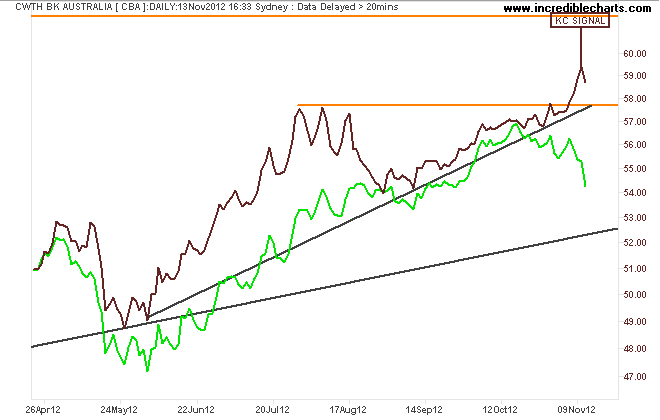 Time to buy puts on CBA perhaps?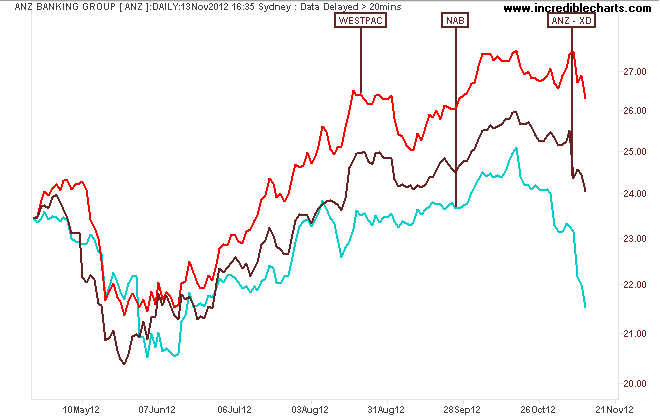 For those unfamiliar with the KC Signal, its an indicator of my own design, a cocktail of secondary indicators and candlestick price action analysis and has proven very reliable in the past. The most likely outcome is usually a small retracement but sometimes you get a correction, as the KC Signal warned in late April and recently for the ASX200.
The market has now closed below support and the April high at 4440 points and as I said yesterday "if CBA is sold off and materials cannot rally in support, the index is likely to melt down to 4300 points or so where it has support at the 200 day moving average":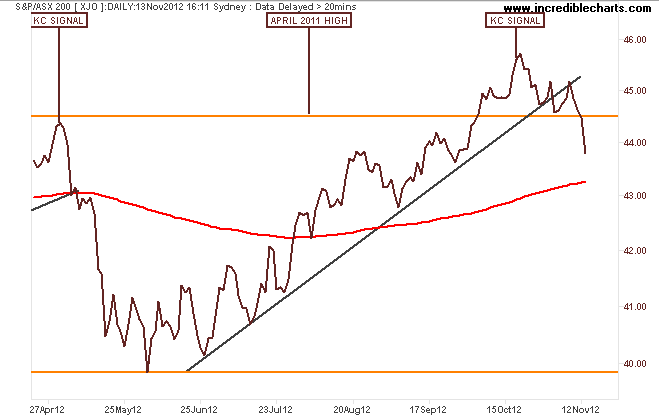 Although that "floor" at 4000 points looks about right – and is actually how much I think the ASX200 is really worth, according to my FARM outputs…
This free daily update should be read alongside Live Trades articles, published every morning at Macro Investor, and placed in context with the longer trends and macro drivers within the overall technical picture,  where Former "Trading Week" readers will find it reborn as "Technicals", published 8.30am each Monday morning at Macro Investor. Chris Becker is an investment strategist at Macro Investor, Australia's leading independent investment newsletter covering stocks, trades, property and fixed interest.  A free 21-day trial is available at the site. You can follow Chris on Twitter.
Disclaimer: The content on this blog should not be taken as investment advice. All site content, including advertisements, shall not be construed as a recommendation, no matter how much it seems to make sense, to buy or sell any security or financial instrument, or to participate in any particular trading or investment strategy. The authors have no position in any company or advertiser reference unless explicitly specified. Any action that you take as a result of information, analysis, or advertisement on this site is ultimately your responsibility. Consult someone who claims to have a qualification before making any investment decisions.