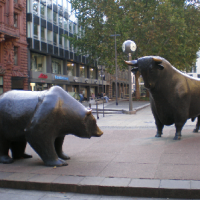 By Chris Becker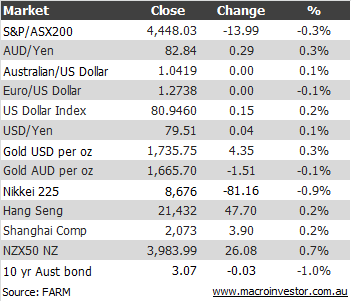 The wait and see mood post-US election continued in Asia today, although Chinese markets are up slightly, the very poor GDP numbers from Japan (worlds 3rd largest economy – I didn't hear a peep out of the usual biased suspects about this result today) saw a sell off in the local bourse which was reflected somewhat here. The ASX200 lost 0.3% today, although it had a small period of positive gains, it was dragged down by some sharp moves in energies and industrials stocks – see a full roundup below.
The Nikkei 225 lost nearly 1% as it struggles with a strong Yen- here's the weekly chart going back almost to the GFC, where successive QE by the US Fed or ECB's LTRO fostered some risk-on moves, but its the USD/JPY pair  (in green) dragging things down: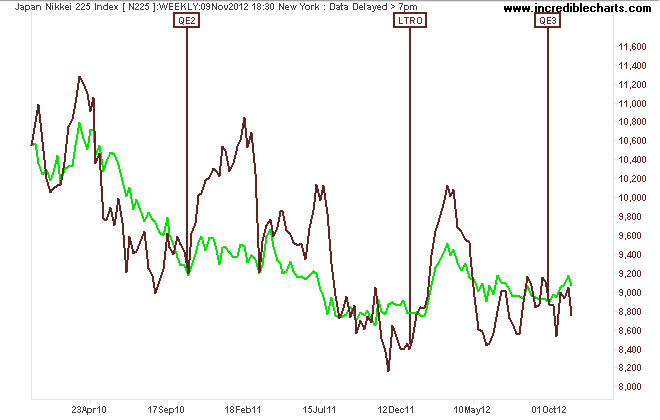 The Hang Seng and  Shanghai Composite are in lockstep, slightly in the green on probably the only positive space in equity markets – China!
The Aussie is up slightly against the USD and the Yen, the former hurting industrial stocks and the latter usually helping the whole bourse – but we are seeing a lot of correlations breaking down recently, no bigger than what's going on with gold.
Gold (USD) has risen significantly after bouncing off its 200 day moving average although in recent days it has run out of puff. However, this is happening at the same time as the US dollar – its arch nemesis – is also rising…Readers of my weekly Technicals report at Macro Investor can see some more detailed charts and study about this, but here's todays chart for reference: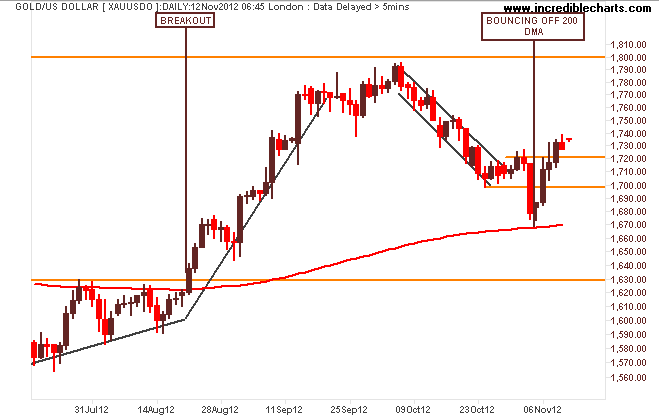 Australian Stocks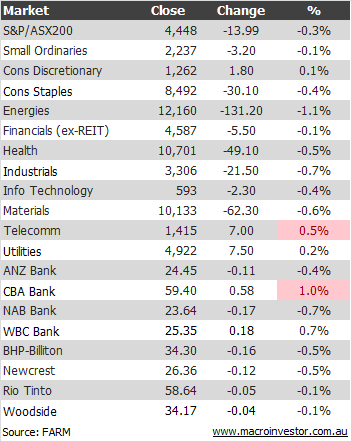 As I said above, industrials are getting hit hard by the absurdly high Australian dollar – here's a chart showing a fair correlation between the two in the last year, with industrials rolling over recently: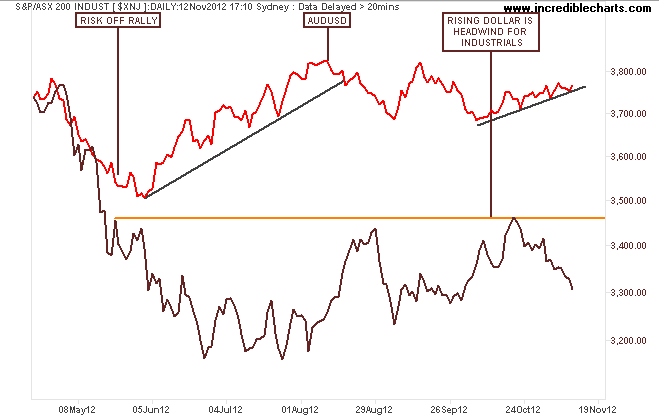 As for the financials – i.e 42% of the entire index, yes that's not a typo – you have to remember that CBA reports on a different timetable to ANZ, NAB and WBC which all went ex-dividend on Thursday and Friday. Hence, its now the only big four bank that is cum dividend – couple with "better" metrics (i.e its the least lazy of the banks) CBA has become a market darling of late. One problem – it just triggered a KC Signal, signalling a probable top: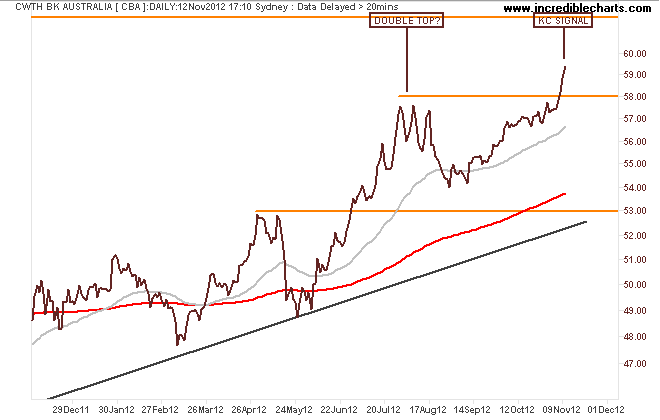 For those unfamiliar with the KC Signal, its an indicator of my own design, a cocktail of secondary indicators and candlestick price action analysis and has proven very reliable in the past. The most likely outcome is a small retracement but sometimes you get a correction, as the KC Signal warned in late April and recently for the ASX200. The market has closed just below tentative support and is looking weaker by the day – if CBA is sold off and materials cannot rally in support, the index is likely to melt down to 4300 points or so where it has support at the 200 day moving average: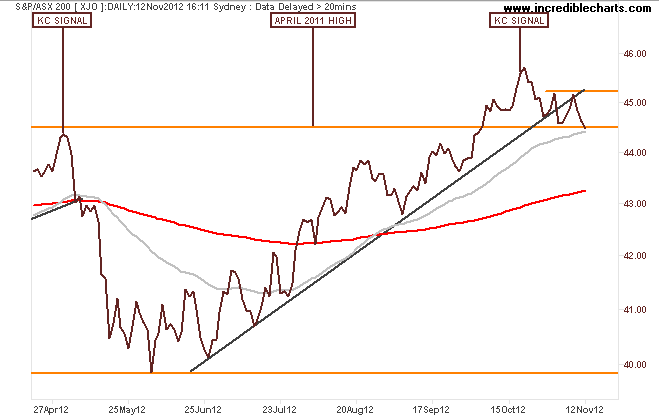 This free daily update should be read alongside Live Trades articles, published every morning at Macro Investor, and placed in context with the longer trends and macro drivers within the overall technical picture,  where Former "Trading Week" readers will find it reborn as "Technicals", published 8.30am each Monday morning at Macro Investor. Chris Becker is an investment strategist at Macro Investor, Australia's leading independent investment newsletter covering stocks, trades, property and fixed interest.  A free 21-day trial is available at the site. You can follow Chris on Twitter.
Disclaimer: The content on this blog should not be taken as investment advice. All site content, including advertisements, shall not be construed as a recommendation, no matter how much it seems to make sense, to buy or sell any security or financial instrument, or to participate in any particular trading or investment strategy. The authors have no position in any company or advertiser reference unless explicitly specified. Any action that you take as a result of information, analysis, or advertisement on this site is ultimately your responsibility. Consult someone who claims to have a qualification before making any investment decisions.