Here is today's iron ore chart: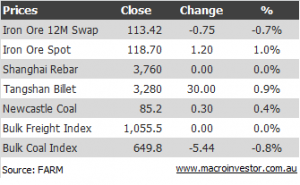 Definitely looks like the spot market wants to test the $120 ceiling. 12 month swaps aren't co-operating and the contango is gone but the spread has often been much wider than this so that may not hold spot back: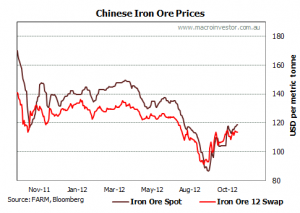 As I've said, though, anything over $120 now has highly questionable sustainability. Still, if prices can hold at these levels for a while, as I expect, some of the heat will come off the RBA as we see a short term bounce in the terms of trade. Certainly this is more significant that yesterday's CPI report in terms of rolling back rate cuts. Something to watch.
On a related topic, Vale is reporting similar earnings falls to our majors. The following excerpts  from a Seeking Alpha preview makes some interesting observations:
The company released its production report for the quarter a few days back. It reported iron ore production of 83.9 million tonnes, which is 4.6% lower on a year-over-year basis. Production at its Carajas iron-ore mine, the world's largest, dropped almost 11% year-over-year to 27.6 million tonnes in the third quarter. The suspension of projects, asset sales worth $1.2 billion, and a reduction in output of premium pellet products due to decreased demand from Europe and China reduced its share of the global sea-borne iron-ore market. The quality of the ore produced this quarter also emerged as a worrying factor. Vale attributed it to environmental licensing issues.

…Vale's iron-ore production declined by 2.2% in the first nine months of 2012 to 234.5 million metric tonnes. In the same period, rivals Rio Tinto (RIO) and BHP Billiton (BHP) grew their output by 5% and 9.5%, respectively. While Rio Tinto's quarterly iron-ore production rose to 52.6 million metric tonnes, BHP's output stood at 39.8 million tonnes. Vale's output of pellets, a processed form of iron ore used by steelmakers, rose by 2.1% to reach 14.5 million tonnes this quarter. The production of nickel declined by 16% to 49,000 tonnes, copper production dropped 20% to 68,000 tonnes, coal production increased by 91% to 1.73 million tonnes and that of potash fell by 15% to 141,000 tonnes.

…Vale is now pinning its hopes on Chinese infrastructure investment spending to revive an uptrend in iron ore prices.

…While Vale continues to face short-term headwinds, we are bullish on its long-term prospects. The company does have high-quality reserves such as those at its $19.5 billion Serra Sul project in Brazil which is expected to contain 90 million tonnes of iron. Vale also has reserves in Guinea at Simandou, which contain one of the highest-quality untapped iron ore resources in the world. The company has been unable to tap these so far due to difficulties it is currently facing with Guinea's operating environment. Vale still aims to boost its iron output to 460 million metric tons by 2017. That would mean a 40% increase, if successful.
Very similar to our own hopes and dreams, with more huge production increases in the pipeline. Another snapshot of the emerging glut. China's steel production growth won't grow enough and much of this mooted expansion won't happen.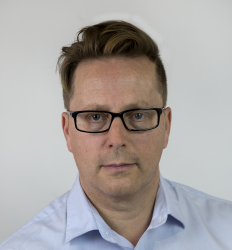 Latest posts by David Llewellyn-Smith
(see all)