Here's your overnight ore complex action: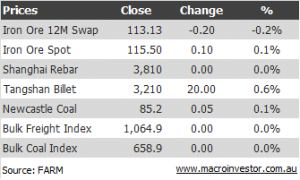 Looks like the bulks got their Chinese data bounce one day early.
In other news, I mentioned this yesterday but it's worth repeating. Marius Kloppers has declared the end of the boom:
In the 10 years or so that have passed since China first came to the fore as a commodities demand force, two things have happened:  First, steel intensity per unit of GDP in China surged as early stage infrastructure and construction was required. This has now peaked, and we expect it to progressively decline as we have seen in historical examples. Put simply, this is a lead indicator of the progression of the Chinese economy toward maturity. However, we will continue to see per capita consumption of steel growing, albeit at a slower rate, as steel intensity of GDP declines.

And secondly, as the industry matured it has progressively improved its ability to supply the volumes to meet demand. As a result, the 'supply shortage' has largely been filled, or is well advanced in being fulfilled. Therefore, what we are now witnessing is the rebalancing of supply and demand and a progressive recalibration of prices back to long term sustainable pricing levels. In effect, what this means is that the record prices we experienced over the past decade, driven by the 'demand shock', will not be there to support returns over the next 10 years.

What we can instead expect is demand growth at more predictable and sustainable levels and more moderated pricing. This 'mean reversion' in prices and returns is something we at BHP Billiton have anticipated for some time.
If the last six months qualifies as "some time" then sure. Before that it was all go,go,go iron ore production. And of course, Martin Wolf added his voice yesterday:
He told the audience – including James Packer and Fairfax Media chairman Roger Corbett – that he expected commodity prices to come off, not least because of the "colossal amount of investment" in new supply.

The decline would also be "partly because Chinese growth will slow, and partly because the extreme commodity intensity associated with the biggest investment boom in the history of the world will slow".

"The whole pattern of commodity demand in the next 10 years doesn't look like the last 10 years, even if India continues to grow. I'd be really surprised if real commodity prices didn't begin to fall, particularly from a peak previously only reached in the 1970s."
Exactly.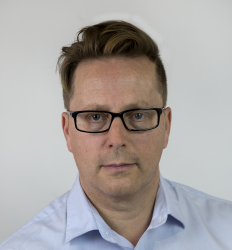 Latest posts by David Llewellyn-Smith
(see all)