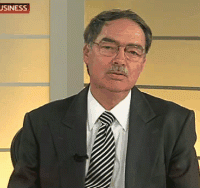 Yesterday, Residex released its house and unit price results for the month of August. According to Residex, house prices nationally fell by -0.8% over the month, although prices rose across most of Australia's sub-markets: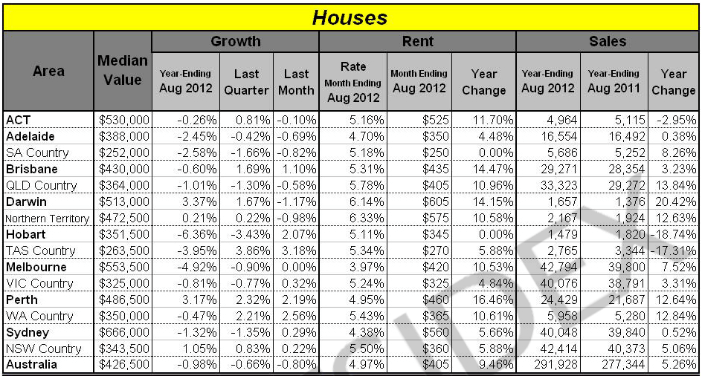 Results were better for the unit market, with prices down by only -0.06%, with mixed results across the sub-markets: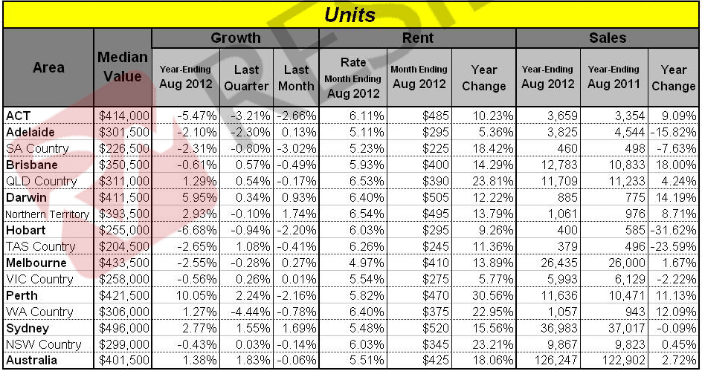 I will openly admit that I have never understood how Residex's national result is derived as it often seems inconsistent with results in the sub-markets. Thankfully, Residex CEO, John Edwards, this month provides an explanation:
Residex provides the median outcome of all houses in the market on which it is reporting. It does not report a weighted average for the various sub markets. That is, if Residex is reporting the median house price for Australia, it does not weight and average the outcome for each capital city. Residex's method provides a much better indication of how the market is travelling. It shows what is happening to the housing assets that fall in the median of all houses in Australia rather than providing the median of a mathematical construct. This means that good results in smaller markets (such as Perth) will not overly influence the results; however, the performance of the larger city markets can have a significant impact on the outcome. It also means that the Australian-wide outcome may not be intuitively obvious as a result of considering the median outcome of each city.
As usual, the most interesting aspect of Residex's release is John Edward's commentary on the market. This month Edwards outlines why he still views the housing market as "fragile" and moving forward at a "snail's pace":
Although housing markets have shown signs of improvement recently, these are progressing at a snail's pace and remain fragile. Decisions made by governments and the Reserve Bank could arguably be the 'wrong' choices as far as Australian housing markets are concerned and could potentially cause undesirable outcomes.

I have to wonder if state governments and the Federal Government have lost sight of the reason for governing. It seems that it has become more about scoring points and staying in power rather than working together for the best interest of the population. The time for governments to work together to restore consumer confidence in our nation has become critical. We are currently experiencing what I can describe as nothing other than an avalanche of what are, in my opinion, foolish government actions.

The mining industry has been hit hard by the government. First, it was the Federal Government's Carbon Tax and then the Resource Tax being introduced to ensure a political benefit from a budget surplus. States are unhappy because they don't feel that the Federal Government is being even handed with the distribution of the GST take. States are retaliating and doing what they can to gather cash to keep their budgets at acceptable levels. The results we are seeing are increases in royalties and significant job shedding at a state level.

I am left wondering what has to happen to have all governments work as a team for the collective good of Australia. The reality is that Australia is headed for trouble if the resources economy stalls badly and unemployment increases. Australia needs to move to remove the Carbon Tax and the Resource Tax and implement a GST to compensate, and maintain a climate where Australian corporations are internationally competitive in the global market, which is contracting due to the difficulties in the U.S. and Europe.
Edwards also takes a stab at the other data providers, arguing that they are painting an overly optimistic view of the market:
I strongly believe that housing data being published by other market researchers in the press does not present an accurate picture of what is happening. In fact, it is probably the reason why reported figures are not in line with other indicators of what is happening in the market to the ordinary Australian. My point is very simple: the total dwelling statistics being reported suggest that the majority of property owners in Australia are seeing growth in their principal asset hence they should be feeling more comfortable, starting to spend a little and increasing their activity in housing markets. If this were the case, consumer sentiment surveys would also point to a more confident population…

I believe that, given the current interest rate setting is attractive, the market should be moving forward more strongly than what we are seeing.

Auction clearance rates are stubbornly holding within the 50-60 per cent range. Latest ABS figures suggest housing finance numbers fell by 1.4 per cent for owner occupiers and 2.7 per cent for investors. Based on these figures, it is difficult to believe that the market is as robust as the press is suggesting. According to Residex calculations, capital growth, which is currently more volatile than normal, is again trending down, lending credence to the view that consumers are concerned and uncertain of the future. The Westpac Melbourne Institute Index of Consumer Sentiment confirms this, reporting that it rose by 1.6% in September from 96.6 in August to 98.2 in September. While this is a slight increase, it is also stubbornly holding below the 100 point level. This is now longest duration of sub 100 points since the early 1990s.

I believe the slow pace to better times is a result of uncertainty and that any significant improvement won't be seen until there is uplift in sentiment.

I note the comments made by the Federal Minister for Resources, Martin Ferguson in late August where he very publicly and directly stated that the nation's mining boom was over the day following BHP Billiton announced it would not approve the Olympic Dam open-pit expansion in South Australia in order to 'substantially improve the economics of the project.' BHP Biliton CEO Marius Klopper stated that weak commodity prices and increased capital costs were behind the decision.

The simple truth is, in an environment where sentiment is fragile negative news accumulates and contributes to low consumer sentiment. This is perhaps partially responsible for the market downturn in the dwelling price growth in August, after the growth that appeared to be getting underway in July. I also note that the press was reporting a slowing in the Chinese economy in August.

I accept my above statements are somewhat downbeat; however this is based on the average market position that exists for the median property in any given city. Areas within a city are not all going to perform at the same rate as the median. There will be areas the perform better or worse that the city market as a whole.
For those that are interested, John Edwards' recent video interview on Switzer is also worth a look.
Twitter: Leith van Onselen. Leith is the Chief Economist of Macro Investor, Australia's independent investment newsletter covering trades, stocks, property and yield. Click for a free 21 day trial.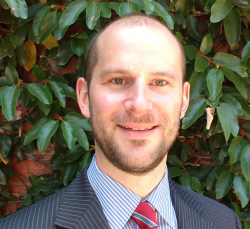 Latest posts by Leith van Onselen
(see all)