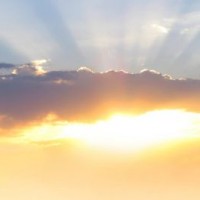 That was quick. The euphoria of last week gave way to a more introspective trade overnight as the data in China highlighted the weak global backdrop and markets focussed on the up coming Dutch elections and German Constitutional Court this week.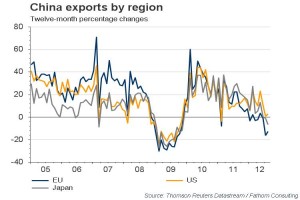 I want to deal with the Chinese data from yesterday first because although I am one who follows the price action when it comes to trading, it is still part of my process to follow the moves in the economic data. Yesterday the data showed that imports are down 2.6% yoy and exports up 2.7% yoy. Both data worse than expected but it is in the export data that you can see the lack of global aggregate demand that is the real source of all the problems for the global economy.
Low demand makes it hard to grow out of this debt problem so austerity bites even harder than otherwise and a negative feedback loop ensues. This has a long way to go.
But in the topsy turvy land that is markets in 2012 this is good news because it means hope of more stimulus. It's a fiction though. While it can drive markets higher – follow the price action – it won't fix the underlying demand issue. I wrote about facts and fiction in Macro investor this week. The whole publication is worth a look.
The economy will win out eventually and traders will flit and float between emotions in the meantime. Last night was a down day in mood and at the close of play the US stock markets pulled back from near multi-year highs (this is entirely normal by the way). The S&P 500 fell 0.61% to 1,429, the Dow fell 0.39% and the NASDAQ dropped 1.03%. Consumer credit in the US fell for the first time in almost a year in data released overnight which worried a few people.
Europe was far more boring than the the US with talk of the aforementioned Dutch election and German court keeping traders interest but nothing terrible happened and at the close of play the FTSE was largely unchanged falling 0.03%, the DAX dropped 0.01% but the CAC was under a little more pressure from concerns on growth and the deficit falling 0.37%.
On commodity markets the CRB was up again over night to 311.67 a rise of 2.78 points or about 2/3 of a percent. The sub components were as ever messy with crude back a little dropping 0.17% to $96.26 Bbl. Gold pulled back as well falling 0.73% to $1,727 oz. OJ jumped again up 1.88% while the grains were mixed.
In FX land the Aussie pulled back as we mentioned we thought it would yesterday in the technical section. It sits at the low of the last 24 hours at 1.0333 as I write having hit a high of 1.0383 yesterday. The Euro likewise is at its low for the period sitting at 1.2758 having made a high of 1.2813 yesterday.
I have software issues today so no charts unfortunately.
DATA: I'm looking forward to seeing the NAB Business Survey today both for the headline number but equally for the sub-components which are so important for the outlook for Australia. If I could only have one data release each month it would be this one.
Twitter: Greg McKenna. He is the Chief Investment Officer of Macro Investor, Australia's independent investment newsletter covering trades, stocks, property and yield. Click for a free 21 day trial.

Disclaimer: The content on this blog should not be taken as investment advice. All site content, including advertisements, shall not be construed as a recommendation, no matter how much it seems to make sense, to buy or sell any security or financial instrument, or to participate in any particular trading or investment strategy. Any action that you take as a result of information, analysis, or advertisement on this site is ultimately your responsibility and you should consult your investment or financial adviser before making any investment decisions.
Latest posts by Deus Forex Machina
(see all)