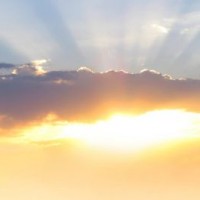 More leaks out of the Europe have laid out what is at the table at tonight's ECB meeting. There will be no caps on peripheral bond yields, no more monetary stimulus but the ECB is planning to butt short end bonds in unlimited amounts. These purchases will then be sterilised by withdrawing stimulus elsewhere which means this is not monetary stimulus and thus doesn't address growth concerns.
No denying that if this comes to pass tonight it is an impressive move from Draghi and has and will continue to work on stabilising European bond markets and in so doing the Euro and Europe and in no small measure the global situation. But for mine this plan doesn't address the core problem of Europe which is the negative feedback loop of austerity, growth and unemployment.
I'm sure the 25% of Spanish workers who are unemployed will be impressed by Draghi but I bet they would prefer a job for themselves or their children.
But even with these leaks, the single most important thing that happened overnight was the failed German bond auction. Markets don't seem to care, but as I wrote a while ago Germany suffers most under Draghi's plan to cap bonds and it seems also under the alternative of him using the ECB balance sheet to buy short end peripheral bonds "in his mandate". Reuters reported:
A German government bond failed to attract bids worth the amount offered at its launch on Wednesday — only the second such failure this year — as expectations of ECB action and competing supply hit demand.

The appeal of low-yielding German debt has been dented and riskier euro zone bonds have rallied in recent weeks on the prospect of bond-buying intervention by the European Central Bank
Jens Weidmann will be very impressed with Mario Draghi I'm sure! But the question on all traders, investors and central bankers minds is whether this plan by Draghi can ignite a risk rally???
At the close of play the DAX was up 0.46%, the CAC rose 0.2% but the FTSE was down 0.25%. Madrid didn't rally much but Spanish 2 year bonds are down from a high of 6.53% on July 23rd to last nights close of 3.22%. Over the last week the rally has been in the order of 44 basis points.
In the US nothing really happened in a material sense for stocks and the S&P 500 fell 0.11% to 1,403, the Dow was up 0.09% while the NASDAQ was down 0.19%. No doubt Draghi is on US investors minds but equally the non-farm payrolls tomorrow night – a bad number could be good for markets if it gets them thinking of more QE.
In FX land, the Euro rallied on the back of the Draghi plan and continued pick up in sentiment toward the peripheral bond markets. Bouncing from a low just above 1.2500, Euro sits at 1.2600 as I write. The Pound also gained but the Australian dollar continues its slow melt lower and it sits this morning at 1.0187. As I said in the technical section yesterday the Aussie might find some support at 1.0165/75 which it did overnight with a low of 1.0170. Unemployment today will either reinforce or smash this level.
On commodity markets, gold is like the little engine that can't as it sits once again below what I see as the critical $1,700 level. Crude was up 0.6% to $95.90 Bbl but has slipped below the uptrend line from the $77 low back in June/July. I'm still watching $94 Bbl as the signal for a turn. Corn, wheat and soy were all lower falling 1.8%, 2.4% and 1.2% respectively while OJ was up 3.66%.
Lets have a look at some of the markets we follow using our AVATrade trading platform charts.
EUR/USD: What a strong roofline the Euro still has in this trend as you can see in the chart below. So far Euro could not build momentum to push through this line for the down trend that reaches all the way back to the 1.4550/60 top in August 2011 and sits at 1.2623 – the next 24 hours is crucial.:

AUD/USD: No real change from yesterday as the AUD's slide continues below the 38.2% retracement level of the May – August rally which in Fibo terms suggests a move toward 1.0091 which is the 50% and then the 61.8% which is at 0.9982. We've been targetting lower for some time and I noted yesterday that we may be looking for a slowing in the fall or a bounce. That has not happened yet although support at 1.0165/75 held over night.:

DATA: After yesterday's disappointing GDP data, unemployment today is going to be all important for Australia and Australian markets. The market pundits are expecting growth in employment of just 5k and a slight uptick in unemployment. I stopped trading this figure in 1991 because the standard deviation is bigger than the usual expectation and it's such a turkey shoot but the risks are asymmetric at present. Then of course we get Mario Draghi tonight .
Here is today's data and you can click here for the full week's calendar. Please note that data coloured blue is important to me and that which is coloured red is important to everyone.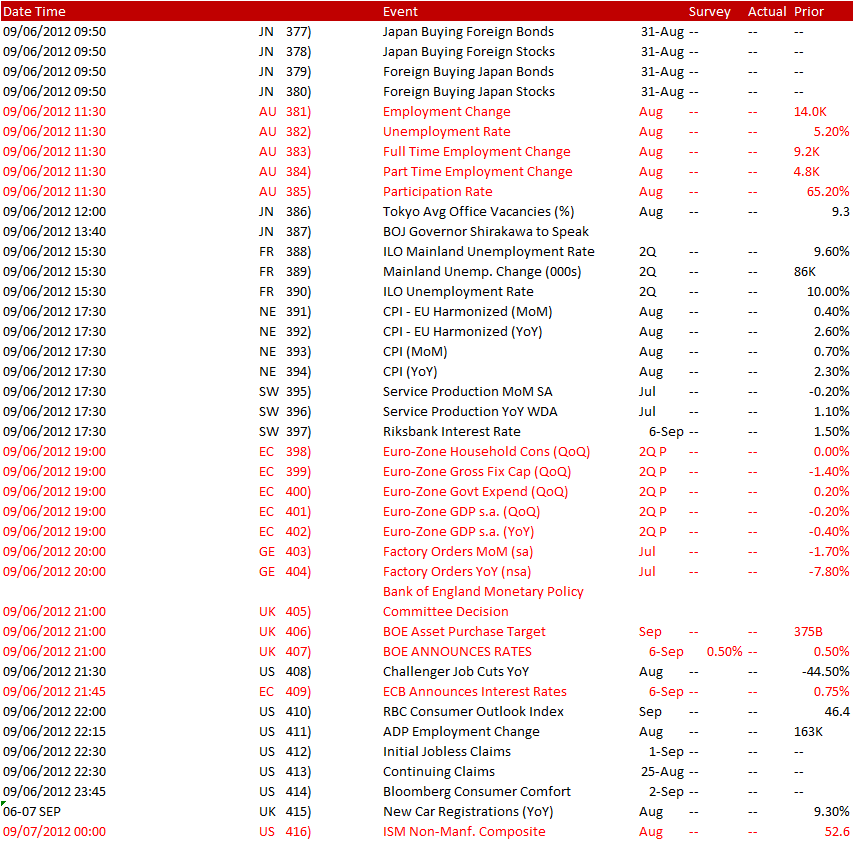 And here is how the markets closed at 6.00 this morning courtesy of AVATrade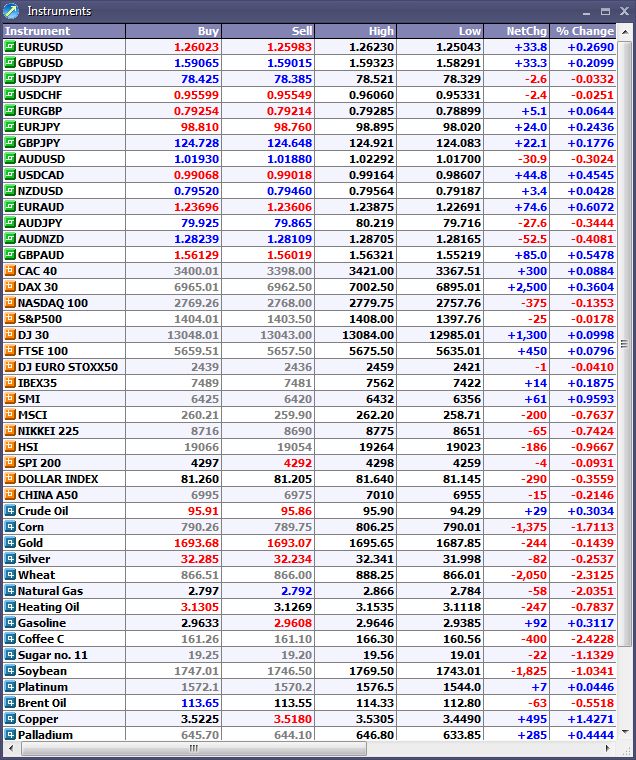 Twitter: Greg McKenna. He is the Chief Investment Officer of Macro Investor, Australia's independent investment newsletter covering trades, stocks, property and yield. Click for a free 21 day trial.

Disclaimer: The content on this blog should not be taken as investment advice. All site content, including advertisements, shall not be construed as a recommendation, no matter how much it seems to make sense, to buy or sell any security or financial instrument, or to participate in any particular trading or investment strategy. Any action that you take as a result of information, analysis, or advertisement on this site is ultimately your responsibility and you should consult your investment or financial adviser before making any investment decisions.
Latest posts by Deus Forex Machina
(see all)