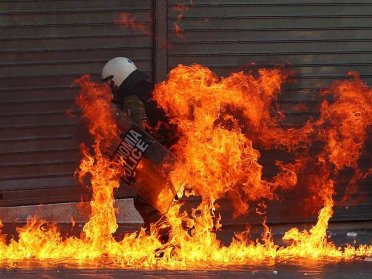 Policy uncertainty and protestors in the streets dominated markets overnight as the protests across Europe and enduring European punch up over the implementation of OMT weighed heavily. Stocks were off sharply once again and gold and oil both fell as well.
The joint statement put out by Germany, Finland and the Netherlands that the bailout of the banks in Spain, Greece and Ireland remained the property of their national Governments was the usual teutonic hand grenade that set things moving. The Bank of Spain's warning that the economy was in deep recession also weighted and though it was hardly a revelation with 25% unemployment well known when combined with vision of rioters in clashes with Police at violent protests  Europe's troubles  were front and centre once again. Protests in Greece similarly turned ugly.
I was only saying on the weekend to someone that Spain must be an amazing place if with 25% unemployment and youth unemployment probably close to the half century that the country continues to function as a civilised nation. I really like a quote I saw from of the EIU via CBC news:
"The demonstrations remind us that central bankers cannot solve the crisis alone. The ECB's plan to intervene in sovereign bond markets can only succeed if governments in crisis countries can convince their electorates that ongoing austerity and reform are necessary to avoid bankruptcy," said Martin Koehring of the Economist Intelligence Unit.

"This, however, is increasingly challenging without the return of economic growth."
It strikes me that these riots are rational and understandable from the affected members of the population – the impact of course is ultimately a message being sent to the political class that there is either some back sliding on reforms or nationalist and ultra-nationalist political parties will surge. The end result is beggar thy neighbour even as the old guard tries to hold Europe together.
In the meantime we'll trade the price action and try to make some money on the up and down moves and it was down moves that dominated overnight.  The FTSE fell 1.56%, the DAX dropped 2%, the CAC 2.82% while Madrid dropped 3.93%. Spanish government 10 year bonds were up 31 basis points overnight. Importantly in the context of everything that occurred overnight Germany could only sell €3.2 bln of a €5 bln bond issue – OUCH!
In the US markets were similarly pressured and the S&P 500 was down for the 5th day in a row falling 0.57% to 1432, the Dow fell 0.33% and the NASDAQ dropped 0.77%. 1420 remains the big technical level for me on the S&P 500 and if that gives way I would expect downside volatility to pick up once again.
On commodity markets the concerns about the protests are concerns about growth and thus growth commodities suffered most. The CRB was off almost a full percent with Nymex crude dropping 1.35% to $90.15 Bbl, gold dropped 0.66% to 1754.80 – $1720 is the key level to watch. Copper fell 1.20% and it too is nearing important medium term support. OJ was very quiet but wheat, corn and soybeans fell sharply dropping 2.62%, 1.98% and 2.45% respectively.
In FX markets the euro and Aussie dollar both fell again as the USD benefits from markets under pressure. Euro traded down to a low of 1.2838 but has rallied a little to 1.2868 this morning. Likewise the Aussie has rallied off a low of 1.0334 to sit at 1.0366 as I write. Whether it was the Brazilian Real or the Canadian dollar it was a case of almost universal USD improvement as is usual when markets get worried.
Lets have a look at some of the markets we follow using our AVATrade trading platform charts.
EUR/USD: Support remains large for the EUR at 1.2812 which the 38.2% retracement of the recent upmove. Unless or until that breaks this is just a consolidation but it is a level to watch. JimmyR says this is still a positive trend for the EUR and only a breach of 1.28 would change that structurally and my system based on this would exit its long.

AUD/USD: The AUD pulled up just above the 200 day moving average overnight and the 1.0310/20 level will be very important again today. JimmyR says the AUD is still trendless presently but as I said yesterday the AUD feels like it is going lower. Overhead resistance levels on the 4 hour charts of 1.0380/85 and 1.0437 which is the 4 hourly downtrend line.

DATA: Job vacancies in Australia and then Durable Goods order in the US tonight.
Couple of issues with the Calender this morning it will be back next week.
And here is how the markets sat this morning at 6.30am courtesy of AVATrade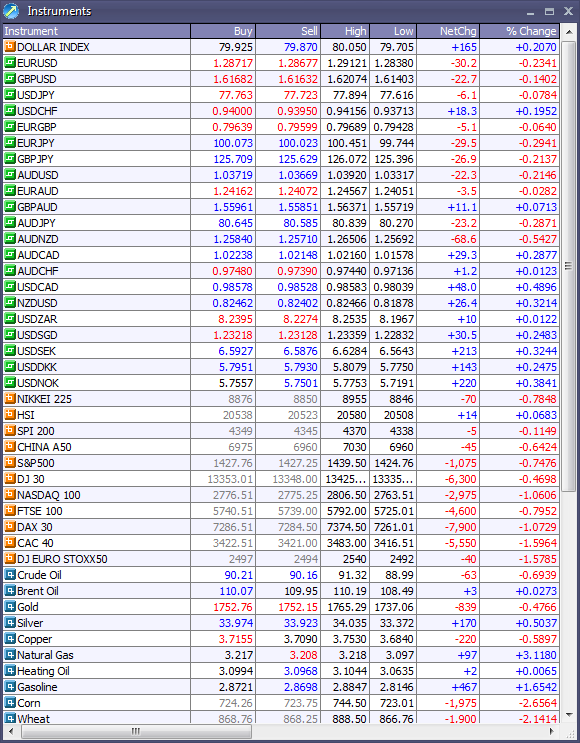 Twitter: Greg McKenna . He is the Chief Investment Officer of Macro Investor, Australia's independent investment newsletter covering trades, stocks, property and yield. Click for a free 21 day trial.

Disclaimer: The content on this blog should not be taken as investment advice. All site content, including advertisements, shall not be construed as a recommendation, no matter how much it seems to make sense, to buy or sell any security or financial instrument, or to participate in any particular trading or investment strategy. Any action that you take as a result of information, analysis, or advertisement on this site is ultimately your responsibility and you should consult your investment or financial adviser before making any investments.
Latest posts by Deus Forex Machina
(see all)