As I wrote yesterday morning, I'm on board with the iron ore bounce theory. There is enough Chinese stimulus in the pipeline to get things moving for a while later in the year (I think!). Though I'm seriously starting to wonder from what price the bounce will come. Overnight action was not too bad for ore but Chinese steel tanked again: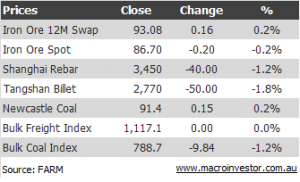 It now looks like this: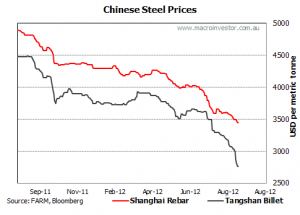 Little wonder then that we're seeing the following, via the AFR and from an executive in a top five steel mill:
BHP right now is offering cargoes on the spot market but no one will meet their price expectations so mills are going about $US5 below what BHP can offer…Rio Tinto right now don't have long-term contracts for buying 30 per cent of their shipments on a regular basis. They are offering cargoes at spot prices to traders just to move the iron ore. Sinosteel is stopping steel mills from bidding, they prefer to buy it from the stockpiles in China. I think some big traders can still get money from the banks, but if traders stop buying, then there will be a big problem.
Yesterday the AFR provided a chart via Deutsche Bank to prove the point that an ore price bounce is coming: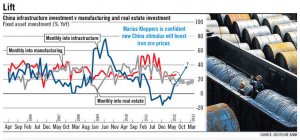 The nice blue line is promising and I agree that it will support an ore price bounce. But in the longer term, it's the grey flat line that matters, as the following recentish chart from the ANZ shows nicely: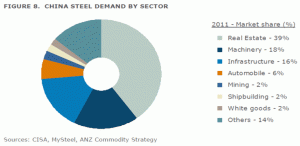 In short, over the longer term, nothing short of full blown, turbo-charged urbanisation is going to keep demand for ore at levels previously thought of as invincible. I'm not sure how anyone ever thought this was possible.
And it looks increasingly like nobody else believes it either. The Australian reports on turning sentiment in the broking community:
Amid growing talk of iron ore shipment deferrals and reports BHP Billiton would further cut expansion plans if prices stayed at current levels, analysts remain sceptical of BHP and Rio Tinto forecasts that China's crude steel output will grow to about one billion tonnes a year (from about 700 million tonnes now).

"We've done lots of work on steel production and demand growth in China using different angles . . . and we could only get numbers of 800-850 million tonnes (a year of steel production), maximum" between 2014 and 2016, UBS analyst Tom Price said.

"I couldn't see how they (BHP and Rio) could get to one and 1.1 (billion tonnes), they were huge numbers."
The tide is going out on iron ore and, barring an increasingly remote re-inflation of China's property boom, it's structural.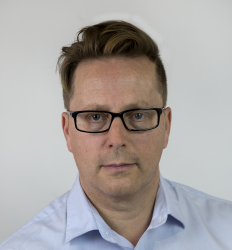 Latest posts by David Llewellyn-Smith
(see all)