Yesterday ANZ had an interesting conference call about iron ore, China and Australia. The economic legs were all a bit sunny and happy but the iron ore dimension was very good:
2. MARK PERVAN, HEAD OF COMMODITY RESEARCH
Thoughts from China

General mood very cautious, key export province Guangdong seeing activity down as much as 40% – most believe it could be another 6-9 months before things improve
Recent stimulus initiatives won't be felt on the ground (in the market) until 2Q13. Many waiting for new government officials to outline new policy/growth agenda's.
A key dynamic, has been the inelastic steel supply response to falling prices. Reports suggest steel output is 15% above required demand (Figure 1)
Main issue around sticky supply is political factors driving high SOE output – wanting to keep social stability until the new leadership change-over towards the end of the year
Margins for smaller mills have also improved because of fast falling coking coal and iron ore prices, more than offsetting weaker steel prices.
Unsold production is being stockpiled on the hope of selling at a later date. Accordingly, steel stocks are at very high levels which will create a supply overhang until demand improves.
Steel mills are also working closely together to push prices lower. Press reports that China steel production has peaked looks more like posturing to keep sentiment weak rather than a fundamental view.
Many believe mills will stay actively out of the market until mid October – after the week-long National holidays in the first week.
Accentuating iron ore price weakness is rampant shorting of Chinese steel prices – now at record high open interest (Figure 2). Some believe iron could go as low as USD80/t before recovering (in a relief rally) back up towards USD100-110/t by year end
Ultimately, prices look oversold. As sentiment improves prices will recover back up to the USD100-110 range.
However, we think pricing power may be more balanced going forward, with steel mills rightly restoring better profit margins from unsustainably low levels over the past 2-3 years – prices in the USD110-130, instead of the USD130-150 range.
In short, one ugly picture. And not one, in my view, that justifies the final statement unless  a lot of iron ore production comes out and a lot more iron production plans are pulled back, including here.
To today's prices and the recent squeeze ran out of puff yesterday: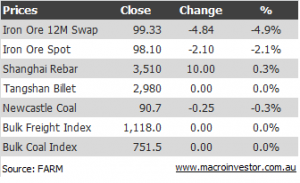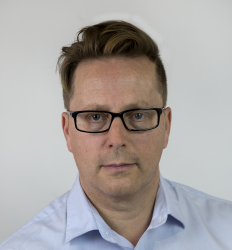 Latest posts by David Llewellyn-Smith
(see all)