To date, the RBA rate cut campaign that began 10 months ago has had two apparent effects.
The first is on retail sales, which have had a much better 2012 than 2011 as more disposable income was made available to punters:
The second is on house prices, which have stabilised as those punters that are still willing to buy have been able to borrow more relative to income, which is showing up in the average loan size: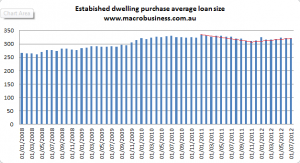 This is now leading to predictions that the housing market is in revival. From David Basanese today:
Along with my call for a likely lowering in official interest rates by 1 percentage point over the coming year, it stands to reason that this might well be positive for house prices. Indeed, my research suggests that given the prospective improvement in home affordability in the coming year, nationwide house prices could be ready to pop 10 to 15 per cent higher by late 2013.

…The results suggest that as at the June quarter, the mortgage repayment as a percentage of disposable income was around 6 per cent below the average since mid-1986. While house prices to disposable income were 16 per cent above their long-run average, this was more than offset by below-average mortgage rates.

…Note, moreover, that while house prices to income are now above average, they've broadly held at this higher level since mid-2003 – suggesting the move (as I've long argued) was a sustainable one-off adjustment due to the structural drop in mortgage rates. As Reserve Bank governor Glenn Stevens once remarked, if house prices are in a bubble then they been that way for an extraordinarily long time.

…Note in the year to June 2010 nationwide house prices as measured by the ABS rose 16 per cent.
I'll simply say in passing that this argument is rather light on. Here is the Housing Association Affordability Index: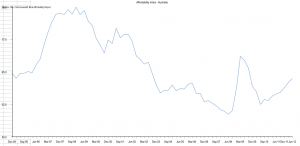 No doubt there's been an improvement but it's hardly cheap. Moreover, Bassanese's measures of income affordability ignore the following chart from the RBA from September 5: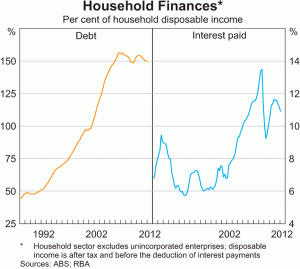 That's hardly cheap either.
Moreover, predicting a rerun of the 2009 blowoff discounts the effects of the fiscal stimulus of the time, which were pretty important. For instance, I'm sure we've all seen the following chart of the great first home buyer bulge: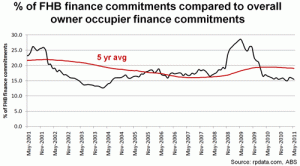 So, barring fiscal stimulus aimed at housing, a repeat of 2009 is very unlikely.
I'm of the view that the shift away from debt is structural (so, I thought, was Bassanese) so it seems to me quite unlikely that we'll see a resumption of anything other than ephemeral growth in house prices.
But, I might be wrong. If new lows in interest rates fires up another convulsion in our housing obsession then it will involve a shift back to grossly unaffordable levels and a further ill-advised expansion in household leverage. Given the economy is going to need lower rates as the mining boom fades and the dollar clearly needs to come down, one can only hope that the RBA is ready to innovate with the jawbone, new macro-prudential tools and/or dollar intervention.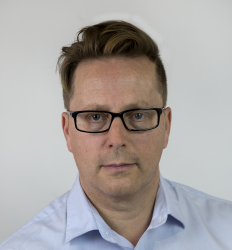 Latest posts by David Llewellyn-Smith
(see all)