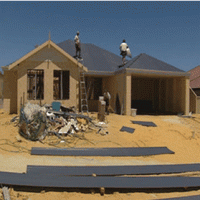 The late-1990s and early-2000s were full of housing policy blunders, which helped fuel the explosion of Australian home prices.
In 1999, the Federal Government halved the rate of Capital Gains Tax, which encouraged (in concert with negative gearing) a surge of negatively geared property investment. This blunder was followed by the introduction of the $7,000 first home owners' grant (FHOG) in the early 2000s, which similarly helped to push-up prices by boosting demand.
On the supply-side, all of Australia's states and territories embarked on (or strengthened) urban consolidation policies, for example by errecting urban growth boundaries, imposing up-front development/infrastructure charges, slowing land release and development approval times, and inadequately funding housing-related infrastructure.
Gradually, however, Australia's conservative state governments are unwinding the mistakes of the past.
In June this year, the Victorian state government announced that it would extend the Urban Growth Boundary (UGB) by 7,000 hectares, effectively opening-up enough land to accommodate an additional 100,000 people. The move to expand Melbourne's urban footprint follows the previous government's belated extention of the UGB by 41,000 hectares in 2009, which opened up enough land to accommodate an extra 284,000 homes and contributed to the current (belated) surge of housing construction.
In the New South Wales State Budget, the Government announced that the existing $7,000 FHOG would be abolished on 1 October 2012, replaced by a $15,000 grant for purchases of new properties up to $650,000. The Government also extended the first home owner stamp duty exemption to new homes valued up to $650,000 (up from $600,000 previously), and announced that it would now also offer a New Home Grant of $5,000 to all non-first buyers of new properties up to $650,000, and vacant land up to $450,000 from July 1, 2012.
In addition to the cash grants, the NSW government announced that it would establish a $561 million fund to pay for road and sewerage infrastructure in new housing estates, which is explicitly aimed at further stimulating housing supply.
Now it has been revealed that the upcoming Queensland State Budget, which will be released tomorrow, will follow New South Wales' lead and end the $7,000 FHOG on pre-existing homes on 11 October 2012, and replace it with a $15,000 grant to first-time buyers purchasing newly-constructed properties up to $750,000 from September 2012.
The changes in New South Wales and Queensland are good policy, and should go along way to stimulating new housing supply, which has been trending down for over a decade despite higher home prices and population growth (clear evidence that the housing market is not functioning properly):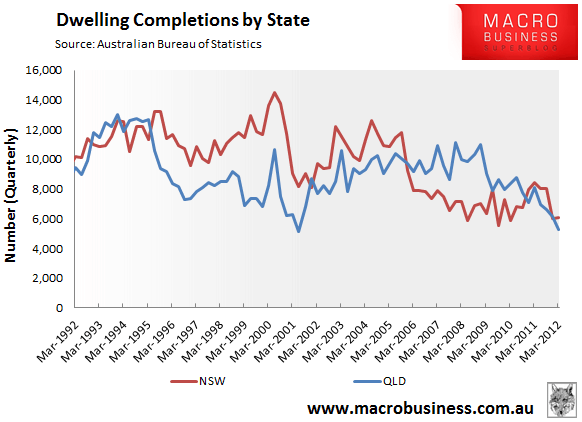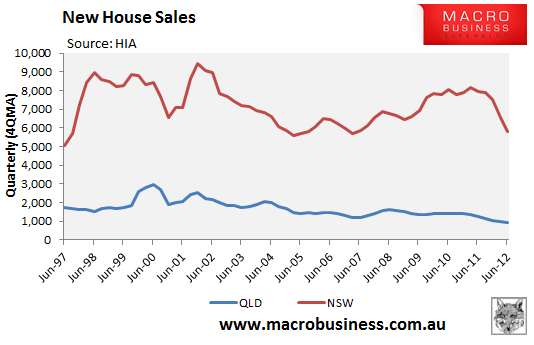 Since the pre-existing $7,000 FHOG will be removed from established homes – which make up the bulk of home sales – and channeled into increased grants for newly built homes, the impact of the policy changes are ultimately likely to be deflationary.
However, first-time buyers of pre-existing homes are likely to rush to beat the October expiry of the $7,000 FHOG on established dwellings, which could result in a short-term spike in mortgage commitments followed by prices in both New South Wales and Queensland, similar to what occured when the New South Wales Government announced, in early October 2011, that it would end the stamp duty concession on pre-existing dwellings on January 1, 2012.
Once fully implemented, however, the changes in New South Wales and Queensland should put downward pressure on home prices, as demand for pre-existing homes is reduced and new housing supply is stimulated.
Both governments should be congratulated for the policy shift, which offers to improve housing affordability by stimulating much needed housing construction.
Twitter: Leith van Onselen. Leith is the Chief Economist of Macro Investor, Australia's independent investment newsletter covering trades, stocks, property and yield. Click for a free 21 day trial.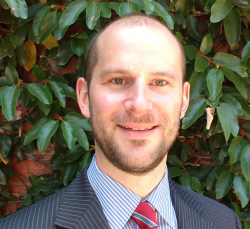 Latest posts by Unconventional Economist
(see all)