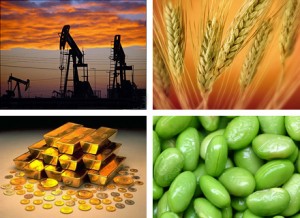 Courtesy of ANZ.
Newcastle FOB October coal prices improved slightly to USD91.8/t. BHP Billiton boosted thermal coal production in its 2012 financial year, with record high output at two of its thermal coal mines in Australia and Colombia. BHP's coking coal data was more bearish, with a large fall in earnings at its coking coal operations in 2012 due to strike action in Qld and the shutdown of its higher cost Norwich Park mine in April and Gregory open-cut mine recently due to escalating costs. Coking coal prices fell again to USD143.38/t overnight. Iron ore prices remained steady around USD109.5/t.  
I'm a bit surprised that coking coal hasn't gotten some lift yet from the iron ore bounce. It says volumes about the oversupply in the market that it hasn't, although the two commodities do not always move in sink. I'm no expert on coking coal so if any reader cares to add to the discussion I'm all ears.
It is interesting to note in passing that although the iron ore price has stolen the headlines, the falls in the two coals are probably now having a worse impact on the terms of trade given neither has bounced.
ANZ Commodity Daily 709 200912
David Llewellyn-Smith is Chief Strategist at the MB Fund and MB Super. David is the founding publisher and editor of MacroBusiness and was the fouding publisher and global economy editor of The Diplomat, the Asia Pacific's leading geo-politics and economics portal.

He is also a former gold trader and economic commentator at The Sydney Morning Herald, The Age, the ABC and Business Spectator. He is the co-author of The Great Crash of 2008 with Ross Garnaut and was the editor of the second Garnaut Climate Change Review.
Latest posts by Houses and Holes (see all)