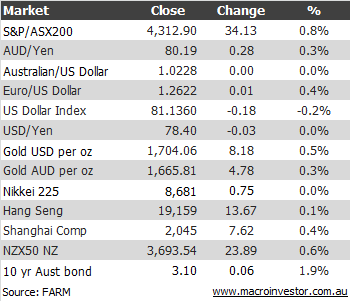 By Chris Becker
The ASX200 reversed course today, following most of the Asian bourses as speculation mounts on the ECB rate meeting and decisions thereafter tonight – followed by weekly initial jobless claims in the US. It rose 34 points or 0.8% to 4312 points – I'll take a closer look at the bottom of the post including technical analysis of the bourse itself to explain what I'm going on about…
As you can see in the table above, the  Nikkei 225  had a scratch day, whilst Chinese markets saw some light bids, with the  Hang Seng up 0.1% and the Shanghai Composite taking back yesterday's losses.
The Aussie battler (AUD/USD) rose on the unemployment print today, back above 1.02 again, whilst in other currencies, the Euro/USD looks like it is breaking out, heading above 1.26 in anticaption of tonights ECB plan. The US Dollar Index continues to stabilise at the key 81 points level for now.
Meanwhile, gold (USD) had another crack at the key $1700USD per ounce level today, and is currently above that now at $1703USD an ounce, moving over $10 today. In AUD terms its relatively stable at $1666AUD per ounce but still under resistance before a scaled position in the precious metal on that breakout would be considered: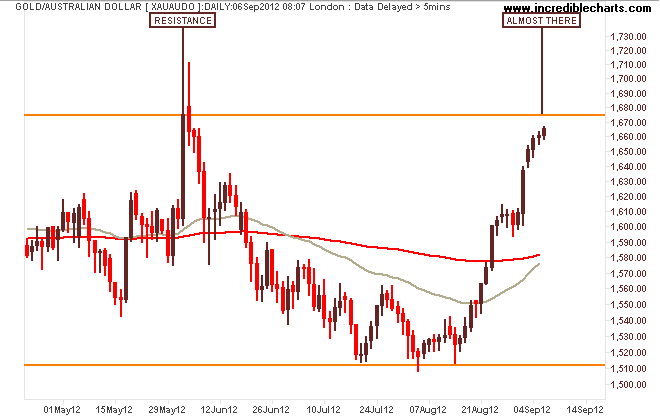 Australian Stocks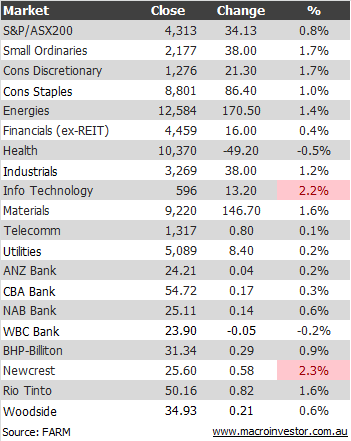 Quite a lot of activity today, in terms of takeovers (Billabong), project approvals (rare earth miner Lynas) and of course, continued falls on iron ore miners – Fortescue having another dreadful day (depending on your position!) down nearly 5% – its due for a dead cat bounce soon, up to $3.50 even is possible….and a good time to add to your shorts…if you are so inclined (Disclosure: I'm heavily short Fortescue, as is MacroInvestor, plus four other iron ore miners):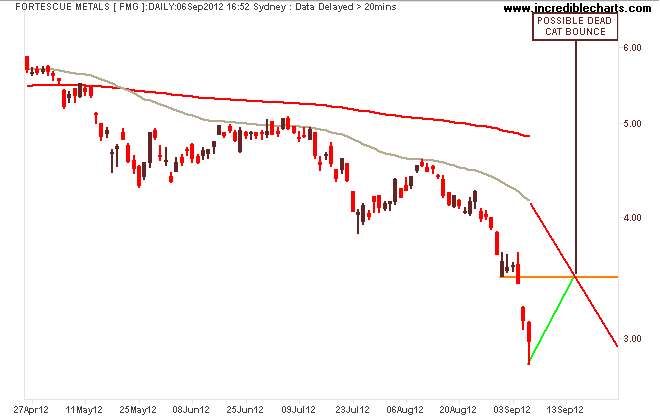 The IT sector was the biggest mover today – mainly because of IRESS (IRE) putting on a big bubble move, up over 2% today. In the ASX8, (the top four miners and bankers) Megabank had a comeback from its recent rollovers, which is interesting because CDS prices are spiking vs their Euro/US competitors. Newcrest (NCM) was the best mover, possibly on the back of the gold price who knows…
On to the index – here's the weekly chart to put things into perspective: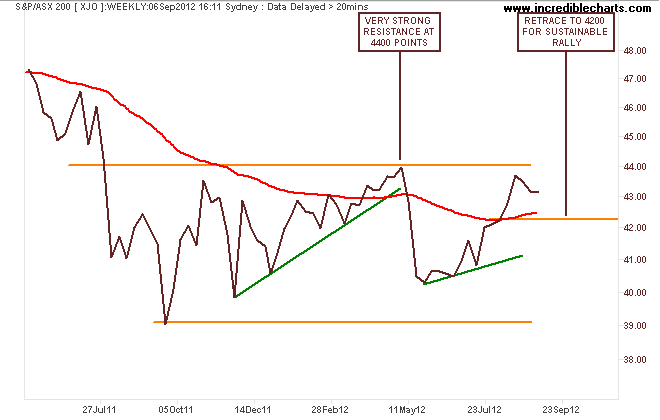 And here's the daily chart – where the index is slowly coming back to its trend line and behaving itself. If we see a positive reaction to the ECB's decision tonight and not another fizzer, (and perversely, a bad jobs number in the US), our market will move with the S&P500, which is looking to break out too – so 4400 points is again on the agenda…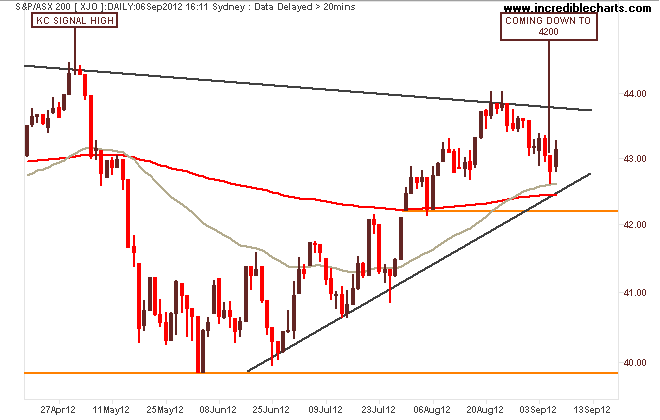 These daily updates need to be placed in context with the longer trends and drivers amidst the overall technical picture,  where Former "Trading Week" readers will find it reborn as "Technicals", published 8.30am each Monday morning.

Chris Becker is an investment strategist at Macro Investor, Australia's leading independent investment newsletter covering stocks, trades, property and fixed interest. Each week Macro Investor publishes tables on the top ten most undervalued and overvalued stocks on the ASX. A free 21-day trial is available at the site.

You can follow Chris on Twitter.

Disclaimer: The content on this blog should not be taken as investment advice. All site content, including advertisements, shall not be construed as a recommendation, no matter how much it seems to make sense, to buy or sell any security or financial instrument, or to participate in any particular trading or investment strategy. The authors have no position in any company or advertiser reference unless explicitly specified. Any action that you take as a result of information, analysis, or advertisement on this site is ultimately your responsibility. Consult someone who claims to have a qualification before making any investment decisions.
Latest posts by Chris Becker
(see all)