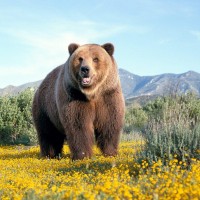 By Chris Becker
Well well. Sometimes a day not fully plugged into the matrix that is the markets gives you some focus, because when I arrived back at my Terminal late this afternoon, after seeing the falls in iron ore early this morning, I was not at all surprised at what has transpired. The ASX200 continued to fall today, down another 25 points or 0.6% to 4279 – I'll take a closer look at the bottom of the post including technical analysis of the bourse itself to explain what I'm going on about…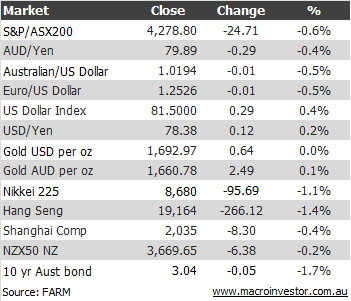 As you can see in the table above, the  Nikkei 225  had another fall today, down over 1%, whilst Chinese markets remain volatile as the  Hang Seng lost another 1.4% and the Shanghai Composite is off nearly 0.4%
Its seems reality is in Asia, whilst unreality is in Europe – when you look at all the Asian bourses, the directions are pretty clear: south. When you look at Euroland, its "hope and (some) glory" – although as I write this, the main bourses are being sold off slightly, as bond markets begin to jitter…
As my colleague Greg McKenna said on Bloomberg TV this morning, the Aussie battler (AUD/USD) is actually not that sold off yet, hovering around the 1.02 level, although it has fallen straight through this afternoon to be at 1.0177 – but instead of a short term chart, lets step back for the 40,000 foot view. You can see Greg's thesis there quite clearly – the AUD is in a mid range, although it has peaked recently and likely heading back down to 96 cents, its major support line (and pre-GFC high) for the last two years.
If it falls below that? Technically, we are looking at a 80 cent target. Got your eBay shopping done yet?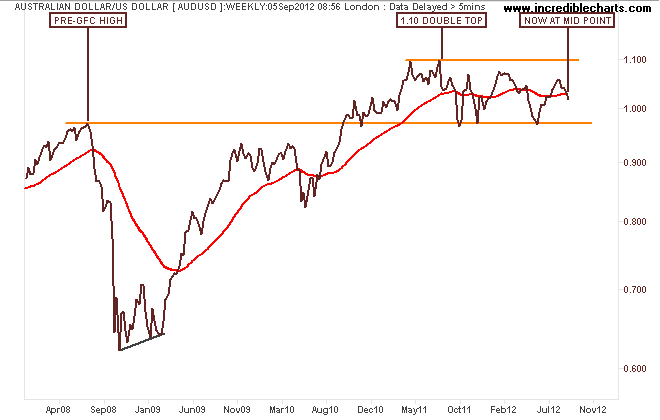 On other currencies, the Euro/USD has also fallen slightly as the US Dollar Index stabilises at the key 81 points level for now.
Meanwhile, gold (USD) had a crack at the key $1700USD per ounce level last night, and remains in a  consolidating pattern for now at $1691USD an ounce. I still think, well obviously since over 60% of our readers here are Aussies, that the potentialities lie more favourably for gold in AUD terms. It is currently just under resistance at $1665AUD per ounce as the AUD weakens against, well everything…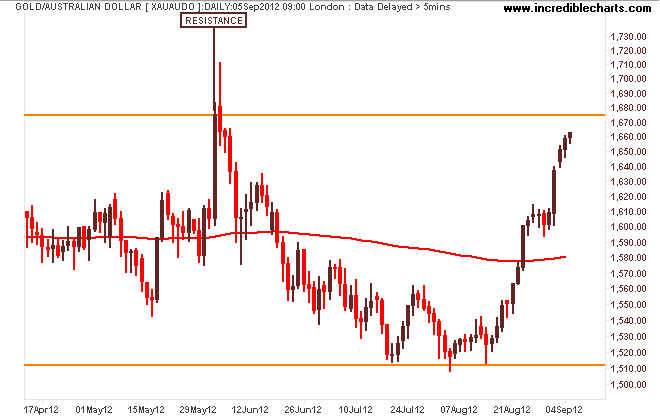 Australian Stocks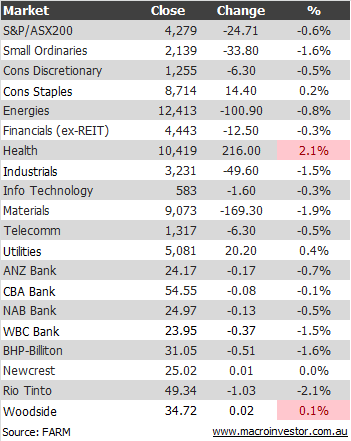 Not the biggest, but the most interesting movers in the ASX8 (the top four miners and bankers) were again the Megabank divisions, as all look like they are rolling over from their highs. The big pair BHP and RIO had bad days, but the really bad day was reserved for Fortescue (FMG).
As I said yesterday, both myself personally and MacroInvestor's model trading portfolio, are short this stock – which I wrote about when it was above $4 stating that the likely price target was $2 – I still stand by that, from a technical, macro and fundamental point of view. What's more important though is managing the risk – i.e what if I'm wrong? So even though we are up over 3% alone in the last week on these trades (MI is short other iron ore miners too), managing the risk and profits are crucial to turning this winning trade into a profitable trade.
By the way – does this five year chart of FMG bear a resemblance to anything?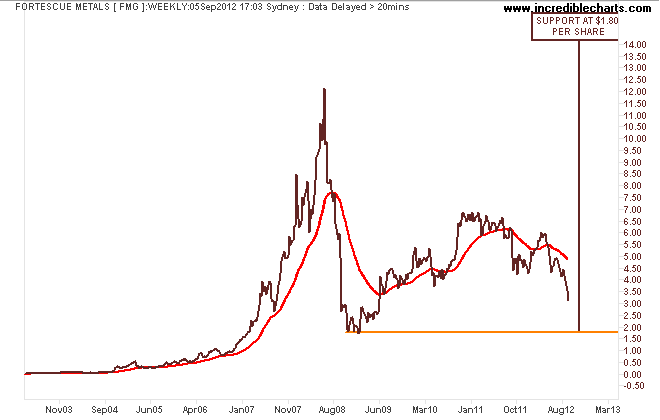 With the index, I still contend it needs a signfiicant catalyst to bounce back above significant resistance at the 4400 point level. Its now busted through the tentative support at the 4300 point level, on its way to 4200 points. Depending on your view, a good time to hold, fold or double down. With bank share prices falling and no bottom yet in mining stocks – whose going save the ASX200? Industrials with a lower AUD? That will take sometime and by composition, they are tiny.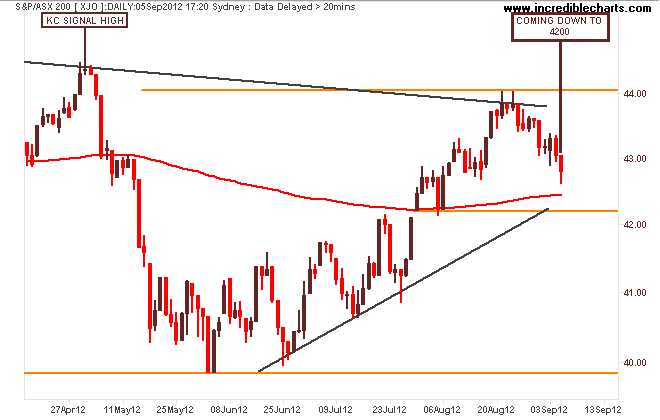 These daily updates need to be placed in context with the longer trends and drivers amidst the overall technical picture,  where Former "Trading Week" readers will find it reborn as "Technicals", published 8.30am each Monday morning.

Chris Becker is an investment strategist at Macro Investor, Australia's leading independent investment newsletter covering stocks, trades, property and fixed interest. Each week Macro Investor publishes tables on the top ten most undervalued and overvalued stocks on the ASX. A free 21-day trial is available at the site.

You can follow Chris on Twitter.

Disclaimer: The content on this blog should not be taken as investment advice. All site content, including advertisements, shall not be construed as a recommendation, no matter how much it seems to make sense, to buy or sell any security or financial instrument, or to participate in any particular trading or investment strategy. The authors have no position in any company or advertiser reference unless explicitly specified. Any action that you take as a result of information, analysis, or advertisement on this site is ultimately your responsibility. Consult someone who claims to have a qualification before making any investment decisions.
Latest posts by Chris Becker
(see all)