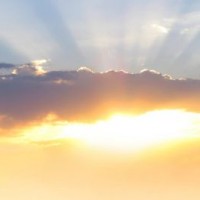 London was out on a bank holiday last night so it was left to continental Europe and the US to drive sentiment.
I was however surprised when I woke up this morning and saw that Europe had rallied in the manner it did. The  German IFO business survey is one of the most closely watched surveys each month as it gives a feel for how Germany is going. It printed 103.2 which is down substantially from earlier this year, was worse than the pundits predicted, a two year low in fact, but the markets seem to have expected a worse number which drove a relief rally in the stock market with the DAX up 1.10%. Even in the upside down world that is the market in 2012 this makes no sense. But hey, who am I to argue?
As noted the FTSE was closed but the CAC caught the DAX's draught and rose 0.86% while Madrid rose 1.16%. Spanish bonds were a little lower, falling 4 points to 6.38% while Italian 10 year bonds are stable around 5.71%.
In the US it was very different as there was much talk – in a negative sense – about the chances of Jackson Hole delivering something on the  QE front. Indeed Bloomberg ran a story overnight to this exact point saying:
Bernanke probably won't use his Aug. 31 speech at the Fed's annual symposium in Jackson Hole, Wyoming, to suggest a third round of bond buying is at hand, according to economists
But Bloomberg also said:
"You can't find a trader who doesn't think Ben Bernanke is going to signal QE3 at Jackson Hole," said Dan Greenhaus, chief global strategist for broker dealer BTIG LLC in New York. "But to have traders so convinced that this is a sure thing kind of screams there's room for a letdown here."
So there we have it, and maybe an explanation as to how the DAX rallied after such a poor IFO result. What the pundits reckon or predict is often times simply ignored by traders who do what THEY think needs doing or is going to happen. So there is room for serious disappoint this week it might seem. I'm in the disappointment camp.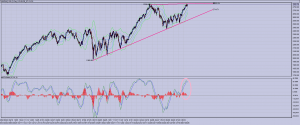 At the close of play the S&P 500 was down 0.05% to 1,410 while the Dow fell 0.25%. The NASDAQ was lifted by Apple's victory in the courts over Samsung and their announced pursuit of Samsung and the models it has on sale in the US, which it is trying to have banned. NASDAQ finished +0.11% on the day. On my charts the NASDAQ looks a little over cooked up here at these multi-year highs again.
On commodity markets the LME was closed with the bank holiday so no action really in the metals over night but crude took a bit of a hit late. Orange juice was off 3.74% which was why we dragged the stops up on the positions instituted on the break out last week – it was ripe for a pullback. Corn, wheat and soybeans were all down falling 0.97%, 0.87% and 0.74% respectively.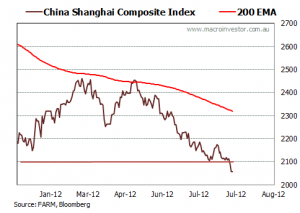 AUD/USD: The AUD is under performing and has broken out of the 9 week uptrend. The push below 1.04 targets a run toward  1.0250 – hasn't happened yet but I think it's coming. A push back above 1.0460 negates this negative outlook. This 4 hour chart speaks for itself.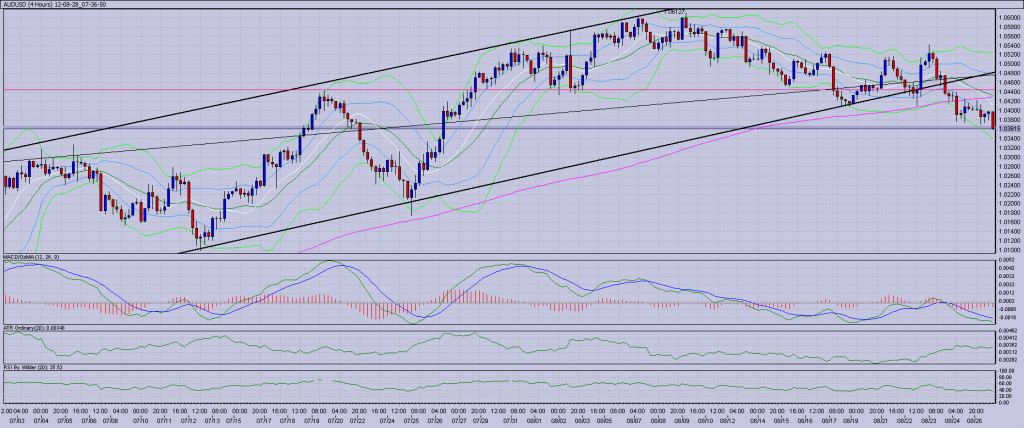 DATA: HIA New home sales today in Australia and then we'll await the various house price data from the Case Shiller for the US before the Richmond Fed index around mid-night tonight.
Here is today's data and you can click here for the full week's calendar. Please note that data coloured blue is important to me and that which is coloured red is important to everyone.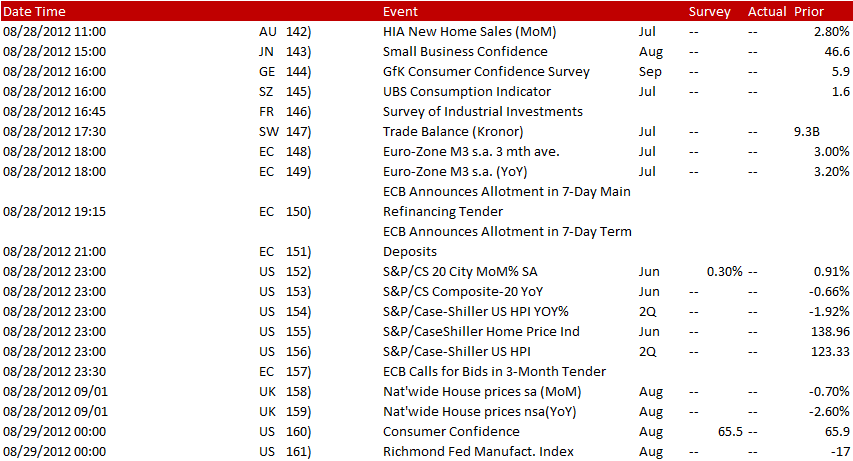 And here is how the markets closed on Saturday morning courtesy of AVATrade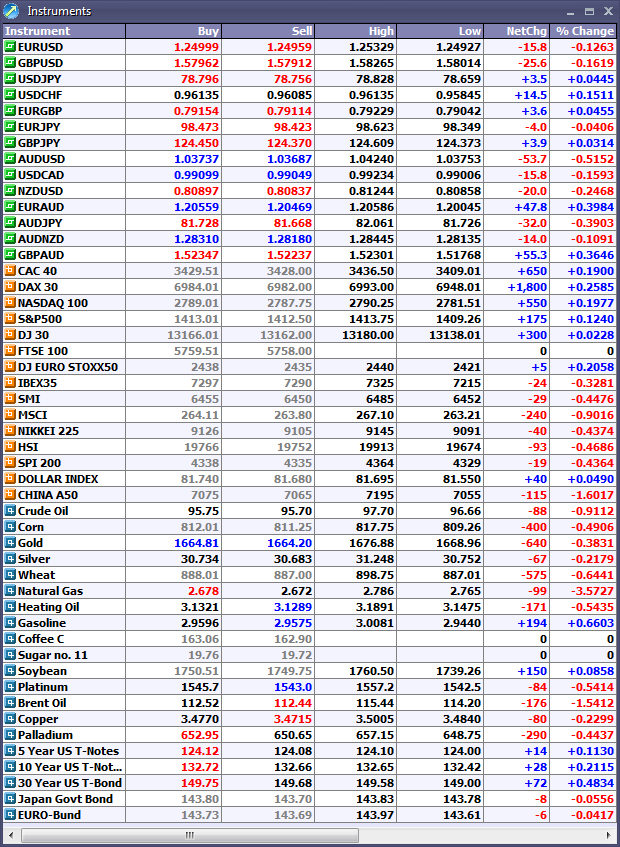 Twitter: Greg McKenna. He is the Chief Investment Officer of Macro Investor, Australia's independent investment newsletter covering trades, stocks, property and yield. Click for a free 21 day trial.

Disclaimer: The content on this blog should not be taken as investment advice. All site content, including advertisements, shall not be construed as a recommendation, no matter how much it seems to make sense, to buy or sell any security or financial instrument, or to participate in any particular trading or investment strategy. Any action that you take as a result of information, analysis, or advertisement on this site is ultimately your responsibility and you should consult your investment or financial adviser before making any investment decisions.
Latest posts by Deus Forex Machina
(see all)