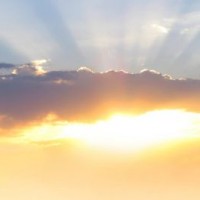 Stocks in the US rose marginally overnight on the lightest volume of the year.
The S&P 500 was up 0.08% to 1410, the Dow rose 0.03% and the NASDAQ was up 0.13%.
On the data front, the Fed's Beige Book was released early this morning and showed a very subtle upgrade to growth. Whereas the previous month said growth was modest to moderate this month they said that the economy grew gradually in July. The Fed said that manufacturers continue to hire at a modest rate and that most districts saw an increase in retail spending. Also out overnight were pending home sales data which was up 2.4% in July versus 1% expected and 2nd quarter growth in the US was revised up from 1.5% at the first read to  a 1.7% rate in the second update overnight. We won't get too excited because that difference of 0.2% translates to a 0.05% change on the quarter given the way the US calculates GDP. So the Fed is still in play for QE3 and markets are waiting on Bernanke later this week.
But realistically even at the margin the more positive data we see from the US the less chance Bernanke will be able to carry his board for another round of QE. So we'll more likely hear that the Fed has the tools if required as opposed to the Fed is coming with a money drop.
Over in Europe it was more of a mixed bag in terms of equity market performance. The FTSE fell 0.56%, with the CAC only marginally better dropping 0.51% while Madrid fell 0.38%. The DAX however rose 0.11%.
Explaining the differing performance in such a thin trade is difficult with any clarity so I won't make it up. But there were some interesting positioning statements and battles going on amongst senior policy makers. Merkel and Monti are in the midst of a punch up over the banking licence issue for the EU rescue fund – she says no, he says yes. ECB Draghi gave an interview in the German press where he essentially told Germans they are better off in the Euro and supporting their Southern neighbours than out.
But for mine the big one was Der Spiegel, which ran an interview with Bundesbank President Jens Weidmann who reiterated his opposition to the current Draghi plan:
I was already critical of the sovereign bond purchases that have been made to date — and I was by no means alone in that respect. Such a policy is too close to state financing via the money press for me. The central bank can not fundamentally solve the problems this way. It runs the risk of creating new problems.
It ain't over till it's over and we could get twin disappointments in the next week – Jackson Hole and then potentially Draghi on September 6th. Not that I am particularly enamoured with either QE or the Draghi plan but I'm hopeful from a market stability stand point that we see some forward progress – at least in Europe.
On commodity markets, crude is heeding the threat of the G7 and the release of reserve to combat price and Nymex fell 1.47% to $94.93 Bbl. Remember, watch the $94 level as a signal of a deeper break lower. My little mate OJ bounced another 2.69% after pausing for a couple of days. This one has some way to go yet, possibly, so while the stops have been tightened I'm hanging on for the ride. Gold is unsure whether these heady heights are for it and it retested the trendline it broke through last week and is resting on it presently. I'm reading the market is getting long gold this week in anticipation of QE but the price action says something different – we'll see. We'll also be seeing some increases at the supermarket sometime soon I guess with corn up 2.27%, whet up 3.34% and soy a more modest 0.62%.
The story for me is the Aussie dollar and its slow melt. In this week's Macro Investor I'm writing about the tipping point for Australia and for the Aussie dollar, we are also looking at some stocks and trades that will benefit from its inevitable fall. The tipping point hasn't happened yet but gee whiz it can't be far away. Aussie is 1.0346 as I write. The Euro slipped a little lower too and sits at 1.2528, Stirling is at 1.5827 and USD/JPY 78.71.
Lets have a look at some of the markets we follow using our AVATrade trading platform charts.
EUR/USD: Euro hit our target last week and has pulled back. Based on the combination of indicators I use, my sense is that last week's high is going to be hard to break so 1.2580/90 will be solid. We now have a potential double top – well an actual double top – at this 1.2580/90 region and while a break of the highs sets Euro on a path to 1.2700-40 looks more likely to retest support at 1.2460 and then maybe 1.2421. :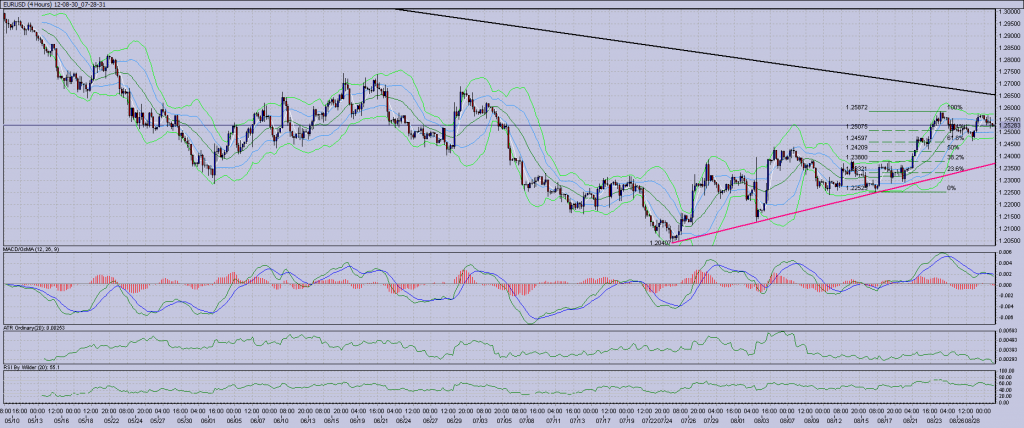 AUD/USD: Bit of a lesson here for novice traders – why is the 200 day moving average so important. The answer is that it's not. But the fact that a lot of traders are watching it as an indicator of a trend reversal (ie its going lower) means that it IS important. Why are technicals important – because people watch them and trade off them. As you can see in this chart the AUD is still yet to close below the 200 day moving average but when it does it's the bears back in control. The Aussie is still in a downtrend now but needs to trade for a few hours and close below this level to kick on lower towards 1.0250. A push back above 1.0460 negates this negative outlook.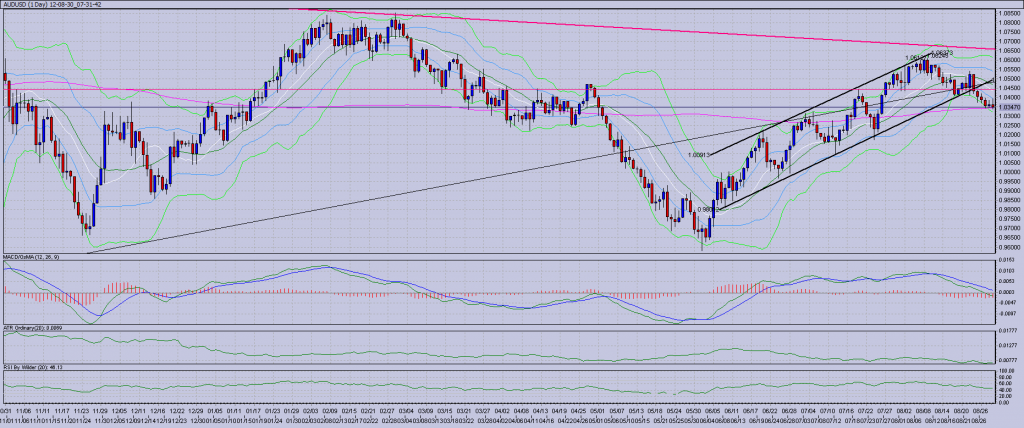 DATA: CapEx today is important. I expect it to be ok and to hear people saying the talk of the boom is pre-emptory. But this piece of data is prone to non completion and revisions ala BHP shelving plans.
Here is today's data and you can click here for the full week's calendar. Please note that data coloured blue is important to me and that which is coloured red is important to everyone.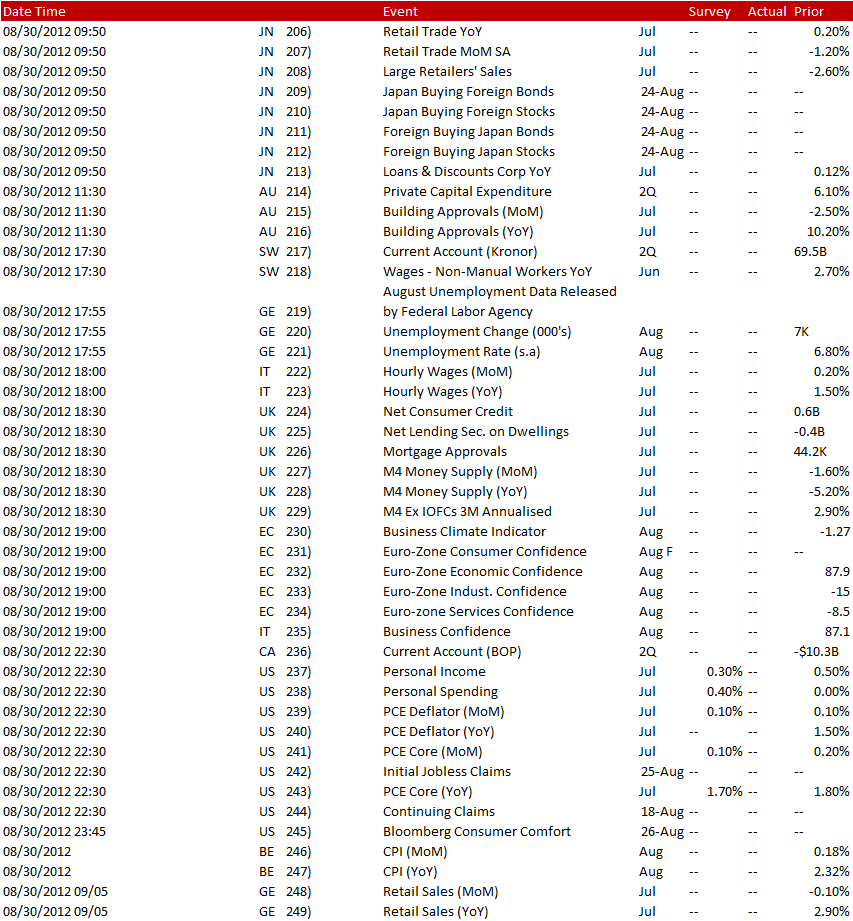 And here is how the markets closed at 6.30 this morning courtesy of AVATrade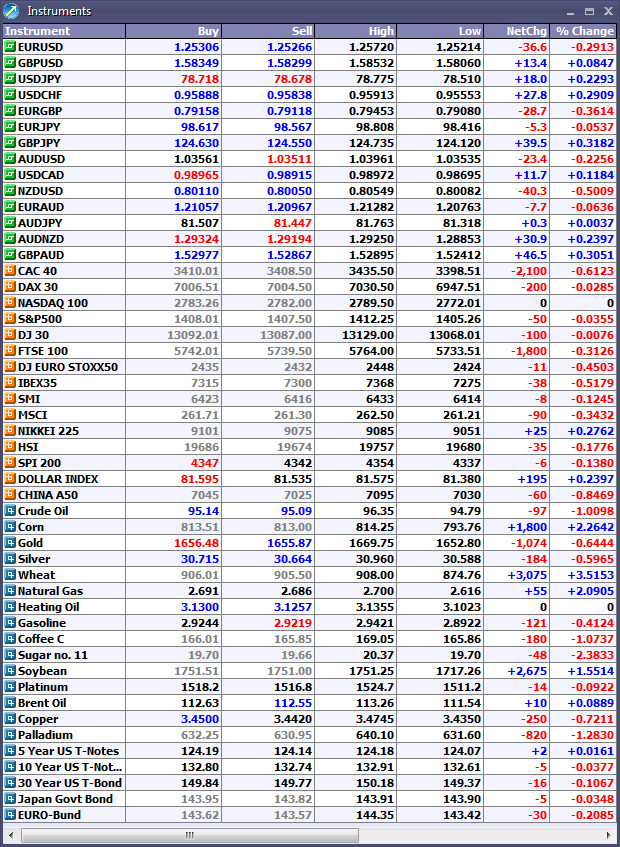 Twitter: Greg McKenna. He is the Chief Investment Officer of Macro Investor, Australia's independent investment newsletter covering trades, stocks, property and yield. Click for a free 21 day trial.

Disclaimer: The content on this blog should not be taken as investment advice. All site content, including advertisements, shall not be construed as a recommendation, no matter how much it seems to make sense, to buy or sell any security or financial instrument, or to participate in any particular trading or investment strategy. Any action that you take as a result of information, analysis, or advertisement on this site is ultimately your responsibility and you should consult your investment or financial adviser before making any investment decisions.
Latest posts by Deus Forex Machina
(see all)