See the latest Australian dollar analysis here: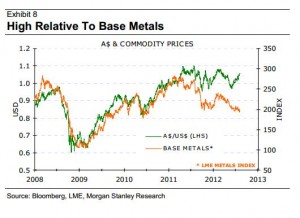 To me that's evidence enough. Waiting until the dollar gets to $135 and iron ore to $100 is forcing an economic adjustment you neither need nor want. Indeed, to allow that would culminate in a collapse. China is going to rebalance in next few years. Commodity prices are going to fall too. Very likely both will happen more swiflty than the happy analysts of Treasury of the RBA reckon on.
Why on earth would you hollow out your tradeable sector on the eve of such a shift?
Latest posts by David Llewellyn-Smith (see all)