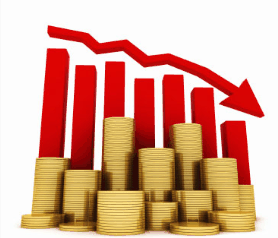 The Victorian Department of Sustainability and Environment (DSE) earlier this week released data on the number of housing transfers and mortgage lodgements/discharges.
Like the Queensland Department of Environment and Resource Management (DERM) data, which was analysed yesterday, the Victorian DSE statistics are current to June 2012, so they lead the Australian Bureau of Statistics (ABS) Housing Finance data, which is due to release figures for May later this morning, by one month. On the other hand, DSE records transactions at settlement date, not sale date, so would lag the signing of the contracts of sale (Section 32′s) by the settlement time, typically between 30 and 90 days.
According to DSE, the number of housing transfers (15,804) and mortgage lodgements (17,342) fell by -2% and -1% respectively over the month. And like in Queensland, they were also the lowest June figures in the series' 10-year history.
The below chart shows the rolling annual number of housing transfers from June 2003 to June 2012: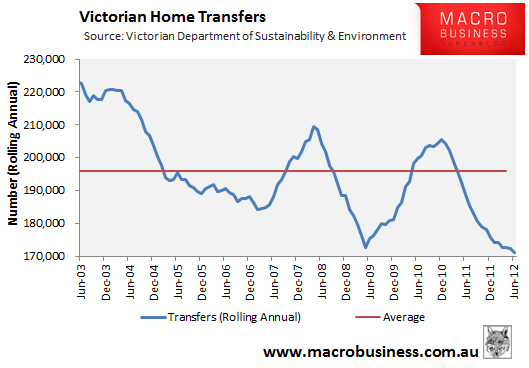 The annual number of Victorian home transfers fell slightly over the month – from 172,524 in May 2012 to 171,074 in June – which is the lowest level reached in the series' history and 13% below average levels.
The DSE's mortgage finance statistics are unique in that they provide data on both mortgage lodgements (i.e. new mortgages) and mortgage discharges (i.e. mortgages repaid in-full). Below is a chart showing both series on a rolling 12-month basis: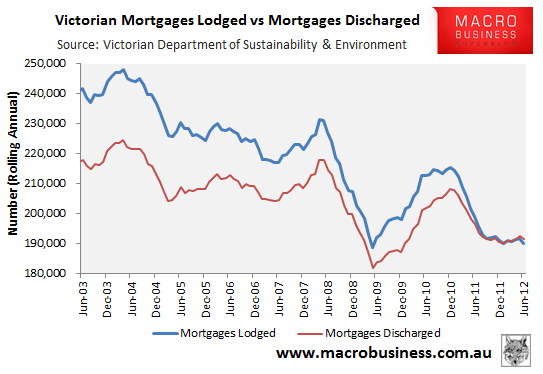 And below is the number of net new mortgages created, calculated by subtracting mortgage discharges from mortgage lodgements: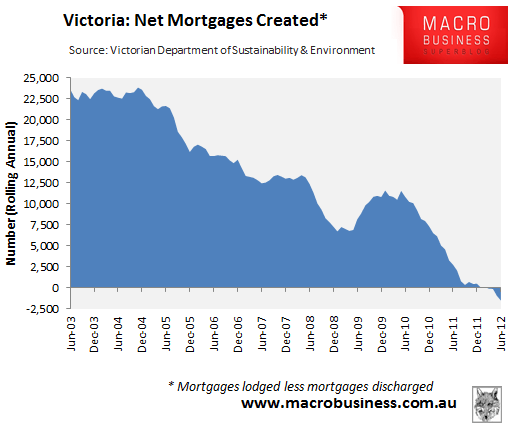 According to the DSE, the annual number of mortgages discharged (191,577) exceeded the number of mortgage lodgements (190,088), meaning that -1,489 mortgages were lost in the State of Victoria in the 12-months to June. This compares to the average of around 13,500 annual net mortgage creations since the series began in 2002.
And below is a similar chart showing that the ratio of mortgages lodged to mortgages discharged: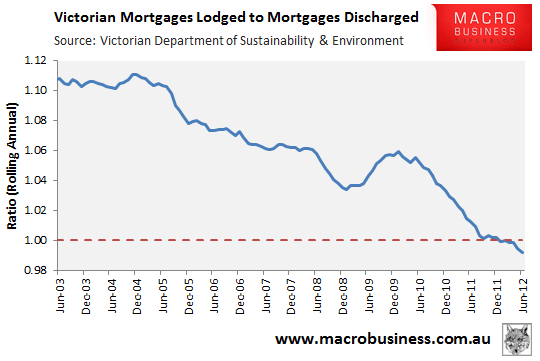 Between 2003 and 2005, there were around 11 mortgages created for every 10 mortgages discharged. In the 12-months to June 2012, however, the number of mortgages lodged has slipped further below the number of mortgages discharged, signalling that Victorians continue to deleverage.
Overall, the weakness of the DSE data suggests that Melbourne home prices will continue to deflate. The release of the ABS Housing Finance figures for May later this morning should provide more colour.
Twitter: Leith van Onselen. He is the Chief Economist of Macro Investor, Australia's independent investment newsletter covering trades, stocks, property and yield. Click for a free 21 day trial.