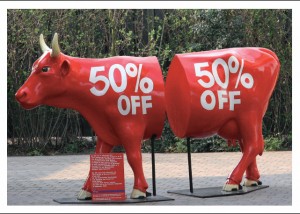 Buy low and sell high. That's the stock-picker's guide to success. But is it that simple? Just because something is undervalued doesn't mean it's worth owning, sometimes to the contrary.
At Macro Investor we spend a lot of time stocks identifying stocks that are undervalued, not just right now but also their future valuations. But that's only the beginning. There are other just as important pieces to the investment puzzle.
To demonstrate, here's Macro Investor's most recent top 5 list of undervalued companies:

So, if these are the most undervalued stocks on the ASX, should we race out and buy them? Well…no!
Straight off the bat we see that the top two, IMF Australia (ASX:IMF), a litigation funder for large class actions and Chorus Ltd (ASX:CNU) , an emerging fixed line IT company based in New Zealand, have been graded "Avoid" based on their financials.
This means that their most recent financial history is not robust enough for further consideration as an investment. Although this could change in the coming earnings season. In particular, Chorus has only been listed a short time, even though forecast profit and Return on Equity (the ability of management to turn shareholder's funds into profit) look very impressive.
IMF on the other hand has a longer history, with an impressive track record. But because of the nature of its business – you can't schedule who gets sued when – it has very lumpy cashflow as earnings from class actions come, with big breaks in between.
So already we've eliminated two very undervalued and possible investment stocks, but that's not to say we can't come back to revisit them, or indeed treat them as more speculative investments, with a view to a smaller allocation and shorter holding timeframe.
When you build a portfolio of good investments, you really need to be stern with your criteria, and only include stocks that have a good track record and a solid financial history.
What makes the remaining trio more exciting is clearly evident in this next table:

Macro Investor rates the next two stocks, iron ore producer Fortescue Metals (ASX:FMG) and gold miner St Barbara (ASX:SBM), as "Core" holdings, which means their financial metrics are top rated and the stocks should be considered first when allocating your portfolio.
Remember, good investing is not just picking the right stocks – you need to be able to weight your picks properly, providing you with the best probability of the highest possible return, but at the lowest risk.
We rate the last on our list, which is also a gold miner – Troy Resources (TRY), as "Investment Grade", one step below "Core". This is because while it is very profitable, it has seen both a reduction in its book value and it has cut it dividend. This doesn't mean it's off the table – rather we prefer to stack our portfolio with "Core" stocks first.
So, we have whittled out list of the five most undervalued stocks to a list of just two. Now we add further macro criteria to see if these two are worth owning.
Troy's fate is obviously tied directly to the speculative moves of gold, which in AUD terms has fallen over 16% in the last year. Even though it is profitable with good margins, it's the perception of that profitability that moves prices and if gold continues to slide, those margins could disappear rather quickly. Another uncertainty is whether or when the US Federal Reserve will embark on another round of Quantitative Easing, which will affect the price of gold and the Australian dollar.
The same sentiment applies to iron ore extractor FMG, with the added market dynamic of international hedge funds taking short positions in the stock. Even though spot iron ore prices are well above the cost of extraction for FMG, which we estimate is around $70 per tonne, its medium term fortune is divined by their direction. With an established and accelerating downtrend in place for iron ore, FMG will remain profitable but current earnings estimates will be pared well back, thus reducing value. Its primary macro consideration is the question of to what extent will China stimulate further infrastructure spending? The answer is tied up with its leadership transition and the shift of its economy to consumer-led growth.
So, now, we have two of the most undervalued stocks on ASX, with good financial metrics and a bunch of macro risks.
Finally, we need to apply an assessment of the market condition of these stocks. Macro Investor judges Fortescue to be in a bear market, which means the probability of further price falls outweighs the "falling knife" chance of catching a meaningful recovery.
On the other hand, Troy Resources, even though undervalued, has had a good run and the Macro Investor system is signaling "Take Profit", which means to reduce allocation by at least half. Why? Well here's a stock that's increased almost eightfold since March 2009 as the gold price also shot up, yet has now "moved" sideways for over twelve months while offering no meaningful yield to compensate the holding period. In addition the risks around a correction in the gold price are too high, so its time to re-allocate your capital in other places that may provide a better chance of capital return or meaningful yield.
And there you have it. The five most undervalued stocks on the ASX, aren't worth owning, in our view.
The key to investment is not to grab every undervalued pick that comes along, afraid that you will miss out on a bargain. Opportunities will always arise, in every market. It takes more than a calculator to be a good investor. You just can't solely rely upon an automated answer or scan – you need to dig deeper and ask the questions about risk, about the big picture, about why the stock price is so under "valued"?
Maybe the value doesn't exist at all and its just price you are chasing.
Chris Becker is an investment strategist at Macro Investor, Australia's independent investment newsletter covering stocks, trades, property and fixed interest. Each week Macro Investor publishes tables on the top ten most undervalued and overvalued stocks on the ASX. A free 21-day trial is available at the site.
Latest posts by Chris Becker
(see all)