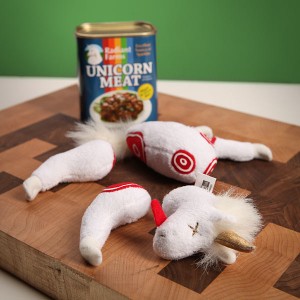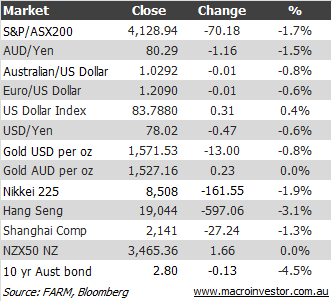 By Chris Becker
These daily updates need to be placed in context with the longer trends and drivers amidst the overall technical picture, so head to Macro Investor for a free trial. Former "Trading Week" readers will find it reborn as "Technicals", published 8.30am each Monday morning.
Its definitely not rabbit season – its unicorn hunting season! Today we saw the bearish response to Friday nights falls on European and US stock markets.
The ASX200 fell nearly 2% all the way down all day, closing down 70 points or 1.7% to 4128 points, reversing in a stroke all of last week's gains.
If you thought that was bad, check out the rest of Asia, with the Nikkei 225 falling over 1.9%,  the Hang Seng a stonking 3.1% whilst the Shanghai Comp is down 1.3% revisiting its previous lows.
On currency markets, the broader risk off move saw the risk proxy de jeure, the Aussie down nearly 1%, losing over 1 cent to be just below the 1.03 mark against the USD, but still on its short term trend from the June lows: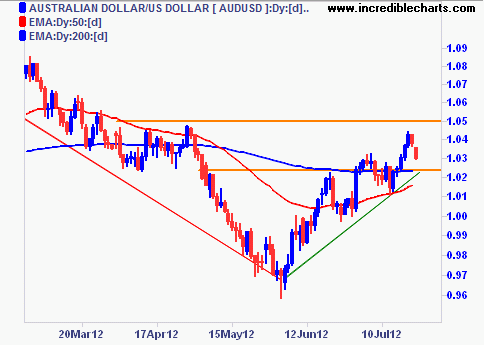 The Euro/USD cross also took a pounding and is below the 1.21 level going into the European session as the US Dollar Index (DXY) improves with the 84 level a possible target tonight. The anti-dollar – gold (USD)   is currently slipping going into the London trade, bouncing just off the $1570USD level. 
In AUD terms, because of the drop in our currency, the shiny metal has risen slightly, now at $1527AUD per ounce.
Australian Stocks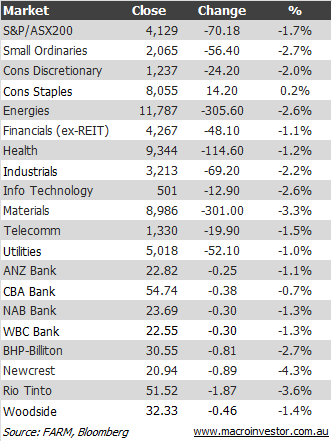 On to the index where the ASX200 has clearly had a bad day – reversing below the 50 day moving average and resistance at 4140 and once looked set to tackle the closely watched 200 day moving average, which is proving an elusive resistance level again. As we move closer to the start of the earnings season, the weekly chart proves illustrative, with an interesting pattern firming up in recent weeks: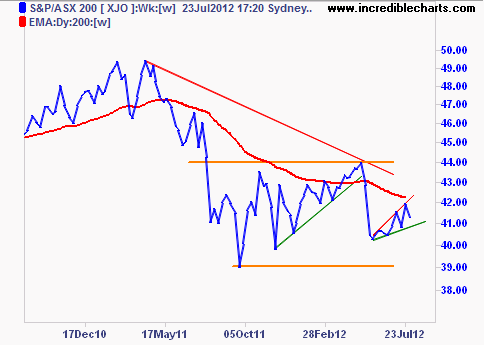 The ASX200 needs to hold that bottom rising support line (in green) or it will be back on its way to 3900 points as this bear market continues.
Tonight
Looks like a nasty night on risk markets, and just like how our fundies and insto's have moved from equities to bonds (bond yields fell over 13 basis points today to an amazing 2.8% yield), the same is occuring in Europe – except nobody wants to own Spanish bonds….and maybe soon Italian bonds (Sicily is the Greece of Italy, which itself is a microcosm of Europe, separated into an industrious rich north and an impoverished, indebted south).
Don't miss the overnight market updates by my colleague Greg McKenna, in MacroBusiness Morning tomorrow morning.
You can also find me rambling on Twitter here.
Disclaimer: The content on this blog should not be taken as investment advice. All site content, including advertisements, shall not be construed as a recommendation, no matter how much it seems to make sense, to buy or sell any security or financial instrument, or to participate in any particular trading or investment strategy. The authors have no position in any company or advertiser reference unless explicitly specified. Any action that you take as a result of information, analysis, or advertisement on this site is ultimately your responsibility. Consult someone who claims to have a qualification before making any investment decisions.
Latest posts by Chris Becker
(see all)