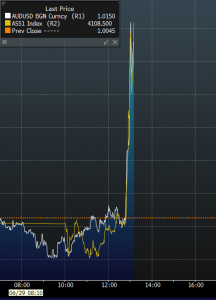 Houses and Holes, sans Twitter and not looking at his Bloomberg Terminal properly: ASX and AUD go vertical. Same in regional bourses. Can't find any explanation…
The Prince: risk markets have all jumped on the release of a statement following the end of the first day of the EU Summit (no 19 to solve the crisis), that conditions for emergency loans to Spanish banks have been eased. This means the removal of the seniority preference for ESM/EFSF rescue funds, which means the Spanish and Italian banks can be recapped directly, without any further austerity measures. We think. I'll leave it to Delusional Economics to flesh that out properly.
Its not much, but its something to get markets moving on the last trading day of the financial year.
The Italian PM Mario Monti, according to Bloomberg has said euro-area leaders have NO PLANS to boost their baillout funds. So a bit of a dampener there…
I think the real reason markets have moved so much is because, as I was up last night watching the Euro and US markets, most were watching the EuroCup football matches (traders, journalists and I'm sure a few EU officials on their Blackberries/Galaxies and what not).
So its up to optimistic Asia to jump! Also, most of the US traders have been called back in to the office, if my Twitter feed is any guide.
Latest posts by Chris Becker
(see all)