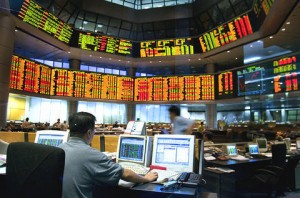 By Chris Becker
Right – it was end of month, end of quarter, end of financial year and all was quiet until the EU meeting this morning, which sent everything attached with "risk" up! Straight up 1% or more across the board! Huzzah – crisis over!
By the way – here's the actual statement if you want to read it: Statement (PDF)
The ASX200 held on to most of the gains, and closed the day up 49 points or 1.2% to 4094 points, but this ebullient action still kept the local bourse below the resistance formed in recent weeks, as seen in the chart below (also marked are my medium term system short/tight signals, plus the KC Signal from 1st May that signalled a possible top):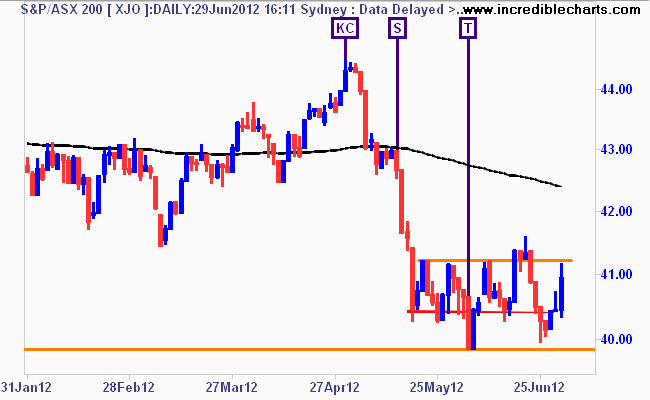 I'll go over the medium and longer term view in Trading Week, plus my signals and key levels. This will start publishing again, with Gabbo's consent, on Monday mornings, after a short hiatus – haven't we got a lot to talk about?
Other Asian equity markets had similar moves, with the Nikkei 225 up 1.5%, a new medium term trend seemingly underway? The Hang Seng was up a stonking 2.2% whilst mainland Chinese markets were less ebullient, only putting on around 1% each, with the  Shanghai Comp currently up 0.9% at 2216 points.
On currency markets, the Aussie shot up over 1 cent against the USD, and is even now accelerating past 1.017:
Meanwhilte, the Euro/USD cross is also holding on to its instantaneous gains up over 130 bips instantly to 1.2584, so by definition the US Dollar Index (DXY) has recorded a slump (the Euro makes up 57% of the index) now back below the 82 point level.
Gold saw some modest gains, jumping around $12USD an ounce, where it remains at $1567USD but the overall picture is a sideways trend,   whilst in AUD terms, gold has slumped, falling over $20 an ounce, now at $1540AUD per ounce continuining its slides backwards over the last couple of days.   
Finally, in the debt markets today,  Aussie 10 year yields jumped over 6 basis points, with the generic yield now about 3% again, at 3.03% whilst as expected, Spanish and Italian bonds have soared in price on the open!
Yields have fallend over 30 basis points each, with Italian 10 year yields at 5.86% and Spanish at 6.46% – nothing like a bit of central bank buying to support your bonds hey?
Tonight
We've had two reports this afternoon, ignored amidst the hoopla. German retail sales slumped in May, down 0.3%, but the big news was last months revision from positive 0.6% growth to a -0.2% contraction and an even bigger slump year on year. Hmm.
Tonight we get the Chicago PMI, and EMU M3 money supply figures.
Don't miss the updates when my colleague Greg McKenna, who has taken over MacroBusiness Morning, will report overnight market moves and data analysis.
Til then, you can find me on Twitter here.
Disclaimer: The content on this blog should not be taken as investment advice. All site content, including advertisements, shall not be construed as a recommendation, no matter how much it seems to make sense, to buy or sell any security or financial instrument, or to participate in any particular trading or investment strategy. The authors have no position in any company or advertiser reference unless explicitly specified. Any action that you take as a result of information, analysis, or advertisement on this site is ultimately your responsibility. Consult someone who claims to have a qualification before making any investment decisions.
Latest posts by Chris Becker
(see all)