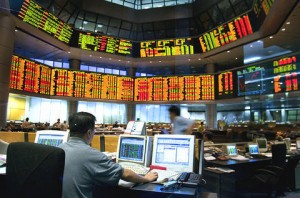 By Chris Becker
Another volatile day on Asian markets, but this time in the green, with the ASX200 closing up 0.7% to 4043 points, having a peek just above the short term support of recent weeks, as seen in the chart below (also marked are my medium term system short/tight signals, plus the KC Signal from 1st May that signalled a possible top):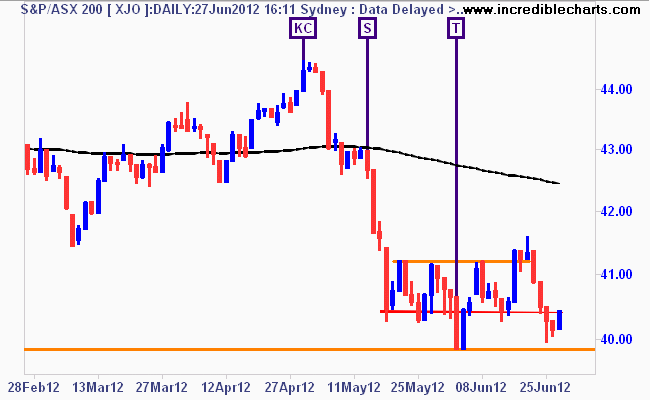 We continue to window dress coming into the end of the financial year – how many wash trades are going on right now? For those keeping score, my medium term trading system remains short, whilst my investment allocation system remains "sidelined".
For those with an eye towards similar historic moves, have a look at the current weekly chart and how it resembles the 2000-2003 bear market, particularly this six week long pause:
A long bow perhaps (I reckon we are seeing an echo of the 2000-03 or the 1988-1997 bear markets), but as I keep saying, no macro, technical/quant or fundamental conditions exist for the start of a new bull market in Australian stocks. Don't confuse that with a bear market rally or the notion of  "undervalued" or "good prices" – for sure, there are bargains out there. My median estimate of ASX200 value is right on 4000 points for ALL of next year (i.e we are currently at FY12-13 value), although FY13 it is at 4600 points – this is dependent upon earnings growth….
More on that later.
In other Asian markets, the Nikkei 225 was up 0.7%, but more mystery with Chinese markets, with the Hang Seng up 0.8% but the mainland Chinese markets flat or slightly down, with the  Shanghai Comp currently down 0.2% at 2216 points.
On currency markets, the Aussie is holding onto last night's gains at 1.0063 whilst the Euro/USD cross remains steady, at 1.25 flat. The US Dollar Index (DXY) is also continuing to oscillate around the 82.4 level, whilst my preferred hedge amongst all this volatility – short EURAUD – remains in the money and steady at 1.242: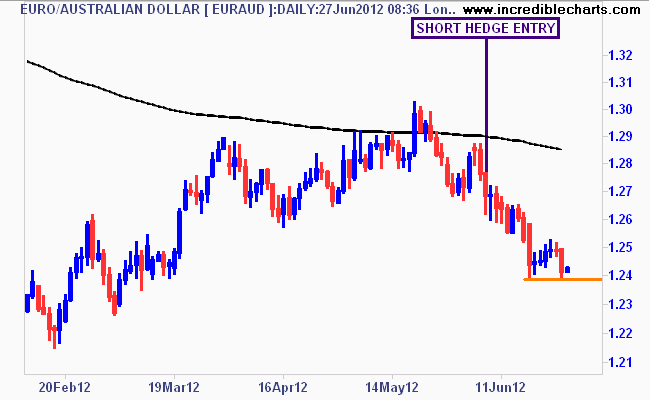 Gold is proving reluctant to move, again, currently at $1571USD after deflating last night, but remains in a tight trading range as I've been explaining in recent weeks. In AUD terms, gold is slipping down, now at $1562AUD per ounce after almost breaching $1600AUD an ounce overnight.   
Finally, in the debt markets today,  Aussie 10 year yields rose slightly, gaining 4 basis points, but still below 3% at 2.967% whilst European bonds have diverged on the open. Spanish and Italian bonds are seeing strong bids (yields down 5 and 6 basis points respectively) whilst German bunds have sold off a bit. Again, like yesterday's open, there is some hope that the ongoing crisis meetings will resolve – something – so the Euro bourses are being bid up, around 0.3 to 0.6% across the board. Another day in volatility paradise!
Tonight
Dataflow tonight is US centric again, although we will have a follow up to the Italian retail sales with the manufacturing survey very shortly, alongside German CPI print. Later tonight US durable goods orders will be very closely watched –  with the consensus crowd looking for a positive 0.4% print on new orders.
Don't miss the updates when my colleague Greg McKenna, who has taken over MacroBusiness Morning, will report overnight market moves and data analysis.
Til then, you can find me on Twitter here and I'll catch you tomorrow afternoon.
Disclaimer: The content on this blog should not be taken as investment advice. All site content, including advertisements, shall not be construed as a recommendation, no matter how much it seems to make sense, to buy or sell any security or financial instrument, or to participate in any particular trading or investment strategy. The authors have no position in any company or advertiser reference unless explicitly specified. Any action that you take as a result of information, analysis, or advertisement on this site is ultimately your responsibility. Consult someone who claims to have a qualification before making any investment decisions.
Latest posts by Chris Becker
(see all)